Abigail's Party, Perth Theatre ****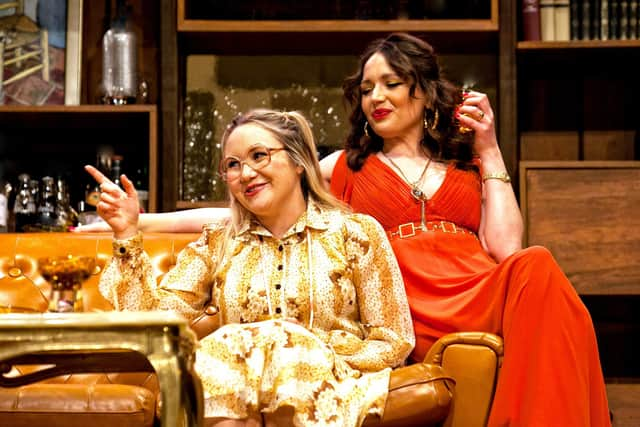 Two plays about death, and one show about dance, which for many people is the very essence of life. In Mike Leigh's astonishing play Abigail's Party – devised together with its brilliant first acting company, at Hampstead Theatre in 1977 – the death that finally takes centre stage seems to symbolise the various horrifying forms of spiritual and emotional death that are the play's underlying subject, as it takes apart the booming suburban culture of the 1970s, in all its bleak materialism and aimless status-seeking.
Compared with the 2020s, of course, the 1970s will seem to many like very good times indeed; houses were affordable, wages high. This new affluence, though, did not always bring happiness; and the peculiar form of misery it generated is perfectly embodied in Leigh's monstrous heroine, Beverley. Mad with boredom, and absolutely without inner resources, Beverley is fit for nothing but swanning around in her hostess gown, drinking heavily and making sexual mischief; and in this new touring production from London Classic Theatre, she is vividly and terrifyingly brought to life by Rebecca Birch, as she mercilessly humiliates her husband, and pours alcohol down the throats of her evening guests.
Given the marked resurgence of class differences in life-chances, over the last 50 years, it's hard to tell how far this play's framing of genteel neighbour Susan and aspirational Laurence as victims of a vulgarian takeover really resonates with modern audiences. The interaction of Leigh's five characters, though, creates an unforgettably hilarious and horrifying evening of theatre; and his terrible and truthful vision of a moment in our social history never ceases to entertain, and to shock.
In Matthew McVarish's Quietus – the latest Play, Pie And Pint lunchtime drama – the encounter with death is centre stage from the start, as grief-stricken middle-aged Donald strives to take his own life, following the death of the adored mother who was his only companion and friend. There is comedy entwined with tragedy, as Donald's clumsy efforts are interrupted by a wee white-clad care-worker (or angel) called Daniel, who strives mightily to remind him of the beauty and value of life.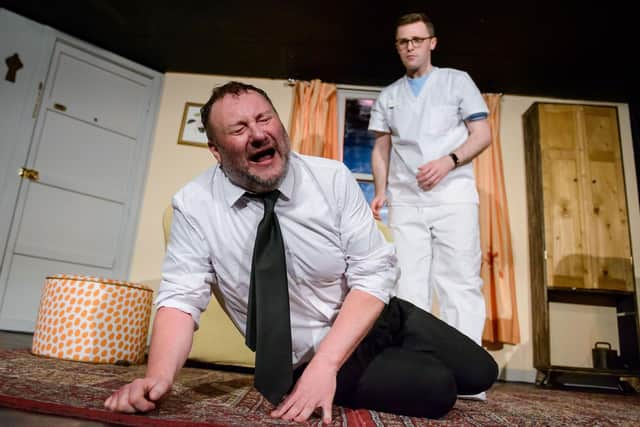 In the end, the play raises troubling questions about whether it is really right to intervene, when an adult human being has firmly decided that life is no longer bearable. And along the way, Maggie Kinloch's production elicits two beautiful performances from Andrew Agnew as Donald and Ruairidh Forde as Daniel; with Daniel's profound and loving sorrow at the play's end lingering in the memory like a kind of gift, to anyone who has ever experienced despair.
The current UK touring production of Strictly Ballroom: The Musical, by contrast, is a show fairly bursting with youthful energy and life, as it faithfully follows the plot of Baz Luhrmann's much-loved 1992 film about a gifted young ballroom dancer, Scott, who runs into trouble with the Australian Dancing Federation when he starts to invent his own steps.
In Craig Revel Horwood's pantomime-style production, the Federation authorities are corrupt baddies in terrible wigs, while Scott's lovely new partner Fran and her Hispanic family are brilliant musicians and dancers, who help transform his technique. The dancing's the thing, though, in this daft and joyous piece of theatrical storytelling; and with Strictly's Kevin Clifton dancing up a storm as Scott, and Jose Agudo offering a thrilling masterclass in Latin dance as Fran's father Rico, the pace never falters, from the upbeat opening number, to Love Is In The Air, the theme-song of the show's romantic and joyful grand finale.
Abigail's Party is at Perth Theatre until 13 May, and Eden Court Theatre, Inverness, 17-20 May. Quietus is at Oran Mor, Glasgow, until 13 May, and Ayr Gaiety, 25-27 May. Strictly Ballroom is at the Playhouse, Edinburgh, until 13 May; His Majesty's, Aberdeen, 15-20 May; and Theatre Royal, Glasgow, 5-10 June.