Theatre review: Lear's Fool, Botanic Gardens, Glasgow
Set towards the end of King Lear, with the Fool, Lear and his daughter Cordelia all imprisoned by their enemies, this is a gorgeous, lyrical and heartbreaking variation on the themes of Shakespeare's play, writes Joyce McMillan
Lear's Fool, Botanic Gardens, Glasgow ****
In a rough shelter doubling as a prison cell, somewhere near the end of Shakespeare's great tragedy, King Lear's Fool and a soldier called John spar and argue. In theory, one is guarding the other; but in practice, they both seem like victims of the war that is raging somewhere nearby, as a force headed by Lear's youngest daughter Cordelia and her husband the King of France lands in Britain, determined to take back the crown from Cordelia's usurping sisters and their husbands, and restore old King Lear to the throne, despite his apparent madness.
This is the opening scene of David Henry Wilson's short play Lear's Fool, presented this autumn at the Kibble Palace by the Bard in the Botanics company; and although this is not a profound meditation on presence and absence, speech and silence, and the very existence of theatre, on the scale of Tim Crouch's superb recent Lear-inspired monologue Truth's A Dog Must To Kennel, it nonetheless offers a gorgeous, lyrical and heartbreaking 70 minute variation on the themes of Shakespeare's play, often delivered – as the tragedy intensifies – in gently rhyming couplets, and borrowing lavishly from the text of Lear and other Shakespeare plays, to flesh out the language of its dialogue.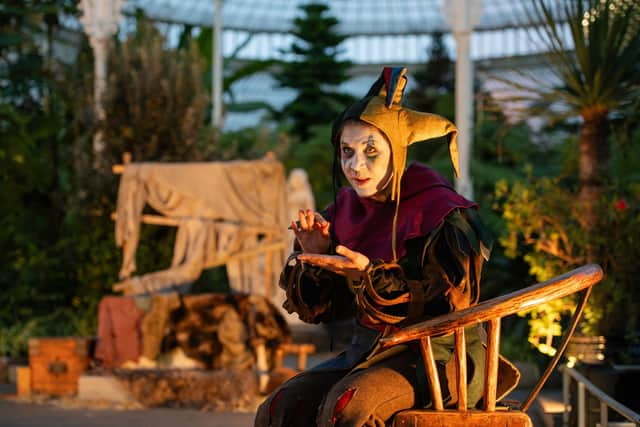 The Fool and the soldier do not remain alone, though, in David Henry Wilson's drama; although Bard stars Nicole Cooper and Sam Stopford play them with such feeling and intelligence that it's easy to imagine their meditative banter occupying a whole one-act play. They are soon joined by a brutal Captain who acts as chief jailer, and by Lear and Cordelia themselves, also held prisoner after their losing battle. There is joy and terror, laughter, weeping and song in this strange reunion, and a dark party game, organised by the Fool, in which questions are asked about the deepest motives of the tragedy's leading characters; and in Jennifer Dick's unfailingly thoughtful production, all of this is conveyed with terrific eloquence by Finlay McLean as Lear, and Stephanie McGregor as Cordelia.
There's also a painterly quality to Gordon Barr's design, set against the magical curves of the Kibble Palace, as Lear mounts a ragged makeshift throne, and sits with his daughter beside him and his Fool at his feet. It is possible to question how much Wilson's play really adds to the tragedy and mystery of the final scenes of King Lear, beyond some fleshing out of the Fool's character and back story – beautiful and poignantly sustained by Nicole Cooper – and some slightly toe-curling deliberate anachronisms.
What's undeniable, though, is the powerful poetry and emotion of Wilson's play, and the fact that the whole drama looks astonishingly beautiful, in its graceful if always slightly shabby glasshouse setting. In order to help pay for the upkeep of the Kibble Palace, Glasgow City Council are now threatening to introduce charges for the experience of walking in through its glass doors, round its palm-shaded pond full of large golden carp, and through the grove of towering tropical plants beneath its gorgeous central dome; a pleasure Glasgow citizens and visitors have enjoyed free of charge for more than a century.
A campaign is under way, though, to persuade the Council to keep the Kibble free; and if ever evidence were needed of the sheer beauty of this building, and the joy it offers to everyone who visits it, then its stellar performance as the setting for this show, among so many others produced by Bard in the Botanics over the years, surely provides that proof, with eloquence, poetry, and love.