Wish You Were Dead, Festival Theatre, Edinburgh ***
It's a decade now, since I first heard the name of Henrietta Lacks, the African-American woman whose treatment for cervical cancer, in Baltimore in 1951, led to the cultivation of He-La, one of the most remarkable cell lines in the history of medical research, still thriving and multiplying 72 years on.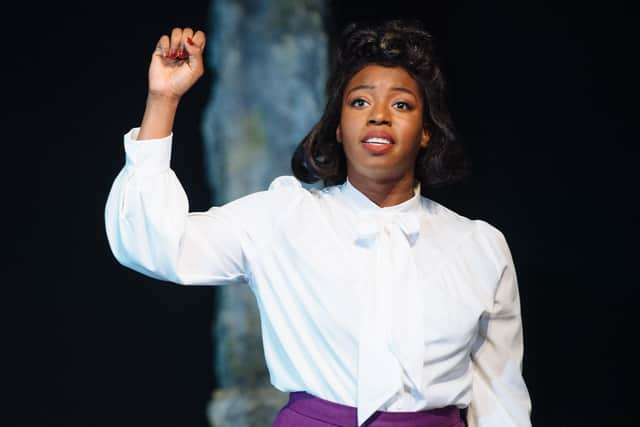 As a black woman in 1950s America, though, Henrietta Lacks – who died later that year, aged only 31 – was not even asked for permission for her cell samples to be used, far less offered any financial interest in their now vast commercial exploitation; and in 2012-13, her story became the subject of Adura Onashile's beautiful and searching monologue He-La, which looked deep into the history of the medical exploitation of black people.
And now, from ATC in London, here comes another response to her re-emerging story, in this luscious and thrilling poetic meditation by playwright Mojisola Adebayo, performed by a magnificent company of four black women and one white man, known as Smoking Man in tribute to that eternal Marlboro Man of the cigarette adverts.
At the centre of the show stands Henrietta, superbly played by Aminita Francis; she is dead, yet life still pulses through her, and she begins to investigate the theatrical limbo in which she finds herself. She sees, and begins to observe, three other women; they are NHS nurses of colour who died in the pandemic, and then later enslaved women in the deep south. And towards the end of the 95-minute show, these mighty women begin to morph into something more. The strange-looking tree of life on stage comes to life; it speaks, and begins to conjure up goddesses of a rare and eternal vitality.
Adebayo's rich and torrential stage poem is written from a place of profound contempt for the earth-destroying and endlessly exploitative economic system in which we live, which Henrietta freely likens to a cancer. The power of the show, though, lies in its ability to go beyond anger, into a profound celebration of a possible human universe with different values, and a new pantheon of gods; and Matthew Xia's passionate production makes that possibility live, with unforgettable energy and strength.
Over at the Festival Theatre, by contrast, Peter James's latest thriller Wish You Were Dead looks a little like the last gasp of a very British style of theatre that has long since been overtaken by television, when it comes to convincing crime drama; yet still somehow exerts a strong nostalgic appeal.
As the stage lights go up, we therefore find ourselves in the carefully recreated hallway of a chateau somewhere in France; and here, entering stage left, are James's top Brighton sleuth, Detective Superintendent Roy Grace, his new wife Cleo, and their baby son, intent on a relaxing French holiday.
All is not well, though; and as the Graces' chateau holiday morphs from Fawlty Towers to Bates Hotel, the audience – as promised in an arch recorded introduction by James himself – are kept perched on the edge of their seats, while a devious gang of Brighton criminals seek a terrible revenge on Grace.
The whole piece, in other words, is a delicious old pile of theatrical hokum, not entirely credible, and often a shade sadistic, but undeniably enjoyable; and perfect for those seeking a blissful two-hour holiday from the complexities of the world outside the theatre, and from the intensity of the cultural shifts reflected and prefigured, in shows like Family Tree.Family Tree at the Traverse Theatre, Edinburgh, tonight, and at the Tron Theatre, Glasgow, 27-29 April. Wish You Were Dead at the Festival Theatre, Edinburgh until 8 April.