For a vivid reminder that the struggle for women's equality is never quite won - but always proceeds at a rate of three steps forward, two steps back - lovers of theatre and history could do much worse than take a look at Hannah Cowley's comedy The Belle's Stratagem, first seen in London in 1780. Written by one of very few women to break into professional play-writing during that period, the play was conceived as a direct response to George Farquhar's hugely popular 1707 play The Beaux Stratagem. The idea was to create a comedy for modern and enlightened times that would give women, rather than men, the leading proactive role, in scheming their way to the outcomes they want; and the play was presented at the Lyceum in Edinburgh, in 2018, as part of a whole season foregrounding women's voices in theatre.
If the play itself is set up to challenge traditional gender roles, though, then there was one more gentle subversion to come in director Tony Cownie's brilliant Lyceum version. Spotting the power of the enlightenment theme in the play, Cownie shifted the action of this "city comedy" from the streets and drawing-rooms of London - the city that gave the whole genre its name - to those of 18th century Edinburgh, at the height of its New Town pomp. The result was a rollicking Scots comedy of extraordinary force and eloquence, detailing a cast of upwardly-mobile characters hell-bent on improving their status, and enjoying city life to the full. Neil Murray's wonderful design was a witty, shifting symphony of sketched New Town facades; and the biggest laughs of the night were won by the memorable comic double-act of Nicola Roy and Pauline Knowles, playing good-time-girl wealthy widows Ogle and Ratchet, so prone to knocking back the punch at Assembly Room balls that on one memorable occasion, Ratchet is seen conveying Ogle home in a wheelbarrow.
If this particular Scotsman Session is tinged with sadness, it's because of Pauline Knowles's sudden death later in 2018, at the age of only 50; her contribution to the evolution of Scottish theatre over the last 30 years was huge, and her presence is sorely missed. Here, though, Nicola Roy creates as a solo piece a moment in the play when the two worldly widows pay their first call on Lady Frances Touchwood, the shy young country bride of a grumpy Edinburgh gentleman. Their aim is to introduce young Frances to the joys of city life; but her husband has other ideas, and this extract brilliantly demonstrates how Cownie reimagines the play for a Scottish cultural setting, with all its subtly different resonances.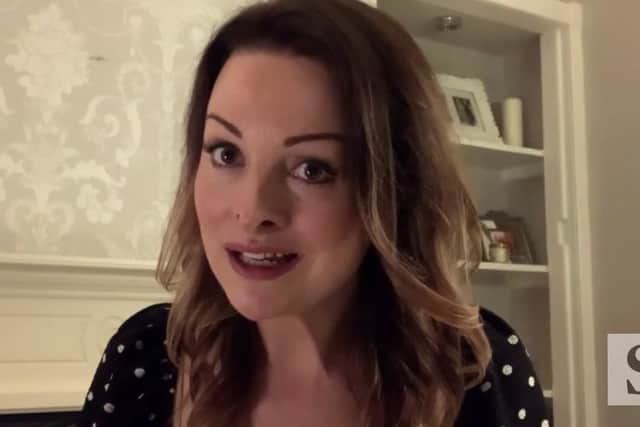 Nicola Roy is one of Scotland's leading comic actresses, and recently scored a major international success as Elmire in Liz Lochhead's one-hour Play, Pie And Pint version of Moliere's Tartuffe. Her range also extends far beyond comedy; she has played the journalist Jen Lewis in River City among many other screen roles, and recently appeared as Scrooge's love Belle - as well as housekeeper Mrs Bigchin - in the Lyceum's 2019 Christmas show, An Edinburgh Christmas Carol. In this close-up extract, she offers what is almost a masterclass in the layers of social and political meaning that can lie behind the light-touch comic banter of a play like The Belle's Stratagem; and she also movingly merges the characters of Ratchet and Ogle into one, in tribute to her great friend and colleague Pauline Knowles, whose inimitable voice will never be heard in Scottish theatre again.
A message from the Editor
Thank you for reading this story on our website. While I have your attention, I also have an important request to make of you.
The dramatic events of 2020 are having a major impact on many of our advertisers - and consequently the revenue we receive. We are now more reliant than ever on you taking out a digital subscription to support our journalism.