The Scotsman Sessions #64: Polly Frame
Welcome to The Scotsman Sessions. With the performing arts world shutting down for the foreseeable future, we are commissioning a series of short video performances from artists all around the country and releasing them on scotsman.com, with introductions from our critics. Here, Polly Frame performs an extract from David Greig's acclaimed 2019 stage version of Stanislaw Lem's Solaris.
First published in Poland in 1961, Stanislaw Lem's novel Solaris is one of the greatest science-fiction stories ever written. Its theme is a first human encounter with an alien intelligence that begins to interact with human beings, mentally and emotionally; but in a breathtaking central image, that intelligence takes the form of a huge, moving sea of awareness, covering the surface of a distant planet called Solaris, in a solar system lit by two rotating suns. A space station from Earth is orbiting Solaris, on a research project; but by the time scientist Kris Kelvin arrives from earth to investigate the increasingly strange behaviour of the crew, the project has largely collapsed, derailed by the planet's disturbing ability to reach into the crew's minds, and conjure up physical embodiments of their most vivid and emotionally charged memories.
The story of Solaris is so powerful, in evoking this confrontation between human consciousness and the utterly unknown, that it has inspired at least three major film adaptations, including a 1968 Soviet television version, the 2002 Stephen Soderbergh version starring George Clooney, and Andrei Tarkovsky's stunning 1972 Russian version, arguably one of the finest science-fiction films of all time. In David Greig's new 2019 stage version for the Lyceum Theatre in Edinburgh and the Malthouse, Melbourne, though, Lem's story is given a few subtle 21st century twists; notably that the scientist arriving from Earth is a woman, and the lost lover who appears fully-formed in her space-station cabin is not the beautiful woman of Lem's story, but a young man, Ray, whom she fears committed suicide after she ended their relationship.
David Greig's version of the story - born of a time when humanity is increasingly having to confront the existence of artificial intelligence that reflects our own minds back to us, and when the possible need to move beyond our home planet seems more pressing than ever - also brings a particular intensity to the question of how we deal with these encounters with the unknown; by retreating into madness, fleeing back to superficially familiar worlds, or - like Kris - by reaching out, travelling on, exploring further and learning more, whatever the cost.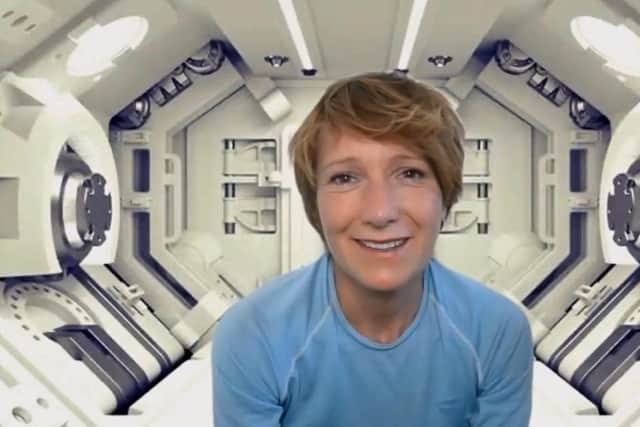 When Greig's play opened at the Lyceum in September last year, after a spring run in Melbourne, it was in a stunning production by Matthew Lutton of the Malthouse, with a clean, white space-station set by Hyemi Shin constantly washed - in Paul Jackson's breathtaking lighting design - by the reflection of the ever-changing colours of the planet's surface. The show featured a range of fine performances, notably from Australian actors Keegan Joyce, as Ray, and (on film) Hugo Weaving, as Kris's late mentor Gibaldian, once the commander of the space station, now visible only on the recordings he left behind when he took his own life.
At its centre, though, was Polly Frame's powerful and poignant performance as Kris, the scientist who once shrugged off the bonds of love, to pursue the work and exploration that is her passion. Frame is a hugely successful Scottish actress, now based in London, who has worked in theatre all over the UK and on Broadway, as well as appearing in television series ranging from Doctors and Eastenders to Silent Witness. And here, we see her retelling, to the version of Ray that has appeared on the space station, the story of the once-magical relationship that bound them together, of how it ended, and of the guilt she has carried ever since; the intense knot of love and pain, in other words, that Solaris has sensed, as its mighty sea moves and shimmers, and to which it has made its own response - mysterious, terrifying, and new.