Theatre is a tremendous medium for exploring vital moments in our history that are perhaps less well known than they should be; and it certainly played that role to the full when director Alasdair McCrone, in his final months as artistic director of Mull Theatre, staged his 2019 touring production of The Electrifying Mr Johnston, a new play by Robert Dawson Scott, about the great wartime Secretary of State for Scotland, Tom Johnston, and his visionary postwar scheme to bring hydroelectric power to the Highlands.
Tom Johnston was born in Kirkintilloch in 1881, and after school at Lenzie Academy briefly became a student at Glasgow University. He was distracted, though, by the ferment of left-wing politics in Glasgow at the turn of the 20th century, and soon abandoned his studies to become a fierce campaigning journalist. In 1906, he co-founded the socialist journal Forward; and in 1909 he published a sensational book, Our Scots Noble Families, in which he damned Scotland's land ownership system, and exposed the methods by which major landholders had come by their wealth. "The title deeds," he wrote, "are rapine, murder, massacre, cheating, or court harlotry." In 1922, he was elected a Labour member of parliament, along with a legendary group of "Red Clydesiders" that also included James Maxton and Emmanuel Shinwell; and he remained an MP, with some intervals, until 1945, serving as Winston Churchill's Secretary of State for Scotland from 1941 to 1945, in the wartime national government.
In this central scene from Robert Dawson Scott's play, though, we meet Johnston at the moment when he is about to deliver on the achievement for he is most famous: the great postwar scheme to harness hydro-electric power, and delivery electricity to the Highlands. By this time, Johnston is hugely experienced public man in his sixties, far removed from the radicalism of his youth; and in this scene, set at the moment around 1950 when Johnston has invited distinguished guests to view the new dam at Pitlochry, we see him ambushed by young journalist who once admired him, but is now appalled by the ruthless methods he has used to push through his scheme, including the displacement of Highland communities, the harsh exploitation of a workforce that included many postwar refugees, and much flattery and bribery of the landowning interests Johnston once condemned.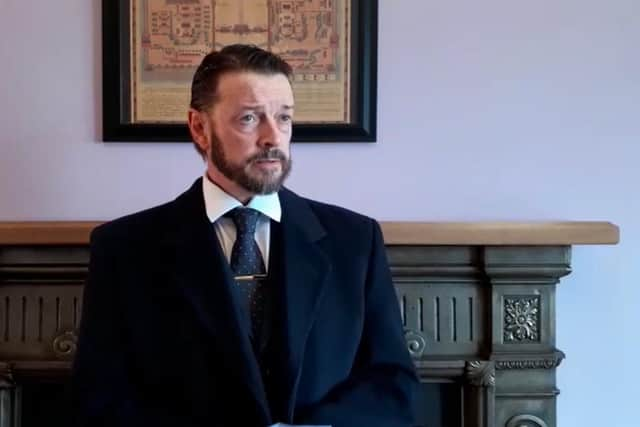 Stephen Clyde, who plays Johnston here as in last year's original production, is a much-admired and award-winning Scottish actor, acclaimed for many fine Shakespearean performances with Glasgow's Bard In The Botanics company - ranging from Prospero in The Tempest to Bottom in A Midsummer Night's Dream - and for appearances at all Scotland's major theatres, as well as in television series including Taggart and River City. The words of the young journalist - played on stage by Alan MacKenzie - are spoken here by Beth Marshall, who also appeared in a range of roles in the original production.
And as she sears through a range of questions designed to expose the complex truth behind Johnston's impressive facade of progressive postwar development, we are reminded - like last year's enthusiastic audiences, who often stayed for long post-show discussions - of how many of these questions about land ownership and power in the Highlands, about economic development and natural environment, still remain unresolved, 70 years on; and, at this moment above all, of how one fundamental fact of public life never changes - the tension between political men and women in a hurry, who want to get things done, and those rare, truth-telling journalists who see the human cost of their actions, and are prepared to fight to bring those stories to light.