The Scotsman Sessions #361: Dance North Youth Company
Welcome to the Scotsman Sessions, a series of short video performances from artists all around the country introduced by our critics. Here, members of Dance North Youth Company perform an extract from their site-specific work SAVAGE
Just like the landscape it's set in, SAVAGE is an ever-changing entity. Over the course of 55 minutes, this extraordinary site-specific piece shifts location and demeanour from uplifting to unsettling, merry to morose. The small snapshot we see in this Scotsman Session captures the beauty of Findhorn Bay and its surrounding forests and dunes, and it also hints at the capacity of the ten young women who perform it to inhabit the piece, and their environment, with absolute conviction. Nothing can replace the experience of seeing this work live, with all its unexpected twists and turns, but the evocative atmosphere, unnerving intent and youthful vigour are all here.
Director and choreographer Gail Sneddon worked closely with Dance North Youth Company to create this unique promenade performance. Together, she and the dancers built a world for people to enter, both visually and aurally, with the music and narrative you hear in the film accessed via headphones by the live audience.
"It was a very collaborative process," explains Sneddon. "We started with a conversation about Lord of the Flies but quickly moved away from that as soon as we began to rehearse. We started online during lockdown, but once we moved into the landscape we asked a lot of questions such as 'who are we?', 'how did we get here?' and 'how do we move through this land?' That's when the narrative started to build."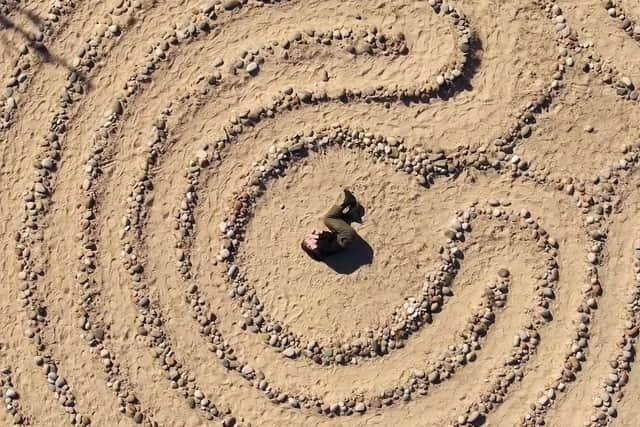 The ten "wild girls", most of whom are aged 14–17 but some as young as 12, prove themselves to be fine actors as well as dancers in the piece. Aside from a playful section at the start and the "parade" shown in the film, where they make fun of the regimented way most of us lead our lives, the girls approach the work with deep gravitas. From forest to dunes to beach, the viewer is taken on a journey, but so too are the performers.
"To begin with, we're carefree because it's just us," says 17–year-old dancer Millie Goodyear. "But as the performance goes on, things get harder and more emotional, as the outside world creeps in and weighs heavily on us. Being in that landscape definitely adds to the piece and also plays a huge part in us being in character. We did a lot of work with Gail on facial expressions, and even though we might have our back to the audience sometimes, we looked at how much that moves through our bodies."
As Goodyear says, SAVAGE demands acting as well as dancing – something Sneddon recognised as being key to the work's impact. "I wanted to make sure they understood their personal journey within this," she says. "And that a smile or something similar would look out of place and feel out of character. So by the time they performed it they didn't need to worry about that because they're so connected to the piece, the landscape and each other. But I don't think we were aware of quite the impact it was going to have on people or how touched they would be by it."
Dance North is marking its 20th anniversary year with Rise 2023 – a three-day festival of performances, films, workshops and talks at The Park Ecovillage, Findhorn, running from 26-28 May, see www.dancenorth.scot