Last summer's Bard In The Botanics production of A Midsummer Night's Dream was a youthful and sometimes rowdy affair, in which fairy queen Titania swapped roles with her king Oberon, and the cast frequently sang out their emotions in loud karaoke versions of 21st century hits.
At the centre of it all, though, stood one performance that offered a vital link between youthful anarchy on one hand, and the more profound and poetic aspects of Shakespeare's play on the other; and that was Sam Stopford's commanding appearance as chief sprite Puck, gathering all the threads of the drama together in a style both magical and impressive, deeply attuned to the power of Shakespeare's language.
Like many actors of his generation, Stopford has had an early career severely disrupted by the pandemic, and the lockdowns that followed. He grew up in Ayr in the 1990s and 2000s, and knew that he was interested in theatre and the arts from an early age; he loved art and drawing, and as a teenager joined the local offshoot of the legendary Paisley Arts Centre youth drama group, PACE.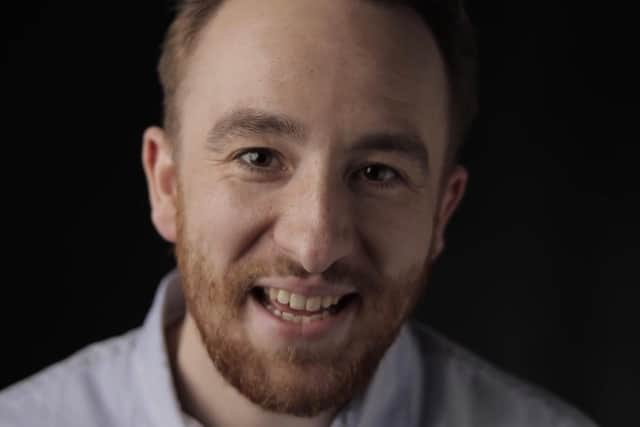 After school, he won a place at Glasgow School of Art, an experience which, he feels, taught him the value of "having the confidence to be yourself, and to see the world in your own way." He graduated in 2016, but missed acting, and after a year of evening classes at the RCS, he entered the Conservatoire's famous acting course, graduating just after the start of the pandemic in 2020.
In March 2020, though, just before lockdown, he was part of Matthew Lenton's Vanishing Point company which briefly staged a remarkable international version of Kafka's The Metamorphosis, full of strange foreshadowings of the crisis that was about to engulf the world. When restrictions eased, Stopford was therefore in a strong position both to return to his role in The Metamorphosis – which completed its Scottish tour early last year – and to move on into other theatre work; and after A Midsummer Night's Dream, he quickly became involved in two of last season's lunchtime Play, Pie And Pint productions in Glasgow, James Ley's Sally, which opened the season, and Alfold, which appeared in October in a powerful and acclaimed production by Dominic Hill of the Citizens' Theatre.
Written by leading black Scottish writer Joe McCann, Alfold is an intense three-handed drama about gender, race and nationality set on a train rolling across the Hungarian plain, where a black Scotsman living in Budapest, and his beautiful Hungarian wife, meet another traveller who has own intense issues of identity to confront, and tries to involve them in his games. In this Scotsman Session monologue, titled The Lost Cosmonauts, that character – superbly played by Stopford – reveals something of his hidden inner life; and McCann's writing – previously seen on stage in last year's pitch-black comedy The Bookies at Dundee Rep, co-written with Mikey Burnett – soars towards new poetic heights.
"I knew right from the start that Alfold was an unusually intense script," says Stopford, "and this monologue is just extraordinary. It's a short speech, but so sad in its sense of loss. It just has so much to say about a certain kind of masculinity, and the pressures it creates; and about the sense of a world beyond that, just out of reach."