When Nick Cave gives you advice on your performing career, you take notice. Comedian Fearghas Kelly was toying with anglicising his name for professional reasons, but a meeting with the legendary Australian singer-songwriter set him straight.
"He was lovely, one of the nicest people I've ever met," recalls the 29-year-old Glaswegian, who was attending a book signing by the musician with his brother.
"My brother, Aonghas, has a similarly oddly spelt name to me. And he asked us 'who the f*** does the spelling in your family? Jesus Christ!'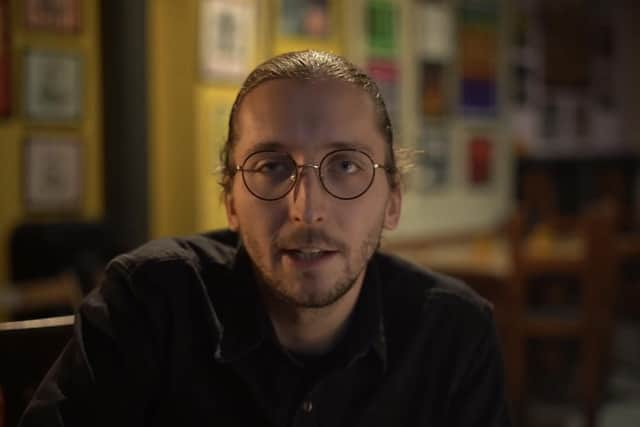 "But then he added, 'you're not going to change it are you?' I said 'no'. And he said 'good!'"
The comic has little knowledge of his Irish ancestry. "All my dad told me is that the Kellys come from Sligo and that all of the records were lost in a fire," he reflects. "So I can only assume that one of them must have done something horrible."
Kelly only began performing stand-up in earnest post-lockdown, encouraged by The Stand comedy club asking him to contribute to their live streaming shows. When the venue re-opened, physical bookings from the club followed. He's since appeared in a triple-header Edinburgh Fringe show, Talking Heids, alongside Paul McDaniel and Mick McNeil, and taken his first tentative steps towards performing outside Scotland in new act competitions.
He's found the Scottish circuit to his liking, in rude health and welcoming to newcomers like himself – "really lovely" he enthuses. "I've heard things said in green rooms by more established comedians that the scene hasn't always been this way. But that's certainly not been my experience, everyone's been really nice and supportive."
His Scotsman Session showcases both his stand-up and some slick video editing skills, blending his ruminations from home with a set at McChuills in Glasgow's city centre. It also shows his knack for reacting to the news cycle, referencing his home town's disappointment at losing out on hosting the Eurovision Song Contest to Liverpool.
"I'll always try my best to have something new every time I perform," he says, "even if it's just an off the cuff comment on something that's happened that day. Topicality is important."
Appearing in the superbly set up Beehive pub on the lively Grassmarket, his Fringe run was an ambition for "a long, long time and I finally got my act together, no pun intended".
Still, he's in no great rush to do his first solo show, and is mulling over whether to put together a hybrid stand-up and video hour, citing the success of Scottish acts like Limmy and Richard Gadd with this approach.
"These are questions I'm still asking myself, especially after the last couple of years" he says. "It would have to be done the right way and I've not thought that far ahead to be honest. But maybe. If it's a skill set I've got, it would be silly not to use it."