The Scotsman Sessions #32: Barrie Hunter
Welcome to The Scotsman Sessions. With the performing arts world shutting down for the foreseeable future, we are commissioning a series of short video performances from artists all around the country and releasing them on scotsman.com, with introductions from our critics. Here, Barrie Hunter reprises his role as former Dundee United manager Jim McLean in Philip Differ's play Smile, which formed part of this year's Dundee Rep 80th anniversary season
If coronavirus had not intervened, May 2020 would have seen an extraordinary ceremony take place outside the gates of Tannadice Park in Dundee. After a campaign that raised more than £60,000 from Dundee United fans, a statue had been commissioned from sculptor Alan Herriot in honour of the greatest manager in the club's history, Jim McLean, who led the club from 1971 to 1993, and remained as Chairman of the Board until 2000, when he resigned after striking a BBC reporter during a post-match interview. The statue was to have been put in place this month.
Under McLean's leadership, Dundee United won the Scottish League Cup in 1979, and were League champions in 1983; the team reached the semi-finals of the European Cup in 1984 and the final of the UEFA Cup in 1987, and appeared in no fewer than six Scottish Cup finals. It was a record unparalleled in the history of Dundee football; and one celebrated in many a Tannadice football chant, including the great celebratory roar of "There's only one Jim McLean."
As the incident that ended his Dundee United career showed, though, being the "one Jim McLean" was never a simple business. McLean's explosive rages and sometimes grumpy demeanour became a vital part of his public persona, a front concealing what those who knew him well often described as a shy and genial character, with a wonderful, dry sense of humour. So when the writer Philip Differ decided to try his hand at writing a theatre show about McLean's life and personality - eventually commissioned by artistic director Andrew Panton as part of this year's Dundee Rep 80th anniversary season - it was with a touch of irony that he called it Smile; indeed he says that he knew he was on the right track with the play when he told Jim McLean's family, including his wife Doris, about the planned title, and they all immediately started to laugh.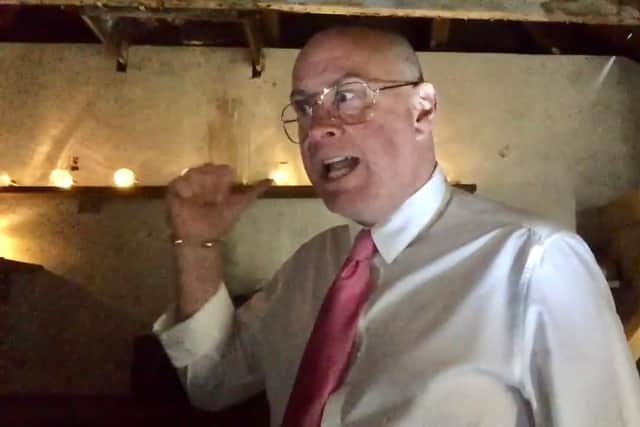 Today, Jim McLean suffers from a form of dementia, and lives in a Dundee care home; but here, the actor and Rep ensemble member Barrie Hunter - famous for dozens of fine performances in Scottish theatre over the years, and for his extraordinary efforts as author and dame in recent Perth Theatre pantomimes - offers us a glimpse of the Jim McLean he re-created in an extraordinary performance at the Rep in February and March of this year.
In a production directed by Scotsquad star Sally Reid, and featuring a striking design by Kenny Miller, Chris Alexander played a kind of footballing everyman - player, fan, colleague and critic - to Hunter's remarkable version of McLean; not an attempt to mimic the man in his prime, but rather a huge leap of imagination into the inner world of a manger who made even greater demands of himself than he did of others, and was often riven by rage and disappointment. At Dundee Rep, the play brought together theatre and football fans in a rare moment of shared celebration, just before the Covid-19 crisis plunged both great forms of public performance into silence; but when lockdown finally eases, there is every chance that this remarkable stage vision of Jim McLean and his life will appear again, in theatres across Scotland.