For Christopher KC, lockdown has essentially become extended paternity leave with his baby son. "Socialising was off the table anyway" the Glaswegian comedian laughs. "At this stage of being a dad, the bars and pubs were already closed to me. And I'm really enjoying the fruits of it."
His five-month-old is "already changing and his personality's showing. This is probably the only chance I've got to spend so much time with my partner and son at the same time. It'll never be like this ever again."
Unquestionably a silver lining, it still hasn't prevented the 27-year-old from recruiting his firstborn into an ad hoc double-act. The pair have collaborated on a set for the Scotsman Sessions, recorded on their daily stroll around Hampden Park, with KC marvelling at the ingenuity and imagination of horoscope writers, even as normal life, fortune and romance are disrupted.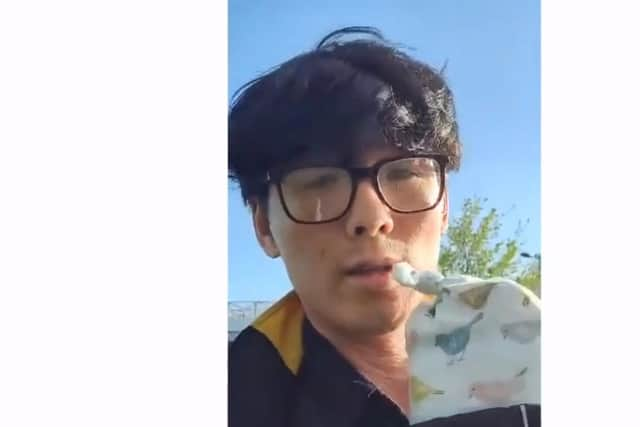 He admits to missing gigging - "It feels like a lifetime ago" – but he says he is relishing having the time to write more.
Drawing inspiration from acclaimed US storyteller Mike Birbiglia, who's been workshopping jokes on Instagram Live with fellow stand-ups, KC has swapped the feedback that he'd usually receive from audiences for regular "brainstorm" sessions with comic John Aggasild on the phone.
"A gig used to be a mini-deadline, and this gives me a similar impetus" he explains. "I don't think I'd be as motivated otherwise. Initially, I was too depressed to write. You turn on the news and everything just reminds you there's a pandemic."
As a second generation immigrant, the sardonically dry Scottish-Chinese comic grew up with "a lot of different cultural references to white working-class Scottish and British people". He appreciated introverted US one-liner merchants like Mitch Hedberg and Steven Wright, alongside larger-than-life legends like Andy Kaufman and Steve Martin, who hid their shyness behind a wild and crazy persona. Moreover, in their wit and precise turn of phrase he found a surprising correspondence with his own ancestry.
"When I was 19, I was really into the aphorisms of Confucius, a lot of truth in a short, succinct package. He was one of the first one-liner comics," chuckles KC, before checking himself. "Well, one-liner philosophers..."