Wonder Fools of Glasgow is one of the most vibrant young companies to emerge onto to the Scottish theatre scene in recent years; and the speed and energy with which they have adapted their work to pandemic conditions is a tribute to their passionate determination to keep creating theatre in some form, even under tough circumstances.
Wonder Fools was founded in 2014 by writer and performer Robbie Gordon and director Jack Nurse, who were soon joined by producer Steph Connell; and rapidly began to build a reputation for brave and powerfully theatrical work, with a distinct radical edge. During lockdown, they have been working extensively with both the Traverse Theatre and Ayr Gaiety on a range of community and outreach projects; and a glance at their website shows recorded versions of two pre-pandemic productions – Gordon's powerful Spanish Civil War play The 549, and a new audio version of their bold 2017 production The Coolidge Effect, about sex, desire, and online pornography – alongside a link to Meet Jan Black, recently created at Ayr Gaiety by writer Johnny McKnight, director Jack Nurse, and the magnificent Maureen Beattie, working with an online cast from local amateur theatre companies.
Also on the website is a series of links to the Traverse Theatre-Wonder Fools joint project Positive Stories For Negative Times, from which this Scotsman Session is drawn. The idea behind the project Is to commission short plays from leading writers, for performance by young companies during lockdown; the project now includes five plays written by a stellar group of playwrights – Chris Thorpe, Sabrina Mahfouz, Stef Smith, Bea Webster, and Jack Nurse and Robbie Gordon themselves – and published by Methuen, for present and future use.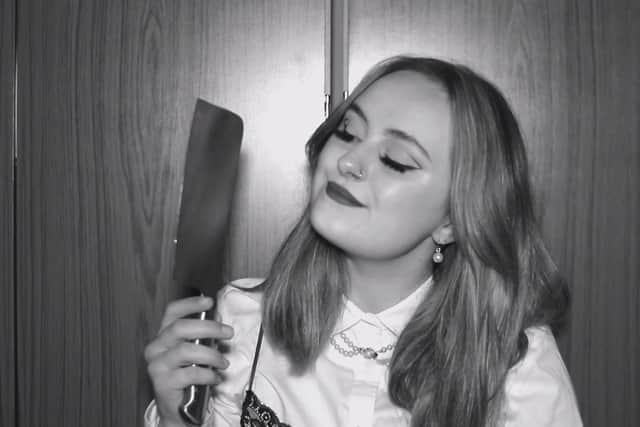 In this extract, six members of the Royal Conservatoire of Scotland Young Company offer their take on Sabrina Mahfouz's play for the project, Bad Bored Women Of The Rooms. The play explores the wicked, rebellious and extravagant dreams of women throughout the ages who have spent long periods shut in rooms, as prisoners of men or of the judicial system, or simply of a pandemic that has put limits on all our lives; and here, we see part of the story of one Linda Calvi, a notorious "black widow" who takes over her husband's criminal empire after his violent death.
Sabrina Mahfouz is a London-based British-Egyptian poet, performer and playwright, whose theatre career began a decade ago at Soho Theatre and on the Edinburgh Fringe, with plays including Dry Ice, One Hour Only, and Clean. Her 2014 Fringe monologue Chef, performed by Jade Anouka, won a Scotsman Fringe First Award; and since then she has written more than 20 plays for the BBC, Paines Plough, the Tobacco Factory, Theatre Uncut, and the Bush Theatre. She has also published three anthologies of poetry; and in 2018, she was made a Fellow of Royal Society of Literature.
Mahfouz's plays often deal with tough subjects, particularly the struggle of women to be free, in a world that sometimes seems dominated by various forms of organised crime, and in which everything, including our bodies, is brutally commodified. In this extract, though, we see the elements of lightness of touch, wit and fantasy that make Mahfouz's writing so attractive to audiences; all brought to life by a young company – Molly Isabella Bryson, Morven MacDonald, Gregor McMillan, Brooke Tennant, Orla Russell and Rosie Mackay, with Hanna Clark in the role of the wicked lady herself – who clearly relish the dark humour of Mahfouz's vision, and who, even when recording at home alone, already have all the skills necessary to bring it to life.
A message from the Editor:
Thank you for reading this article. We're more reliant on your support than ever as the shift in consumer habits brought about by coronavirus impacts our advertisers.