When Uma Nada-Rajah's short play Toy Plastic Chicken opened as part of Oran Mor's A Play, A Pie and A Pint series in May 2019, it carried the subtitle Based On A True Story; and it is indeed based on the playwright's real-life experience of being stopped by security staff at Edinburgh Airport because of a particularly silly plastic toy she happened to be carrying with her, as a joke gift for a friend.
The three-handed drama that emerged from that experience – featuring our heroine Rachel, of half-Indian heritage, and two white Scottish security staff suffering varying degrees of alienation and despair – is a truly brilliant short study of the implicit racism of current British security legislation, which literally, in certain circumstances, makes it a matter of suspicion to be of mixed British-Asian heritage, to hold any religious views, or indeed ever to have been angry enough about anything to have campaigned about it.
The two security staff dealing with Rachel – Ross and Emma – are not monsters, but instead profoundly disturbing case-studies in how legislation of that kind, combined with poor and insecure working conditions, can turn perfectly ordinary people into effective proto-fascists. Ross, the supervisor, is desperate for promotion, and to raise his profile by scoring an anti-terrorist arrest. Emma, his bitterly unhappy junior colleague, goes along with his plan out of apathy and misery; and the result is an unforgettable climactic scene in which Emma supervises Rachel while she strips for an unjustified full body search, with both women fully aware that they have been abused into this position by systems which are sexist, racist, and economically exploitative.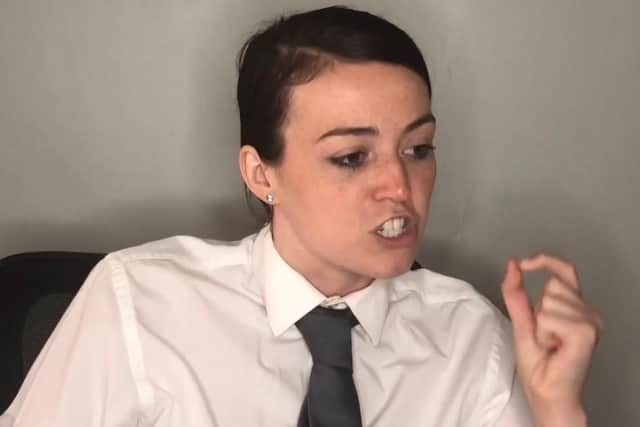 In this brief and brilliant extract, though, we see Anna Russell-Martin, one of Scotland's finest young actors, laying the groundwork for Emma's character by giving us a glimpse of her philosophy of life, and her view of the situation in which they find themselves. Russell-Martin graduated from the Royal Conservatoire of Scotland in 2018, and moved immediately into a prized apprenticeship with the Citizens' Theatre Company, for whom she went on to play a superb present-day Nora in Stef's Smith March 2019 version of The Doll's House. After Toy Plastic Chicken, she went on to win huge acclaim, and a 2020 CATS Award, for her electrifying central performance in the National Theatre of Scotland's stage version of Jenni Fagan's novel The Panopticon; and since lockdown, she has played the lead in young Scottish-Portuguese film-maker Laura Carreira's internationally acclaimed short film The Shift.
Uma Nada-Rajah is a Scottish-based playwright of Canadian and Sri Lankan heritage, who is currently playwright in residence at the Traverse Theatre, and also works as an NHS staff nurse. She has been part of young and emerging writer's groups at the Traverse, the Royal Court Theatre and the BBC, and is working on two contemporary dramas as part of her Traverse residency, one about the NHS and its values, and the other about the role of women of her own Tamil heritage in Sri Lanka's recent bitter civil war.
For now, though, Toy Plastic Chicken probably represents her most perfect achievement as a playwright, creating a tight dramatic situation that speaks volumes, over less than an hour, about the inherent political dangers that stalk the kind of society we have created. The original Play, Pie and Pint production was directed by Paul Brotherston, with assistant director Joanna Bowman, who worked on this recording. Rachel was played by the wonderful Neshla Caplan, Ross by a memorable David James Kirkwood; and Emma, of course, by Russell-Martin, an actor who loves nothing better than to embody some of the greatest social tensions of our time, with a pure flame of intelligence, energy and wit.
A message from the Editor:
Thank you for reading this article. We're more reliant on your support than ever as the shift in consumer habits brought about by coronavirus impacts our advertisers.