In one respect at least, the producers of screen versions of the novels of Jane Austen seem unable to help themselves. No matter how precise Miss Austen may be about the mousy looks of some of her heroines, or the plain and prosaic appearance that often masks the sturdy moral qualities of her heroes, those in charge of her screen presence invariably cast leading actors so dazzlingly beautiful, or stunningly handsome, that the length of time the central characters take to fall in love with one another often seems inexplicable.
In the case of Emma, of course – Jane Austen's fourth novel, published at Christmas 1815 – the casting of beautiful young women to play the heroine is more than justified; in the first line of the book, Austen describes Emma Woodhouse as "handsome, clever and rich", clearly one of the greatest beauties for miles around. The man who finally wins her hand, though, is a different matter. A stuffy character much older than Emma, neighbouring landowner Mr Knightley wins her love through a steady combination of conscientious civic virtue, and sheer kindness towards everyone, including Emma's difficult old father. There is no hint of the smouldering good looks enjoyed by almost every actor to portray him on screen; and when he finally comes to declare his love for Emma, he does so in notably tongue-tied style.
It's therefore interesting – in this session performed by Pitlochry ensemble member Lois Chimimba – to see that proposal scene reinterpreted by a young actress who is more than beautiful enough to play Emma herself, but who in this reading also conjures up the stolid presence of Mr Knightley, for once without the distraction of seeing him played by a youthful screen idol. The scene is recounted from Emma's point of view, despite Mr Knightley's strong presence; and it describes with tremendous subtlety how his proposal, coming after months of misunderstandings, forces Emma – even as she listens – to re-evaluate her own recent behaviour, particularly towards her companion Harriet, a young woman of humble birth with whose future happiness Emma has been playing cruel games out of sheer boredom.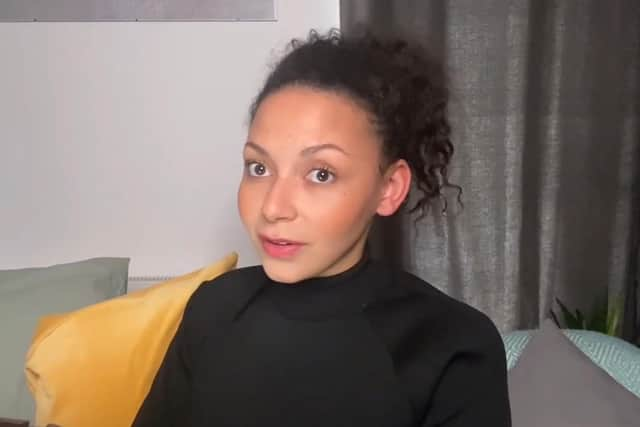 Chimimba recently joined Pitlochry Festival Theatre's Winter Ensemble following a highly successful early career on stage and screen. Born in Glasgow to a Scottish mother and a Malawian father, she trained at the Lynne Miller Academy in Glasgow, before completing her training at Mountview Academy in London. Her career so far has included appearances on Doctor Who and Holby City, and in 2021 drama series The One, in which she plays the leading role of Hannah. During lockdown, Pitlochry's artistic director Elizabeth Newman has been inviting ensemble members to contribute readings from their favourite classics to the theatre's three-times-a-day Light Hope Joy online series; and Emma is Lois Chimimba's choice.
Pitlochry Festival Theatre has recently announced plans for an outdoor summer season, to be presented in a newly-built 80-seat amphitheatre by the River Tummel, and set to open on 10 June with the stage premier of David Greig's Adventures With The Painted People. For now, though, the Pitlochry Ensemble is still expressing its love for literature and storytelling mainly online; and here, as Emma begins to respond to Mr Knightley, we can see a young Scottish actress, 205 years on, capturing the thrill and skill of the moment when Miss Austen pulls back the camera, shows the couple in long shot, and allows silence to fall on the secrets of happily married life, which she never knew herself. For when it comes to screen versions of Jane Austen's work, there is oddly no director better than Miss Austen herself; the one who knows how to conjure up and focus the images in our minds, from the first page of each novel, to the last.
A message from the Editor:
Thank you for reading this article. We're more reliant on your support than ever as the shift in consumer habits brought about by coronavirus impacts our advertisers.