For 13 years, she brought depth, emotion and wit to roles at Scottish Ballet, ending on a high note in 2016 as principal dancer. Since then, Eve Mutso has built an impressive freelance career as both a choreographer and performer. Bringing visual art and aerial work into her creations, and collaborating with able-bodied and disabled dancers, her works push boundaries but never lose sight of the beauty we know and love her for.
Mutso sites the great Belgian choreographer Anne Teresa De Keersmaeker as the inspiration for her Spinning Solo, filmed for Scotsman Sessions, in particular De Keersmaeker's 1982 work, Fase. Created in Mutso's Glasgow garden, this short piece offers so much to enjoy: the vibrant birdsong; the flow of Musto's hair and pleated skirt as she twists and turns; those long limbs that refuse to be constrained even during lockdown. Digital looping gives the solo a contemporary feel, while the pivoting toes speak of Mutso's years as a classical ballerina.
Gradually slowing to a stop she points her finger and smiles, before leaping playfully over the camera. It echoes the sense of fun audiences enjoyed during Mutso's Scottish Ballet days (especially at Christmas) and will hopefully see her through these difficult times. Plans for a new piece with Indepen-dance at the Edinburgh Festival Fringe have been shelved, while her role as Blanche in a revival of A Streetcar Named Desire at Estonian National Ballet this October still hangs in the balance. Still, Mutso remains committed to making art, whatever the circumstances.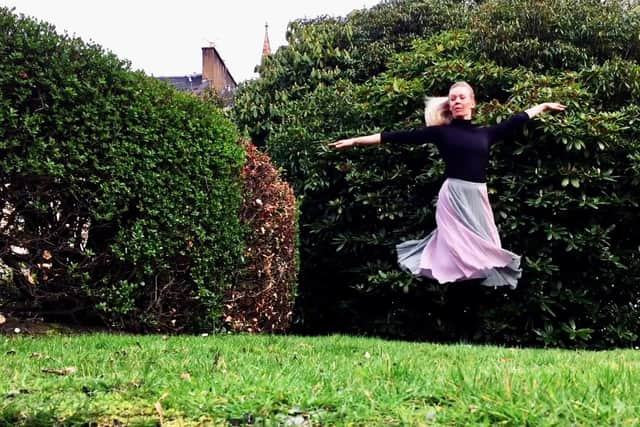 "There is still lots to explore," she says. "The choreographer Christopher Bruce once told me 'Having restrictions makes you dig deeper,' so I play around – some days in my kitchen, the hallway and occasionally in my garden when nobody else is around. Training and rehearsing in our domestic spaces is the reality for the time being, but creativity is contagious – pass it on!"