Skipping through fallen leaves, bouncing on trampolines and whizzing gleefully on playground roundabouts – such scenes from childhood have long since been lost to most adults. Which is perhaps why it's so evocative to watch the members of Dance Base's elders dance company, PRIME doing exactly that.
The opening of Captured Soft, a short film created by the company with choreographer Christine Devaney, is filled with moments of pure joy. We share their pleasure at being outdoors during lockdown, of seeing a friend, of having fun.
"I didn't meet any of the dancers in person during the project," explains Devaney, "but they were allowed to meet up in twos. So I set them a task and eight pairs went off and interpreted it in their own way. I think they found having a partner in crime – or a partner in play – made it easier, within the framework of being creative, to play."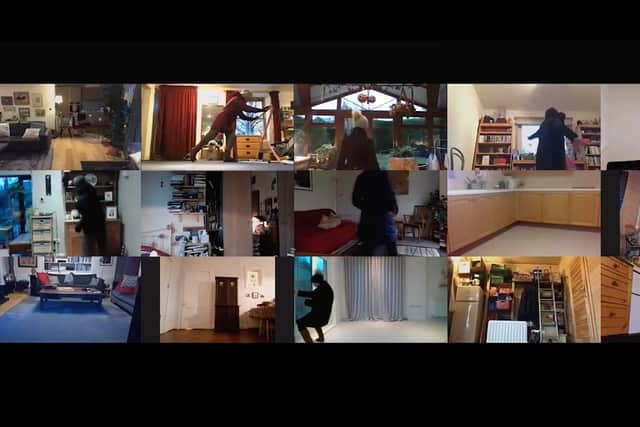 Returning home, the dancers touch walls and windows, like trapped animals exploring the perimeters of their enclosure. Then, they begin to dance – and a sense of release washes over them. Arms wide and bodies spinning, they bring a little of that outdoor freedom into their locked-down homes.
A mix of recorded Zoom sessions, outdoor footage, music and spoken word, Captured Soft is the result of several months' collaboration. Devaney, artistic director of Edinburgh-based company Curious Seed, teamed up with PRIME, a company of dancers aged over 60, after an anonymous benefactor supported the project.
"There was no pressure, no deadline," says Devaney. "We didn't need to get it ready for a performance, so there was something very open and free about the process. None of us had created anything on Zoom before, so it was a new experience for everyone."
Devaney shared an exercise with the dancers, involving three minutes of movement followed by three minutes of writing. Composer Luke Sutherland incorporated the text into his score, then filmmaker Lorna Simpson brought her sharp eye to the project turning "a series of recorded Zoom sessions into a wee work of art", as Devaney says.
At one point, a glamorous costume change finds the dancers in long satin dresses and smart shirts – the "going out" items that have hung motionless in all our wardrobes for over a year. As they dance and pose, there's a stirring mix of both pleasure and poignancy.
"Somebody mentioned getting dressed up and having nowhere to go," recalls Devaney. "And I said great, let's do that in the next session, give ourselves a reason to dress up. Of course they all ran with it and we had lots of fun. Some of it was very moving, but I also love the quirkiness of it."
As for the slightly oxymoronic title, that came right at the end of the process. "We kept talking about what we'd 'captured'," explains Devaney. "And although the film was created online, we certainly didn't feel constricted by the hard lines of the Zoom boxes. Everyone involved felt there was something beautifully soft about the process – so we put those two words together."
A message from the Editor:
Thank you for reading this article. We're more reliant on your support than ever as the shift in consumer habits brought about by coronavirus impacts our advertisers.
If you haven't already, please consider supporting our trusted, fact-checked journalism by taking out a digital subscription at https://www.scotsman.com/subscriptions