The covid pandemic has now been part of our lives for so long that it is beginning to generate its own creative partnerships, played out entirely online; and one of those is the connection between writer Mikey Burnett and actress Mori Christian, captured in this near-perfect short solo piece inspired by Burnett's intense fear of flying.
Burnett and Christian first met in an online workshop early in 2020, and have never met in person; yet within weeks, Burnett had asked Christian to record his monologue Lockdown, about middle-class domestic violence, and the two are now hoping to work together on "real world" theatre projects, once the theatres reopen. "I just think Mori is one of the finest actresses we've got," says Burnett, "and as soon as I saw her work, I knew I wanted her to perform Lockdown. Then I wrote The Nervous Flyer with her in mind. Most of my writing is in a strong east of Scotland vernacular; but these two pieces are in standard English with a Scottish accent, and I think Mori's just tremendous in them."
Christian grew up in Edinburgh, and trained at the RSAMD in Glasgow – now the Royal Conservatoire of Scotland – in the early 1990s. "To be honest," she says, "I think I was too young to get as much out of it as I should have. It was the 1990s, it was Glasgow, all the clubs were open – I was just too busy having a great time."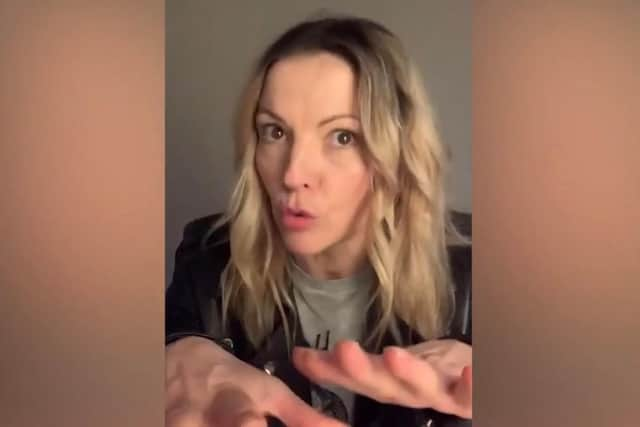 After graduation, Christian spent some time in the United States, and enjoyed a successful early career, but then took 15 years out to raise her three children. In the early 2010s, she began to ease herself back into acting, and was cast in occasional screen roles; in 2016 she played the lead in AJ Sykes's award-winning short film Perfect Worlds, picking up a Best Actress award in Milan. And at Christmas 2020, despite the pandemic, Christian appeared at the Pavilion, Glasgow, in her first panto, which was filmed live, and streamed across Scotland.
Burnett grew up in Bonnyrigg, Midlothian, and after school spent three years at the University of Bedfordshire in Luton, on a creative writing course that improved his technical skills in prose and poetry, but left him feeling he hadn't yet found his vocation. Back home after graduation, though, he became a carer for his grandad, an ex-military man who had seen the National Theatre of Scotland's Black Watch, and bought a copy of the play; and when Burnett picked up the text and began to read, everything began to fall into place.
"I think I'd always had a knack for dialogue," says Burnett, "and when I saw Gregory Burke's dialogue written in my language, the language of working-class east of Scotland, I suddenly realised that I should try my hand at writing plays." In 2013, Burnett became one of the Traverse 50 playwrights, celebrating the theatre's 50th anniversary; and he has since had several plays performed around Scotland, including his 2019 Edinburgh Fringe hit In Her Corner, which he has now adapted for a short film, set to begin production in May.
In The Nervous Flyer, we can see Burnett's gift for giving a distinctive voice to his characters at its most vivid, as he and Christian bring to life a slightly surreal character called Mary, whose fear of flying amounts to an obsession. Burnett freely admits that Mary is to some extent a self-portrait, but says his priority is to make it increasingly clear to those watching, over a few short minutes, that this person is really quite crazy. "Definitely!" says Christian, clearly relishing the tragi-comic potential of the role. "And I hope we've succeeded in that."
A message from the Editor:
Thank you for reading this article. We're more reliant on your support than ever as the shift in consumer habits brought about by coronavirus impacts our advertisers.