The history of rock music in Scotland is long, proud, complicated, and often inspirational. It's a story filled with the passion of young working-class people who – through every decade since the 1950s – found little inspiration in the official culture of the state they were living in, but heard in the postwar transatlantic wave of blues, jazz and rock'n'roll a voice they could adopt as their own; and it's hardly surprising that that rollercoaster story of yearning for creative expression and escape, followed by success, betrayal and even tragedy, has featured in many Scottish dramas, including John Byrne's 1980s television epic Tutti Frutti, and Cora Bissett's recent Fringe triumph What Girls Are Made Of.
Andy McGregor's new short film Ever Young, created in lockdown at the Beacon Arts Centre in Greenock, is a new and exceptionally moving reflection on this familiar story, subtly linking the remembered rise and fall of a 1990s Greenock rock band to an exploration of whether that creative impulse still has the power to bring a sense of freedom and renewal, in what seem like much darker times.
The film acts as a taster for a full-length stage musical, Battery Park, which is planned for next year; and it takes the form of a dialogue between the band's former singer and song-writer, Tommy – now in his late forties, and slumped in the bar of his local bowling club – and a young student called Lucy, who insists on talking to him about her enthusiasm for the band's music and his songwriting, and turns out to be more closely connected to the band's story than Tommy ever imagined.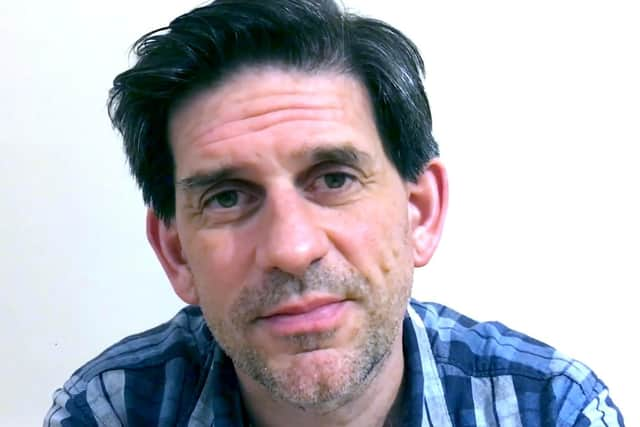 In this brief extract for the Scotsman Sessions, Clark – who plays Tommy in the film, opposite superb young Scottish actress Rosie Graham – introduces us to the story of the band he once led, along with his brilliant brother Ed; we also catch filmed glimpses of the band's remembered glory days, and of contemporary Greenock, one of Scotland's most battered and spectacular post-industrial towns.
Andy Clark is one of Scotland's most sought-after stage actors, always focusing on theatre work despite appearances on television series including River City, Rebus and Taggart. Over the last 20 years, he has played well over 50 major roles in Scottish theatre productions, at venues that range from A Play, A Pie And A Pint at Oran Mor to Dundee Rep, the Lyceum, the Traverse, the Citizens' Theatre, and Glasgow's Botanic Gardens. A dedicated ensemble actor, he has already appeared in Scotsman Sessions based on Morna Young's Lost At Sea (2019), and Liz Lochhead's short Scots version of Tartuffe; and at Christmas 2018, he made full use of his musical skills, as a moving Bob Cratchit in the Citizens' Theatre's powerful all-singing version of A Christmas Carol at the Tramway.
Andy McGregor, by contrast, is a backstage powerhouse of small-scale musical theatre making in Scotland, a writer, director and composer who has built a formidable reputation, over the last decade, for Play, Pie And Pint musicals including Spuds and Crocodile Rock, and across a huge range of theatre from children's shows to the annual Paisley Arts Centre panto. He also teaches and directs at the Royal Conservatoire of Scotland, where he trained. For McGregor, music is always an integral part of theatre; and here, he seizes the chance to tell a powerful story with all his usual play-writing flair, but also to explore a theme – the making of new music, and its power to offer new beginnings when everything seems lost – that could hardly be closer to his heart.
A message from the Editor:
Thank you for reading this article. We're more reliant on your support than ever as the shift in consumer habits brought about by coronavirus impacts our advertisers.