While the power and beauty of set design should never go unappreciated, using the world as your backdrop will always add something unique to a performance. Filmed in the courtyard of the Anatomy Rooms, an arts centre in Aberdeen, this short video from dancer and choreographer Shaun Stickland, titled White Noise, is filled with urban "furniture." We see graffiti, wheelie bins, wooden pallets and tarpaulin blowing in the wind. Stickland himself moves as if he too is buffeted by an external source, his sinuous body like molten liquid, so pliable in contrast to the hard ground beneath him.
His collaborator, Beth Hopkins circles Stickland with her camera as if it was his partner in a pas de deux. When our viewpoint curves to take in an enormous theatrical head – a once cherished prop now left to the elements – there is a poignant nod to the times we're living in.
Strickland's training at the Scottish School of Contemporary Dance is clearly evident, but so too is the dislocation of hop hop. At times he's like a puppet cut free from its strings, discovering his own bodily autonomy and range of movement. The bright colours and softness of his clothes striking against the brutal beauty of grey concrete and white noise.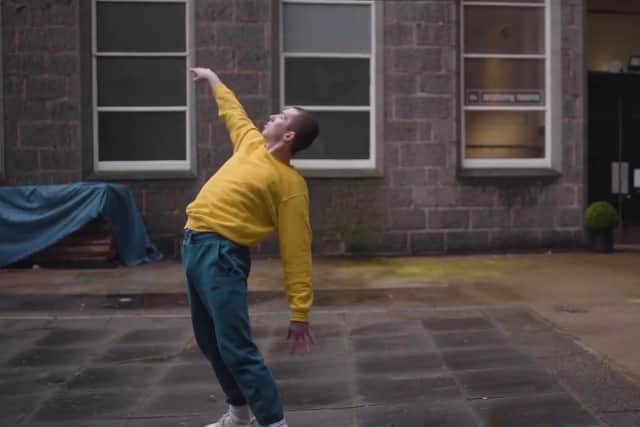 "Dance has always been such an escape for me," says Stickland, "and it's when I truly feel like I am 100 per cent honest with myself, open and inquisitive. There are moments where I get really lost within the movement but there's always an awareness – I'm listening to my body and learning from new pathways I discover.
"The white noise highlights those moments when you zone out without really meaning to. In the footage, you aren't influenced by an overly-expressive soundtrack, you can just sit back and explore the movement with me and enjoy it for what it is."
A message from the Editor:
Thank you for reading this article. We're more reliant on your support than ever as the shift in consumer habits brought about by coronavirus impacts our advertisers.