Stephen Buchanan's first Radio 4 special, a significant milestone for any British comedian, airs on 7 March, not long after he enjoyed the primetime television exposure of a set on Jonathan Ross' Comedy Club on ITV. The Glaswegian permits himself a wry chuckle at the fact that his career seems to be taking off just as he's prevented from capitalising on it.
"Most of my TV and radio work has been during this period when I can't use it to sell tickets for an Edinburgh Fringe show or tour," reflects the 29-year-old, who also writes for BBC Scotland's Scot Squad and Raiders of the Lost Archive. "It's bizarre. And hard."
Recording the special, Talking Shop, over Zoom from his childhood bedroom, a mix of his 2019 Fringe debut and newer routines about the many, many unglamorous jobs he's had, he laments that "Zoom gigs are fine but there aren't nearly enough to work up fresh material."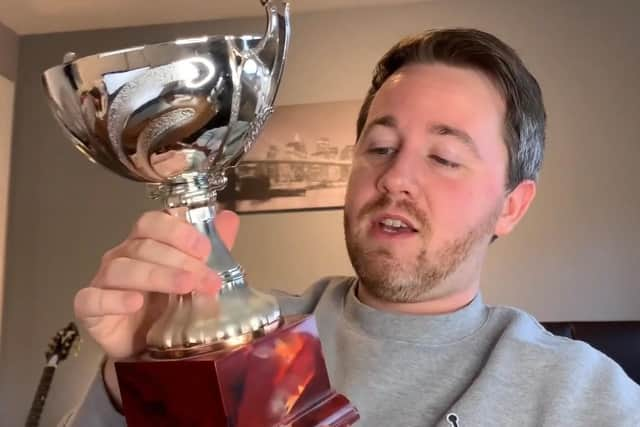 As the luckless comic also reveals in his Scotsman Session, the pandemic hit at an unfortunate time in his personal life too, after he'd moved into a new place with his girlfriend. A mere six weeks later, he was back living with his mother.
"Basically, I didn't have an income anymore," he explains. "So for financial reasons we had to give up the flat. Hopefully we can look to get a house when things start returning to normal." Meanwhile, as his video attests, he's feeling nostalgic.
"It's strange" he admits. "I'd only been away a few weeks but it no longer felt like my room. I was looking through the cupboards and finding all sorts of stupid stuff that I'd forgotten about."
As the first Scot to win the BBC's New Comedy Award in 2018, Buchanan's pedigree as a stand-up has been acknowledged, but he admits to some trepidation about returning to comedy clubs again.
"I don't think I'll feel like an open spot, but there will definitely be a few nerves there," he admits. "In Scotland we've not had it for almost a year now. I enjoy Zoom gigs but it's nothing like the same buzz. I'm really choking to get back on stage and just perform to real people again."
A message from the Editor
Thank you for reading this article. We're more reliant on your support than ever as the shift in consumer habits brought about by coronavirus impacts our advertisers.