Karen Dunbar is a member of a tiny elite group in Scottish entertainment; those who have become well-known television faces, while also sustaining stage careers that span the whole range of live performance, from stand-up comedy, pantomime and musicals, to the most powerful classic theatre. It's a status that puts her in the same star-studded category as Elaine C Smith, the late great Gerard Kelly, and the wonderful Andy Gray, who sadly died earlier this year; and as much as any of those stars, she is a writer and performer who takes seriously her role in carrying forward the tradition of theatre and entertainment that speaks with a distinctively Scottish voice, while also loving a laugh, and the sheer power of comedy.
Born in Ayr in 1971, Dunbar moved to Glasgow in the late 1980s, after school at Ayr Academy. She began her showbiz career as a DJ and karaoke host; but in 1997, she was cast in BBC Scotland's television sketch show Chewin' The Fat, moving on in 2003 to a three-year run in her own Karen Dunbar Show. In 2007, she made her first appearance in the King's Theatre pantomime in Glasgow, playing Nanny Begood in Sleeping Beauty; and in 2008, at Oran Mor in Glasgow, she effectively launched her theatre career with a thrilling Play, Pie And Pint performance in A Drunk Woman Looks At The Thistle, a 21st century female version, adapted by Denise Mina, of Hugh MacDiarmid's famous poem about Scottish identity and neuroses.
Over the last decade, Dunbar's acting career has flourished, and has taken her from the National Theatre in London, where she appeared in Josie Rourke's acclaimed 2010 production of Ena Lamont Stewart's Men Should Weep, to Perth Theatre, where last year, just before lockdown, she played an astonishing Lady Bracknell – born in Govan, now a doyenne of the British establishment – in Lu Kemp's brilliant production of The Importance Of Being Earnest.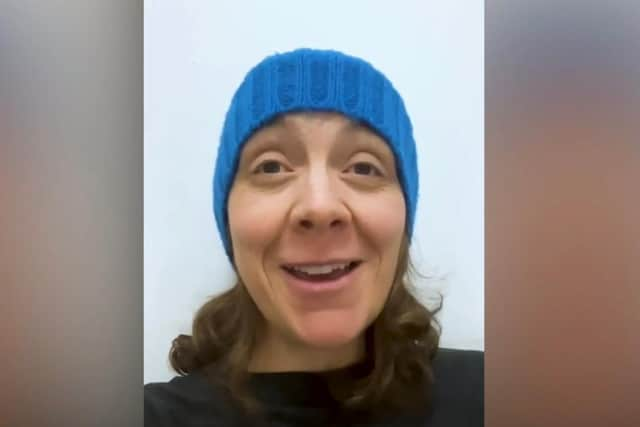 In between, she has tackled challenges including the role of sexually abused wife Rose Ouimet in Michel Tremblay's The Guid Sisters at the Lyceum in 2012, and at the Tron in 2015, the uniquely demanding role of Winnie in Samuel Beckett's Happy Days, which essentially involves sustaining an 80-minute monologue while buried in sand up to the waist and then the neck. And all of this, while also continuing to wow comedy festival audiences with her own stand-up show, pursuing a career as a radio and television presenter, picking up a Role Model of the Year award as an icon for Scotland's LGBT community, and co-presenting the 2014 Glasgow Commonwealth Games opening ceremony with John Barrowman, to an estimated global audience of a billion people.
In this recording, though, Dunbar returns to her Ayrshire roots, as in classically unadorned Dunbar style – woolly hat, no make-up – she delivers an extract from Robert Burns's Tam O'Shanter, a poem which she has famously performed all over Scotland. What's striking about Dunbar's performance – in an age when Burns is sometimes dismissed as incomprehensible – is just how comfortably she absorbs his language into her own contemporary performing voice, tracing a direct line of descent from the Ayrshire Scots of the 1790s, to the rhythms of west of Scotland comic patter in the 21st century.
And just as Dunbar profoundly understands the humour of Burns's famous story, so she also seems to embody the robust attachment to reality, and to common sense, that shapes this comic classic of the Enlightenment. Frighten yourself with old stories of the supernatural if you like, says Burns, but don't get carried away, or it will be the worse for you; and Karen Dunbar seems, in this wonderful performance, to agree.
Karen Dunbar has launched a new online venture in partnership with the Citizens' Theatre called Karen Dunbar's Spoken Word Club, introducing community groups to the joys of rap, grime, beat poetry and more. The sessions cover lyric writing, beat making and performance techniques, and will culminate in a celebratory showcase event featuring special guest artists. For more information visit https://www.citz.co.uk/whatson
A message from the Editor
Thank you for reading this article. We're more reliant on your support than ever as the shift in consumer habits brought about by coronavirus impacts our advertisers.