It was months before the pandemic started, in the autumn of 2019, that Pitlochry Festival Theatre announced its three-year Shades Of Tay project: 50 new commissioned works, across music, dance, literature and visual art as well as theatre, designed to celebrate Scotland's magnificent River Tay, and the area through which it flows, from near Oban in the west, to Dundee and the North Sea in the east. The idea then was that the first round of Shades of Tay work would be shown at Pitlochry – either on the main stage, or as foyer performances and exhibitions – during the theatre's 2020 season; and the centrepiece, as part of the main theatre season, was to have been David Greig's new play Adventures With The Painted People, reflecting on the history of the Pictish people of the area, and their encounter with the Roman Empire.
The coming of Covid-19 changed all that, of course. Pitlochry Festival Theatre closed its doors last March, and has yet to reopen, although building works are under way to ensure that when it does, it will boast a brand-new studio theatre, alongside its much-loved main auditorium. Yet the Shades of Tay project continued, with Pitlochry's artistic director Elizabeth Newman commissioning writers across Scotland and the UK – including Douglas Maxwell, Timberlake Wertenbaker, Peter Arnott, Oliver Emanuel, and Hannah Khalil, among many others – to write short pieces which were then voiced by members of the Pitlochry company, and edited into beautiful short films for presentation online.
One of the most powerful of these films, reflecting on the Tay as it flows through Dundee, was Shadows of Tay, based on a text by Jo Clifford; and here, Pitlochry Ensemble member Blythe Jandoo, working with director Elizabeth Newman, reprises for the camera her role as a granddaughter whose much-loved grandmother lives by the river, and finds that it inspires reflection on the long history of human oppression, and of striving for freedom.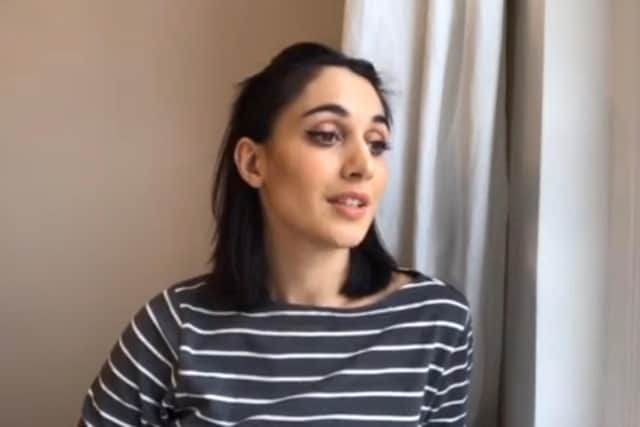 Blythe Jandoo comes from Edinburgh, and trained at the Dance School of Scotland and Arts Educational Schools in London; her stage career so far has taken her from a role as Tinkerbell in the 2015 SECC pantomime in Glasgow, to appearances across the UK in musicals including Starlight Express and Joseph And The Amazing Technicolor Dreamcoat. Jo Clifford is one of Scotland's leading playwrights, and has also won international fame, over the last 20 years, as one of the world's leading trans artists, celebrated for work including God's New Frock (2003) and her astonishing and beautiful Gospel According To Jesus Queen of Heaven (2008), a communion-like celebration that has sparked both adulation and outrage, becoming a cause celebre for the LGBT+ community in deeply divided Brazil. Earlier in her career, writing as John Clifford, she won huge acclaim as a Traverse Playwright with plays including Losing Venice (1985) and Ines de Castro (1989); and her recent work also includes powerful adaptations of Anna Karenina, Yerma, and The Taming of The Shrew.
Here, though, she reverts to the simplest of monologue forms, using the words of the granddaughter to conjure up both her own character – as a girl who longs to be an engineer devising technologies to tackle climate change – and the figure of her grandmother, herself a veteran of many freedom struggles. It's a story that speaks volumes, within the short compass of five minutes; and in this new version, it's performed by Blythe Jandoo with such feeling that it now seems almost like an elegy for all the complicated, beautiful and beloved grandparents lost, in this terrible pandemic.
A message from the Editor
Thank you for reading this article. We're more reliant on your support than ever as the shift in consumer habits brought about by coronavirus impacts our advertisers.
Joy Yates, Editorial Director