The Scotsman Sessions #167: David Rankine and Fiona Wood
Welcome to the award-winning Scotsman Sessions. With performing arts activity curtailed for the foreseeable future, we are commissioning a series of short video performances from artists all around the country and releasing them on scotsman.com, with introductions from our critics. Here, David Rankine and Fiona Wood revisit their roles as young lovers Sarah and Michael in Pitlochry Festival Theatre's 2019 production of Heritage, by Nicola McCartney
New world, new beginnings. It was the promise of a fresh start, far from old oppressions and hatreds, that drew millions from Europe to North America during the 19th and early 20th century; and in the opening scenes of Nicola McCartney's great 1998 drama Heritage, set in the summer of 1914, that sense of bright hope is everywhere. The McCrea family, recently arrived from Northern Ireland, are beginning to make a go of things, on their small farm in Saskatchewan; and their neighbours the Donaghues – also from Northern Ireland, but established in Canada since the Irish famine of the 1840s – are among the leading families in the district, proud of the status they have won there.
In Canada, it seems, the fact that the McCreas are Protestant, and the Donaghues Catholic, matters much less than at home; and when young Sarah McCrea, just out of school, meets young Michael Donaghue, down by the river that divides their properties, at first it seems that there might also be a bright future for them.
The greatness of McCartney's play, though, lies in the superb skill and insight with which she builds the tragic momentum of the drama, as the shades of history and old grievance begin to gather around the couple. As war is declared in Europe, young Canadian men face the call to join up and fight for the British Empire; and as casualties mount, so does ill feeling against those like the Donaghues who will not fight in a British cause, and are themselves facing growing pressure to support Ireland's struggle for independence.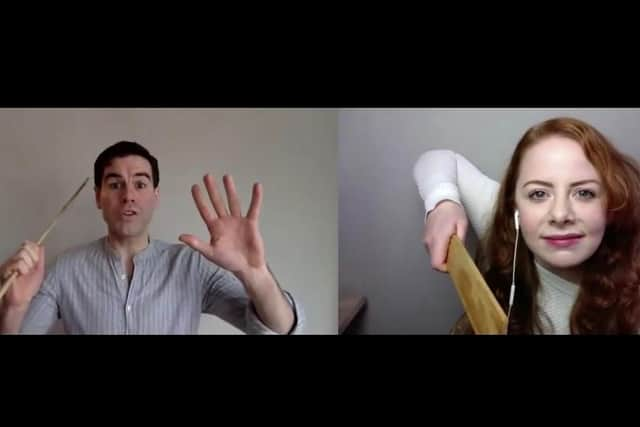 Heritage was revived as part of the 2019 Pitlochry Summer Season, in a tense, brilliant and flowing production by Richard Baron that seemed to resonate even more powerfully, in our current age of bitter ethnic conflicts and culture-wars, than it did back in 1998. In this extract, David Rankine and Fiona Wood revisit their roles as Sarah and Michael, capturing one of those early conversations by the riverbank, where the two fall in love.
Michael's way of wooing Sarah is to regale her with the exciting stories of old Irish mythology; he does not not know, and she does not yet understand, that to some Northern Ireland Protestants the very knowledge of these stories is anathema, a mark of membership of an inferior tribe. And in the background of their lighthearted chat, the drumbeat of war can already be heard. Sarah's brother John will go to fight, Michael will not; and the sense of looming political danger and possible heartbreak is already with us on stage, almost before the drama has started.
Nicola McCartney is one of Scotland's most distinguished playwrights, and teaches playwriting at the University of Edinburgh. As well as standalone plays like Heritage – a play which reflects her own Northern Irish background – she often works in the field of "applied drama", empowering groups of marginalised or silenced people to tell their own stories; and in 2019, she and Dritan Kastrati, a former Kosovan refugee in Britain, received hugely acclaim for their jointly written play How Not To Drown, presented at the Traverse during the Edinburgh Festival Fringe.
McCartney has also worked with women prisoners in the United States, and with Traverse Theatre's acclaimed Class Act programme to encourage young playwrights of school age, leading remarkable projects in Russia and Ukraine. In this play, though, she delves straight to the heart of the conflict that formed the backdrop to her early years in Belfast; and by setting it 4,000 miles away, and 100 years in the past, she allows us to see both its shape, and its impact on human lives, with a clarity that is profoundly tragic, and utterly absorbing.
A message from the Editor
Thank you for reading this article. We're more reliant on your support than ever as the shift in consumer habits brought about by coronavirus impacts our advertisers.
Joy Yates, Editorial Director