In 1989, when Morna Young was five years old, her fisherman father was lost at sea, and his body never recovered. In the tiny north-east fishing village where she grew up, such stories were not uncommon; but as Young grew up, and built a writing career first as a journalist, then as a playwright, she always longed to write something that would honour the memory of the many hundreds of UK fishermen who have lost their lives at sea over the last 40 years, and to express something of the unspoken, stoically-borne grief that scars all fishing communities.
Lost At Sea was her first play, completed in 2012; and since then, she has seen half-a-dozen other short plays performed in A Play, A Pie And A Pint seasons and elsewhere, around Scotland and beyond. In an age of huge cost pressures, though, Lost At Sea - with its cast of at least nine characters - was simply too big for most theatres to take on; and when it finally made it to the stage in April 2019, in a production by Young herself and Horsecross Arts at Perth Theatre, it was embraced by audiences and critics alike as a rare return to Scotland's great tradition of drama about work and workplaces, which ranges from comedies like John Byrne's Slab Boys, through Roddy McMillan's The Bevellers, to Sue Glover's 1991 masterpiece Bondagers, about female agricultural labourers in the 19th century Scottish Borders.
Lost At Sea was also directed by former Traverse artistic director Ian Brown, in one of very few return visits to Scottish theatre since he left the Traverse 25 years ago. Since then, Brown has forged a highly successful career as artistic director of West Yorkshire Playhouse in Leeds, and as a freelance director; but as the first director of Bondagers, he was delighted to return to Scotland to work on another ambitious play by a woman writer, similarly dedicated to the idea of giving voice through dramatic fiction to a whole strand of Scottish life and experience that had too often gone unheard. The production picked up a raft of awards and nominations at the 2019 Critics' Awards for Theatre in Scotland, and went on to tour Scotland in April and May of 2019.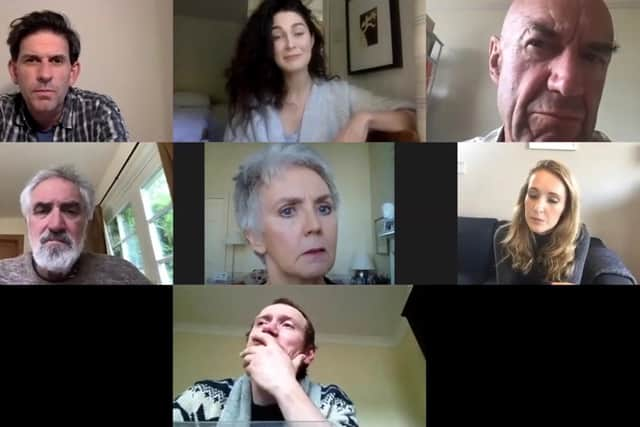 In Ian Brown's Perth production, the play was staged in a visually simple but overwhelmingly powerful style, with the cast all present throughout, on a square platform stage lined by chairs, and superbly lit by Katharine Williams. To the rear, in Karen Tennant's design, screens showed images of a great, towering sea, sometimes barely glimpsed, at other times apparently threatening to overwhelm the whole theatre; while Pippa Murphy's score echoed with the cadences of hymns and folk songs, the timeless music of the fishing.
In this short extract, with glimpses of that visual background and soundscape, seven members of the original cast perform a sequence that deals with the loss of a boat from a small fishing town, and the search for the bodies of the crew that follows. Young's intention, in this powerful chorale of a play, is to let us hear the voices of people unaccustomed to talking about their grief, and the devastating losses they have learned to bear; and here, a top-flight Scottish acting company, led by Jennifer Black, Gerry Mulgrew and Tam Dean Burn, pay full respect to the depth of that experience - both in the words of the characters, and in their silences, which perhaps speak even more loudly.
A message from the Editor:
Thank you for reading this story on our website. While I have your attention, I also have an important request to make of you.
The dramatic events of 2020 are having a major impact on many of our advertisers - and consequently the revenue we receive. We are now more reliant than ever on you taking out a digital subscription to support our journalism.
Joy Yates, Editorial Director