The Ghosts of North Leith: Graveyard inspires short plays
From a radical writer who was hailed as the next Robert Burns to a woman who helped recruit troops for Bonnie Prince Charlie, a new series of short plays tell the stories of some of those interred in the old North Leith Burial Ground, writes Mark Fisher
You can tell a lot about the life of a place from its graveyard. That, at any rate, is the premise of The Ghosts of North Leith, a compendium of short plays inspired by the gravestones of the old North Leith Burial Ground in Coburg Street. Written by seven playwrights for Citadel Arts Group, it mixes fact and speculation to dramatise the stories of some of the people who have passed through the port.
"It's a snapshot of late-18th and early-19th century Leith and, by extension, Edinburgh," says director Liz Hare.
Members of Citadel's playwrights' workshop explored the graveyard in search of clues to interesting stories. Why, for example, does one headstone list the names of three young brothers, described as "three cherubs," but leave no mention of their parents? All playwright Elaine Campbell had to go on were the names and dates of the three Millar children: Peter (one), John (three) and Archibald (16 months).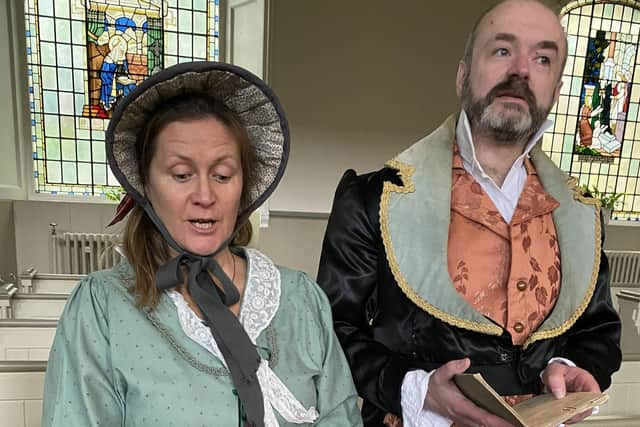 Trawling through the records, she could find no evidence of the family, even though the expensive memorial stone suggests the boys were much missed. "It's a beautiful stone," says Campbell. "The death of a child for a parent today is just unbearable, but during this period, some social historians have said so many children died that parents didn't invest emotionally in them. Others have argued, no, there is material from poetry to graveyards to suggest that wasn't the case. I thought this gravestone I'd found was an example of parents who adored their children."
With so little to go on, however, all she could do was imagine their tale. There were other Millars in Leith, part of a family of grain merchants so, thought Campbell, perhaps their father was trading at sea when his children died. "When they were first buried, the boys would have had wooden crosses, if they were lucky," she says. "Most children would have been put in common graves. Plots were expensive. Somebody had an emotional attachment to those children – why else would you spend a large amount of money on a very nice gravestone?"
Threading together all the plays is Robert Nicoll, the poet and radical newspaperman who was hailed as the next Robert Burns before his death at the age of 23 in 1837, too young to fulfil his promise. Being a journalist, he seemed a good candidate to present each of the stories. "Nicoll points up absurdities, hypocrisies and inconsistencies," says Hare about Jim Brown's play. "There's that kind of satirical quality in his voice."
In some cases, the burial ground offered no direct evidence, possibly because it borders the Water of Leith and has lost some of its graves to erosion. In such cases, only the burial records can tell us who once occupied the plots. An example is Lady Anne Mackintosh, a Jacobite heroine who, at a very young age, raised troops for Bonnie Prince Charlie.
"How did a woman come to do that in 1745?" asks playwright Rhona Adam. "What sort of personality was she to ride into these Highland clans? She must have been a formidable lady. Leith was a hotbed of Jacobite supporters, so I've just assumed she'd come to stay with a like-minded lady."
Not all characters who haunt The Ghosts of North Leith are welcome visitors. Being a significant trading port, Leith owes some of its prosperity to the slave trade, a history that shames us today. Relatively little is known about Joseph Stoney, for example, except that he was a navy man, born in Jamaica and buried in Leith in 1820. His family were part of the slave trade and Brian Lincoln's play speculates about the connections that brought him here.
Likewise, Nelly Gladstones was the mother of Sir John Gladstone (the s was dropped from the end of his name) who received a bigger compensation payment than anyone when slavery was abolished because of the vast number of slaves he owned. Writer Hilary Spiers has no way of knowing Nelly's views on the slave trade, but as the abolition movement was gaining traction, she has imagined her as an anti-slavery campaigner.
"Women weren't allowed to join the abolition societies so they would find other ways to register their disapproval," says Spiers, adding that Nelly was the grandmother of prime minister William Gladstone. "One of the things they did was a sugar boycott, refusing to buy sugar from plantations. My playlet shows Nelly distributing tracts about slavery and her son is dispatched to sort her out."
There is also room for levity among the weighty historical themes. Writer Carolyn Lincoln takes on the curious story of a rented Trinity house where strange noises were heard after the death of 12-year-old Matilda Molesworth. Was it a tale of paranormal phenomena or could it have been the product of a tenant-landlord dispute?
Then there is the unorthodox lineage of the Rev Dr David Johnston, who died 200 years ago, after being minister of North Leith, where the play is performed. Johnston's great grandfather was David Williamson, a covenanter who, in a Carry On-like episode, escaped persecution by hiding in the bed of Jean Kerr. She became the third of his seven wives, inspiring the song Dainty Davie, which is still sung in playwright John Lamb's local folk club.
"Johnston was the longest serving minister at North Leith Church," says Lamb. "He was a co-founding member of the Blind Asylum, moderator of the Church of Scotland and was appointed chaplain in ordinary for Scotland to King George III. All this and his lasting fame comes as a descendant of Dainty Davie and the true event dramatised in my scene."