Stage and Screen: Glasgow's Hunterian to host major exhibition of theatre and film design
As the Hunterian prepares to host a major exhibition of costume drawings, backcloth designs and more, Mark Fisher speaks to the man who has devoted the last 40 years of his life to bringing it all together
Scene One. The lights go up on a narrow Victorian townhouse near London's King's Road. We are greeted at the front door by James Gordon, a tall man in his 80s, who welcomes us in. He wastes no time launching into a tour of the property. There is a lot to take in.
Every inch of wall space is taken up by framed prints, sketches and paintings. It is the same downstairs in the basement bedroom, here on the ground floor and upstairs in the living room, which is decorated in an audacious red. "This door is the only place I haven't hung pictures," he says, moving into the next room.
The pictures are varied. Some are swathes of abstract colour, others are detailed architectural views, others still show figures in flowing robes or period dress, variously impressionistic and precise.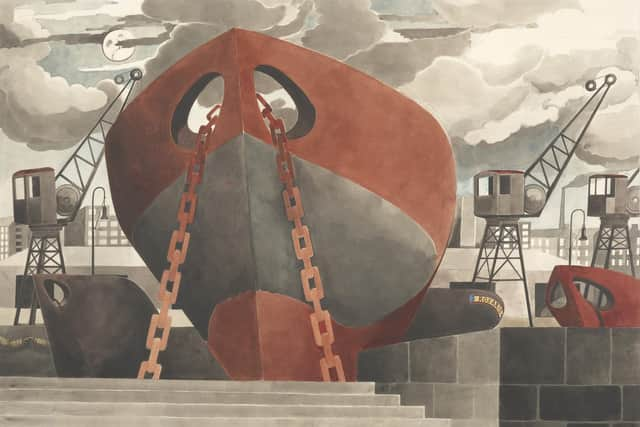 There are also gaps where pictures have been removed. The missing frames are in Glasgow where a sample of Gordon's vast collection has been gathered for a chronological overview of 20th-century theatre and film design. The exhibition at the Hunterian Art Gallery will display 400 of the estimated 5,000 pictures he has amassed over the last 40 years – the biggest private collection of its kind.
He shows me an early work by John Gielgud, who fancied himself as a stage designer before he had rather greater success as an actor. On the back is the instruction: "Not to be sold under two and a half guineas."
"It's not very good, really," says Gordon. "Thank God he stuck to acting."
There are also pieces by those better known as artists, including Edward Burra and Paul Nash. "I always find with a stage setting, if you look at the drawing and you can imagine it coming to life, it's a good one," he says. "It's an art like anything else, but underappreciated."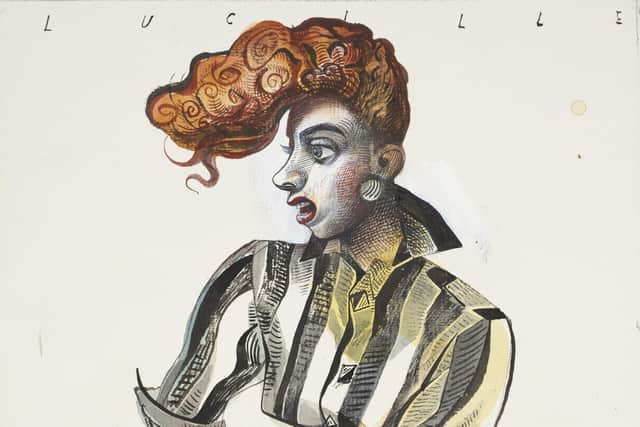 Gordon owns work by names familiar in Scotland including Philip Prowse, formerly of Glasgow's Citizens Theatre, polymath John Byrne, of Slab Boys fame, and Keith McIntyre whose paintings were used for Communicado's landmark Jock Tamson's Bairns in 1990. The exhibition includes a study for a poster of the Five Past Eight Show, sketches for the Glasgow-set ballet Miracle in The Gorbals and a rare design for a front cloth for Glasgow's City Theatre, which opened in 1845 and burnt down five months later.
He also has pieces by David Hockney, Jean Genet and the theatre design practice Motley. There are images of Bette Davis, Marlene Dietrich and Marilyn Monroe. "I like glamour," he says.
As he tells it, the enormous collection came about by accident. Gordon grew up in Paisley at the same time as John Byrne, although the two would not meet until many years later ("John Byrne was at the posh school," he jokes). He left the now demolished Camphill School at 15 in 1955 and found a job as an interior designer with Glasgow department store Wylie & Lochhead.
He had no formal training. "The only thing I remember about art was drawing leaves and going up to the teacher and saying, 'Can we draw something else?' – she was livid," he laughs.
But he had an aptitude for the job, and built up a portfolio as he kitted out shops, bars and hotels. Moving to swinging 60s London and the Chelsea house he still lives in, he was employed by interior designers Dennis Lennon & Partners and worked on the QE2, later moving to Richmond Designs, whose clients included the Carlton Hotel in Cannes and the Café de la Paix in Paris.
His collection began only after a watercolour sketch by Cecil Beaton caught his eye at a Belgravia gallery in 1982. It was a simple costume design for Coco, a 1969 Broadway musical about Coco Chanel. He had no ulterior motive; he just liked the look of it. He liked it enough to buy a second Beaton three days later and then more, including a set of Russian designs that turned out to be fake. A dealer told him he should focus his collection on one area, so from then on, he stuck to British theatre, opera and dance, as well as the British and American cinema he had grown up with.
"I was a bit of a shopaholic, I'll admit," says Gordon, who is still adding to the collection, which he plans to bequeath to the Hunterian. "It's not an art exhibition, it's a history of theatre design, so it should be fascinating."
Scene Two. An art gallery in the west end of Glasgow. Two technicians are drilling lengths of wood into the empty walls, guided by a green laser level. Standing next to a line of enormous packing cases is Joseph Sharples, the curator. He leans into the nearest box and pulls out a framed painting: it is Angela Rippon in an extravagant dress as host of the 1977 Eurovision Song Contest.
"He's got a very strong interest in popular art," says Sharples, planning to fill the walls as intensively as they are filled in Gordon's house. One wall is even painted the same red as the collector's living room.
"There's a progression from early, literal costume designs towards more impressionistic and expressionistic designs," says Sharples. "People will come for art reasons, but for other reasons to do with entertainment, theatre and cinema too. In the screen section, there are images of Elizabeth Taylor, Richard Burton and Arnold Schwarzenegger – it's an extraordinary assemblage of famous names. We're not used to seeing major exhibitions of this sort of material so I hope it will raise its profile."
Stage and Screen: Designs From the James L Gordon Collection, Hunterian Art Gallery, Glasgow, 10 November until 25 February.