Ian Hislop and his writing partner Nick Newman go back a long way; all the way back to school days at Ardingly College in Sussex, where they first met in the 1970s. The school was best known for the exceptional sacrifice of its former pupils in two world wars; but both Hislop and Newman were classic postwar public school rebels, who collaborated in writing a sharp-edged school revue despite a two-year age difference – Newman was born in 1958, Hislop in 1960 – and met up again at Oxford, after Newman was "asked to leave" school for wiring up the chapel to play loud rock music during a service.
So it's perhaps not surprising, almost 50 years on, to find them sitting together in the bar of a Glasgow hotel, still exchanging jokes and laughs, and shooting the breeze about their latest collaboration, a theatrical homage to that great and transformative figure in postwar British comedy, Spike Milligan. Hislop is best known, of course, as editor since 1986 of Britain's leading satirical and investigative magazine Private Eye, and as the linchpin of television's Have I Got News For You; Newman is a successful cartoonist as well as a writer.
Yet together, as writers, they have built up a remarkable catalogue of work over the years, ranging from their successful stage play The Wipers Times – about a satirical newspaper produced in the trenches during the First World War – to the BBC television comedy My Dad's The Prime Minister; and given their interest in exploring the absurd side of Britain's 20th century wartime history, it was perhaps only a matter of time before they turned their attention to the life and works of Spike Milligan, whose satirical war books – from Hitler, My Part in His Downfall in 1971, to Goodbye Soldier in 1986 – represent an extraordinary leftfield record of Britain's wartime experience.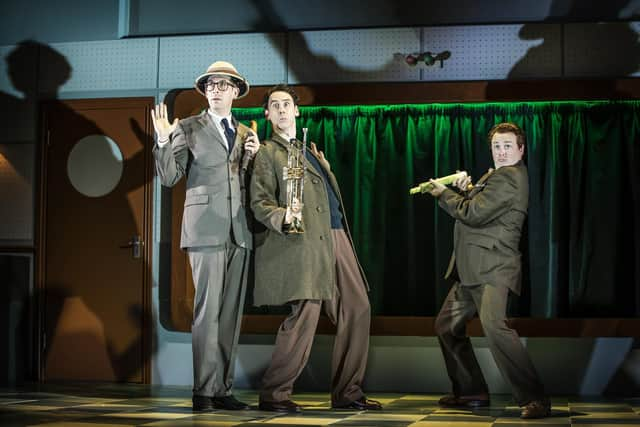 "Our first thought was to create a television series based on the war books," says Hislop, "and we worked on that for a while – but for various reasons it never happened. While we were researching it, though, the BBC gave us a whole load of correspondence from around the time The Goon Show was starting up, in the early 1950s; and it turned out to be full of incredibly funny letters from Spike to the BBC complaining about absolutely everything, especially the money."
"We also realised," says Newman, "that when we talked about this project, some younger people would just say 'who are the Goons?' So it seemed like a good idea to introduce The Goon Show and its history to a new generation, particularly given its huge influence on the whole direction of British comedy, from Beyond the Fringe and Monty Python to Private Eye itself."
The result is Spike, a satirical comedy in which – as the show's publicity puts it – Spike's war with Hitler may be over, but his war with Auntie Beeb, and ultimately with himself, has just begun; mainly because it was Milligan, as the show's chief writer – alongside fellow Goons Peter Sellers and Harry Secombe – who kept pushing the show's scripts into realms of parody and satire that seem remarkably bold by today's timid BBC standards, drawing inspiration from sources including Pirandello and Kafka, and sending up British establishment icons from the war film The Bridge On The River Kwai, to the monarchy itself.
"People talk about the 1950s as an age of deference, but in many ways it was anything but," says Hislop. "Spike may have had problems with BBC management, but there were terrific producers like Dennis Main Wilson and Peter Eton who backed him all the way; and the point was that no-one could tell the wartime generation how to write about their experience. It was their war, they were there; and if they wanted to send it up, they had the moral authority to do that." Nor were The Goons too radical to be popular; on the contrary, Goon mania swept the nation during the 1950s and early 60s, and even the royal family were fans.
"It was a strange time," says Newman. "I'm sure many of those involved in The Goons were suffering from PTSD after the war, as were people across British society; and Spike's mental health problems were severe, as is well known. But while recognising those traumas, we wanted to avoid that cliche of the tears of a clown, the comedian dogged by sadness. This is a celebration of a great moment in British comedy, when people took the pressures of really tough times and made everyone laugh about them, gave people that release; and it's great to have the chance to recapture that on stage."
In Paul Hart's production of Spike, Milligan is played by Robert Wilfort, an actor who has worked with Hislop and Newman on previous shows; and both writers are hugely enjoying their return to theatre, after two years of lockdown.
"Theatre is just such fun," says Hislop, "and Nick and I are a good team in that I'm one for the words, whereas he has that visual imagination that enables him to see what's going on, in his mind's eye. Radio is also fun, of course – but you don't get to hear the laughs."
"And one night just recently," adds Newman, "Spike's daughter came in to see the show. We were a bit nervous, of course; but she saw Robert's performance, and at the end she just came to us and said, "That's it. That's my Dad." That was very satisfying; and now we just hope that everyone who sees the show will get the same sense of what Spike was like – and just how funny he was at that moment in history, when everyone really needed a laugh."
Spike is at the King's Theatre, Glasgow, from 1-5 November