Sound Stage: Lyceum and Pitlochry Festival Theatres team up for new audio plays series
The Lyceum Theatre in Edinburgh is working with Pitlochry Festival Theatre to produce a new series of audio plays called Sound Stage. Lyceum artistic director David Greig tells Joyce McMillan what's in store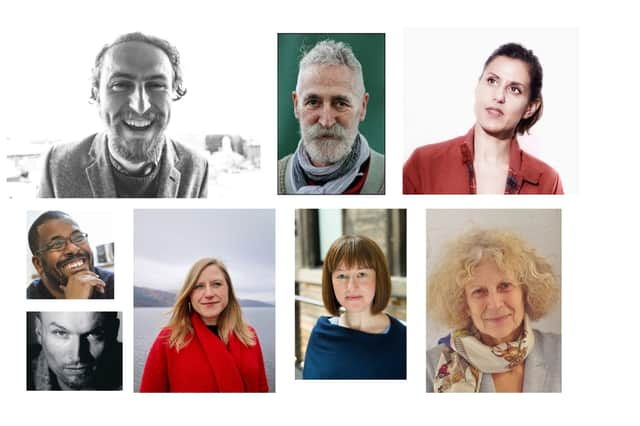 When the Covid-19 crisis closed Scotland's theatres last March, one of the earliest casualties – in terms of new plays set to open in 2020 – was Lyceum artistic director David Greig's Adventures With The Painted People, a reflection on the Pictish and Roman history of Tayside that should have opened at Pitlochry in July, as part of the theatre's Shades Of Tay project.
Unlike many of last year's theatre projects, though, Adventures With The Painted People was saved, at least in part, by the combined determination of Greig and Pitlochry artistic director Elizabeth Newman to keep some kind of creative life going in lockdown, and by the independent production company Naked Productions, who worked with BBC Culture In Quarantine to transform the play – essentially a powerful extended dialogue between a female Pictish leader and a Roman soldier she captures – into a Radio 3 drama, featuring Pitlochry ensemble members Kirsty Stuart and Olivier Huband.
And it was that experience – one of the UK's first post-lockdown efforts to transform a stage script into a radio play, entirely rehearsed, performed and produced online – that inspired Greig and Newman to respond to the continuing pandemic by commissioning a series of eight new audio dramas to be co-produced by Pitlochry Festival Theatre and the Lyceum with Naked Productions, with a world premier every month between March and October 2021.
The series is called Sound Stage, and features a dazzling range of established and emerging writers from Scotland and across the UK. The first play, Angela, scheduled for March, is a new biographical drama by leading English playwright Mark Ravenhill based on his relationship with his late mother, and the list of playwrights involved also includes Scottish playwrights John Byrne, Gary McNair, Lynda Radley and Frances Poet, UK theatre superstars Timberlake Wertenbaker and Roy Williams, and rising star Dundee writer Jaimini Jethwa, whose new play Hindu Times will explore what happens when a whole pantheon of Hindu deities suddenly take on human form in working-class Dundee.
"We were really able to start working on this because of the money we received last August from the Scottish Government's Performing Arts Venue Relief Fund," says Greig, explaining the origins of the season. "From our point of view, that money was extremely well targeted, and it enabled us to do two things; to secure our organisations from becoming insolvent and having to close down, and to keep making work for our audiences and employing people in theatre as much as possible, under pandemic conditions. So for us, this is about delivering what we hope will be some really brilliant top-end audio drama to our audiences, while employing a wide range of directors and actors across the season, and developing plays that we also hope and intend will eventually find their way onto our stages."
The plays will not simply appear online as audio recordings, though; each will also have a live online premier, for which audiences will be able to buy tickets, turn up at showtime, be shown to their virtual "seats", and take part in conversations with other audience members both during the interval, and in a post-show session with the creative team.
"We've learned so much about how to do all of this during the last ten months," says Greig. "We've learned how to welcome people to live online events, how to sell tickets for those events and for recorded material, and how to create work that looks and sounds good, whether it's recorded or live. We're building up these skills all the time, and learning about the new audiences we can reach through online work; and we're not going to forget all that, once the pandemic is over."
In the meantime, though, it's audio only for these eight new plays; and David Greig is absolutely clear that these productions will continue as planned, even if the theatre is able to reopen its doors to the public long before October. "It's not impossible," says Greig, "that one of these plays, in a stage version, might feature in our first recovery season. But that won't affect the audio version. There's always been a close relationship between radio drama and the stage, because both of them are shaped so profoundly by text and story, and both rely on the audience's imagination to help create their world. So we feel very happy to be developing new plays in this way; both for audio audiences, and – we hope – for our future live audiences, once we're able to welcome them again."
All of which makes perfect sense to acclaimed 81-year-old artist and playwright John Byrne, whose debut play, Writer's Cramp, first emerged in the late 1970s as a radio drama, directed by the late, great Marilyn Imrie. By coincidence, his new Sound Stage play, Tennis Elbow, is what he calls a "distaff version" of Writers Cramp, following the creative life of Pam, the wife of his famous fictional Paisley poet Francis Seneca McDade.
"It's strange that I've had a version of this play on paper for something like 40 years," says Byrne "and now here it is coming to life in this strange situation. I just think it's great that Elizabeth and David have decided to create something new and brilliant for audiences, in response to the challenge of Covid – something that will also help artists, too. [The play is] definitely a comedy. Elizabeth and I have been working on it together, and we've been having a really good laugh. Which I think is good, in these times; I think it's what people need, at the moment, and I hope we can give them that."
A message from the Editor
Thank you for reading this article. We're more reliant on your support than ever as the shift in consumer habits brought about by coronavirus impacts our advertisers.
Joy Yates, Editorial Director