Shona White on playing 'the ultimate showbiz mother' in Gypsy
As they prepare to launch Pitlochry Festival Theatre's summer season with a new production of Gypsy, actor Shona White and director Ben Occhipinti tell Mark Fisher that the female-led musical, first staged in 1959, was 'girl power ahead of its time'
Here's a quiz question for you: how many classic Broadway musicals are there in which all the central roles are played by women? You have to discount those where a man calls the shots, which rules out, for example, My Fair Lady and The Wizard Of Oz, despite their prominent female leads. And you cannot include anything from the last 30 years, which takes out 9 to 5, Heathers and Six.
Hard to say what the answer is, but you are certainly left with slim pickings. Slim enough to pause my conversation between actor Shona White and director Ben Occhipinti when the question comes up. With more time, we might have thought of Annie, Mame and Nunsense, but we would have been hard pressed to find many more.
Gypsy is another of these rare exceptions. It is a show driven by Mamma Rose, the ultimate showbiz mother, and her two daughters June and Louise, aka Gypsy Rose Lee. Yes, it is men who manage the vaudeville circuit where the women ply their trade, but Mamma Rose runs the show.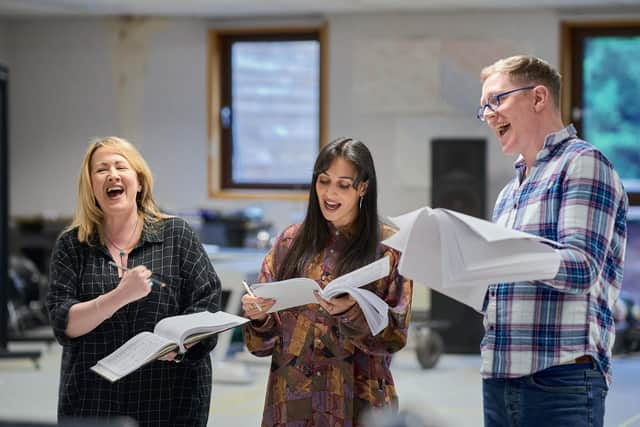 "The exploration of those female relationships is rare in theatre full stop, but certainly in musical theatre," says Occhipinti, whose production opens the summer season at Pitlochry Festival Theatre. "It's one of the only shows that is female-led, with the daughters being the other characters. The men are on the periphery. Even in Mamma Mia! the men become part of the story, but Gypsy starts and ends with Mamma Rose on that stage."
"It's girl power ahead of its time," says White, who is delighted to be ticking Mamma Rose off her bucket list. "As a woman, it all feels very natural. Rose is not your typical maternal figure – she's so multifaceted and complex. I find all that is in me."
Written by Arthur Laurents, Jule Styne and Stephen Sondheim, the musical was inspired by the memoir of the real-life striptease performer Gypsy Rose Lee and published only a couple of years before the show's 1959 premiere. It takes us on a whirlwind tour of dressing rooms, lodgings and stages as the family battles to make a living in a tough showbiz industry.
For White, performing in Pitlochry is doubly special. Having left her native Fife at 17 to train at Italia Conti and the Royal Academy Of Music, she has primarily worked in London. Her credits include Jack Absolute Flies Again at the National Theatre, Merrily We Roll Along at the Donmar Warehouse and Mamma Mia! In the West End (she was the first actor to have played both Sophie and, years later, her mother Donna).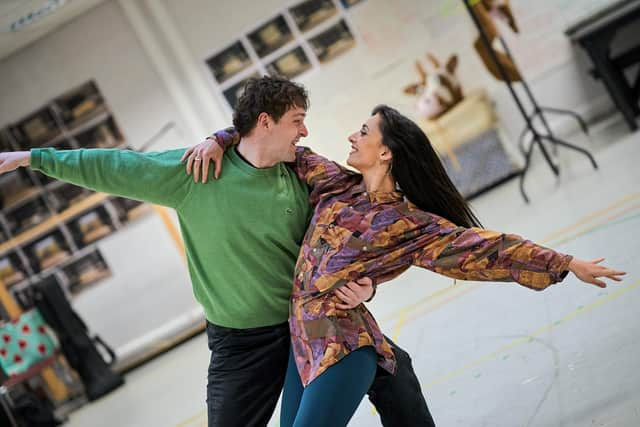 Only when shows have toured has she played in Scotland so, having moved back last year, she is thrilled to be part of the Pitlochry ensemble. You will also see her outdoors in the amphitheatre in The Secret Garden as well as in a series of concerts with Ben Stock celebrating West End showtunes.
"It's so nice to be close to home and it's such an amazing challenge," she says. "The songs are so well written and have been in my catalogue – although I definitely wasn't old enough to sing them for years. What's nice is that all the little songs, like Small World and You'll Never Get Away From Me, that come in between the big show-stopping numbers are like golden nuggets. It's lovely to discover them as they come out of the story and then you can earn the huge stand-alone iconic show-stoppers."
Those show-stoppers, such as Some People and Everything's Coming Up Roses, were written with Ethel Merman in mind. White cites subsequent performances by Patti LuPone, Bernadette Peters, Bette Midler and Imelda Staunton in the role. Those are big shoes to fill and, having landed the part, White has made sure not to re-watch their performances. She would rather make the role her own.
"It is daunting," she says. "It's really important to bring my own version of it. Rose can come across as a brash, harsh steamroller of a character, so we want to show a vulnerable side to her. She is a human being and she only wants the best for her girls."
By contrast, Occhipinti has become a Gypsy obsessive, watching everything he can – right down to YouTube recordings of school performances. "I've loved researching the stories about how they built the team around Ethel Merman to give this power performance," he says. "I've gone to the other extreme where I think it's essential to absorb as much information as you possibly can. If I could watch a different production four times a day, I would. It helps me understand different interpretations and therefore I can be more objective in the rehearsal room. There's a brilliant high school production where Mamma Rose is played by a 12-year-old girl and she's astonishing and clearly does not have any lived experience of being a mother of two grown-up girls."
The director is pleased to be able to continue the tradition of opening the Pitlochry summer season with a big musical. "It felt key that we present something that launches our ensemble in the most energised and powerful way," he says. "Musicals like Sunshine on Leith and Gypsy have such emotional power at the core of them, it sets the audience up for A Streetcar Named Desire and Brief Encounter. As a director, it is a treat to start with that."