Scottish International Storytelling Festival to explore the rights and wrongs of humanity
Following last year's super-sized edition, the team behind the Scottish International Storytelling Festival were looking forward to a quieter year in 2023. But then the applications started flooding in. The festival's associate director Daniel Abercrombie tells Mark Fisher why the event continues to go from strength to strength
The plan had been to make this year's Scottish International Storytelling Festival a wee bit smaller. The event in 2022, which was Scotland's Year of Stories, had been so big, with its highest ever number of dates, the organisers felt no need to match it.
But then the applications started coming in. For the 15 slots in the commissioned programme, more than 80 storytellers stepped forward, nearly twice as many as last year. Nor was there a shortage of ideas for the rest of the programme.
"It would have been a shame to cut out 30 per cent or 40 per cent of these great ideas," says Daniel Abercrombie, associate director of a festival that extends beyond its Edinburgh base to cover the whole of Scotland. "It's a collaborative festival and as soon as you open the programme to a network of people there is a huge amount out there."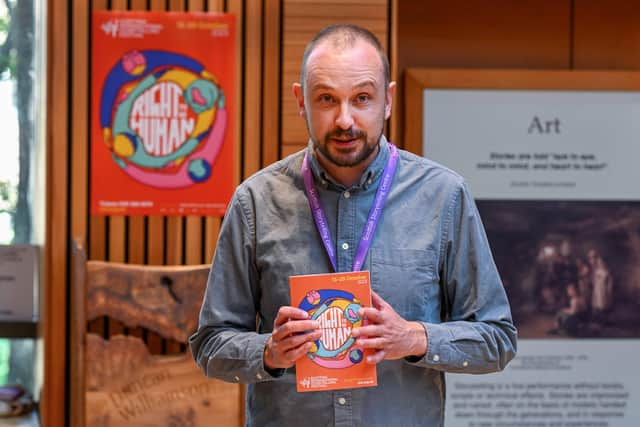 Give or take a performance or two, the 2023 festival is just as big as before and, at 17 days, the same length.
Providing its shape is a theme, Right To Be Human, which refers to the 75th anniversary of the Universal Declaration of Human Rights, adopted on 10 December 1948. Appropriately, the Scottish government is consulting on its own human rights bill.
On another level, Right To Be Human is a phrase storytellers can interpret in creative ways. "We keep the theme open and aren't too prescriptive," says Abercrombie. "We let the artists explore it in their own way. The articles within the declaration were prompts but we also encouraged artists not to think solely about the declaration but also what it means to be a human being."
Looked at from a certain angle, the theme becomes a moral question – "Is it right to be human?" – that triggers further questions in turn. "We felt people could explore the rights and wrongs of humanity," he says. "And also their relationship with each other, the world, nature and the environment."
Consequently, the brief has been interpreted to include everything from war to gender, censorship and prejudice. Examples include Wave Riders in which Jan Bee Brown considers how the Vikings found ways to live in peace; Joyfully Grimm in which James Stedman looks at the effect of Section 28 on LGBTQIA+ people; and The Voice Shall Always Remain in which Zahra Afsah and Khloud Ereksousi look at how Iranian women have found freedom in their own voices.
The opening performance on 13 October is Tales Of Exile And Sanctuary in which Argyll's Gauri Raje weaves together migration stories from Afghanistan, Iraq, Iran, India and the Horn of Africa. "It is a previous work that fitted the theme so specially that it was great to include," says Abercrombie. "They are stories she has collected from people seeking asylum in the UK."
Meanwhile, Abercrombie hosts Another Story, a weekly podcast in six episodes exploring our right to be human through stories and discussion. A parallel theme, Collective Treasures, brings together favourite storytellers to share memories, experiences and values in tales that celebrate our common humanity.
"Storytellers will naturally adapt to their audience," says Abercrombie. "It's what sets it out as a different art form. You can turn up with something in mind to tell, but there's maybe another story that fits it better that night. They have the freedom to do that as storytellers."
He adds: "People who come to the festival are made to feel part of it. A day at the Storytelling Festival includes things you can take part in. It's not just turning up for an event and that's it."
Unlike most festivals, in which celebrity names command high ticket prices and occupy the big stages, the Scottish International Festival is an egalitarian affair. As a celebration of a grassroots artform, it feels right to have admission capped at £10 and to cultivate a sense that the next great story is as likely to come from the auditorium as the stage. During the open-floor section at the Friday-night Guid Crack sessions in the Waverley Bar, over the road from the Scottish Storytelling Centre, audiences can tell tales of their own.
"In storytelling, as soon as you get a big name it changes the dynamic," says Abercrombie. "Storytelling is something we all do and it's a two-way relationship. A storyteller won't tell a story, they'll share it. They'll say, 'I got this story from someone on the Isle of Skye one day. They shared it with me, I'd like to share it with you and you can share it with someone else.' That's the tradition. There's not such a barrier between audience and performer."
Elsewhere in the festival are tales of Celtic spirits, radiotherapy and lonely hearts. Colin Irwin tells stories from the north coasts and glens of Ireland, there is a centenary celebration of Italo Calvino, the writer, activist and folklorist, and two performances of stories and song from the northern Sami culture. As well as in English, there are performances in BSL and Gaelic. You can go outdoors for family events at Edinburgh's Royal Botanic Garden or stay inside for in-person and online workshops to sharpen up your own storytelling techniques.
"We're a world-leading festival," says Abercrombie. "We're in the enviable position that we've got the world's first purpose-built centre for storytelling. And we have this focal point in the middle of Edinburgh, a year-round venue that is set up to promote stories. That doesn't really exist elsewhere. From that we can build."
The Scottish International Storytelling Festival is at the Scottish Storytelling Centre, Edinburgh, and in venues across Scotland from 13–29 October, see www.sisf.org.uk