Meghan Tyler on new play Bloodbank: 'There is a darkness to it'
Meghan Tyler's 2019 hit Crocodile Fever was a Tarantino-esque comedy about the Troubles in Northern Ireland, and their new play Bloodbank – opening at Oran Mor next week – is about a Tory politician embroiled in an unusual scandal. Interview by Mark Fisher
Meghan Tyler doesn't do things by halves. They made their full-length playwriting debut in explosive style with Crocodile Fever, a Fringe hit for Edinburgh's Traverse in 2019. Not for the fainthearted, the play married Tarantino-esque violence and feminist rage to create an over-the-top comedy about the Troubles in Northern Ireland.
There was a lot of blood and a style somewhere between punk and magical realism. "The whole event blazes with energy and talent," said Scotsman critic Joyce McMillan.
A year earlier, Tyler had been part of the all-female cast of Pride and Prejudice* (*Sort Of) at Glasgow's Tron. In Isobel McArthur's irreverent, funny and surprisingly faithful Austen adaptation, the Newry-born actor played Elizabeth Bennet (a "persona non-starter") with wit and intelligence. The show turned into a national success, touring some of the country's biggest theatres and playing the West End where it won an Olivier Award for Best Comedy.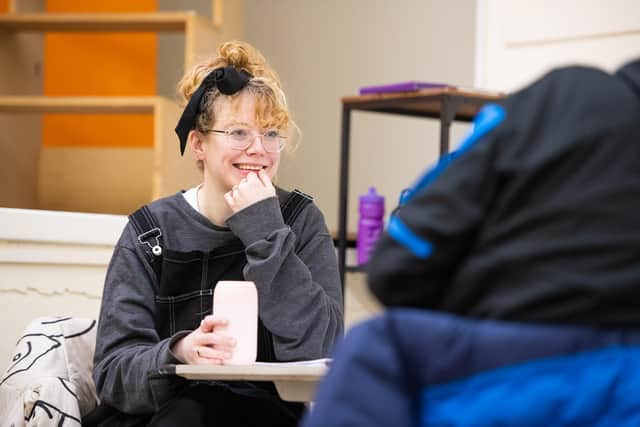 It feels like Tyler is at the vanguard of a new generation of theatrical talent. When I suggest as much to Tyler, they burst with enthusiasm, delighted by the success of their peers. They name Laurie Motherwell, Uma Nada-Rajah and Eve Nicol as writers whose work excites them.
"I do think there's a cohort of writers within the same generation, which I find amazing and which I'm very privileged to be part of," says the graduate of Glasgow's Royal Conservatoire of Scotland, whose first job was playing Ophelia in Dominic Hill's 2014 production of Hamlet. "When someone gets a play on at the Traverse, you're like, 'Yes!' We all remember being in the pub after the Tron seven or eight years ago, trying to get things on. It feels like everyone is making their mark and getting what they have worked really hard for. It's lovely to see. If I could do another job, I would be a professional hype person – hyping people up all the time, I'd be really good at it. I'm so buzzing when I see my peers doing well."
After the cartoon violence of Crocodile Fever, you can't help but wonder if the title of Tyler's latest play, Bloodbank, refers to more than donating blood. Is it Bloodbank or Bloodbath? "There is a darkness to it but it's not too squeamish," they say. "It's got lots of laughs in it as well."
The three-hander at Glasgow's A Play, A Pie and A Pint is about a Conservative politician whose quest for eternal youth leads to a less than prudent arrangement with an NHS nurse. Things get tricky when a third woman, who is using a foodbank, discovers what they are up to. It is about power, politics and class.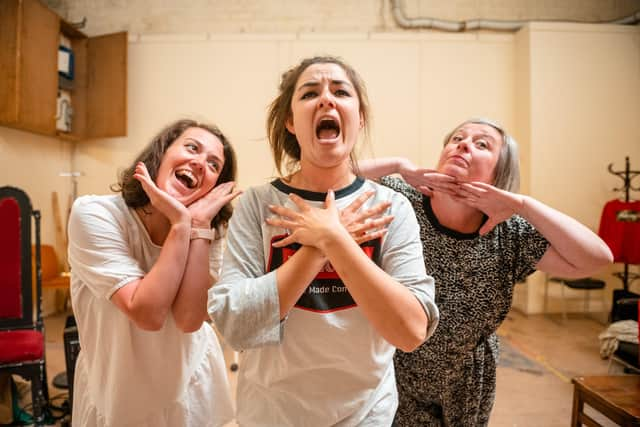 "I'm so happy sitting back and watching the amazing actors," says Tyler about Rehanna Macdonald, Lynsey-Anne Moffat and Anna Russell-Martin. "Even at the read through, they all just got it. They all had the right intonations, the right intentions and they were all really clear and funny. It was a marvellous first day."
Behind the laughter, Tyler's writing is also political. "Maybe in 50 years, I'll write a nice monologue," they laugh. "But at the moment, everything I write is going to have a tinge of the political or seeking to change people's minds. It's that thing about 'write about what makes you angry or scared'. We've had 14 years of austerity and every year just seems to be getting worse. I can't believe I miss the days of David Cameron. Until there is more equality and fairness, most of my work is going to be political."
The same applies to their attitude to gender: "Bloodbank puts three queer women on stage who are all problematic – I find something really fun about that."
Tyler's love of black comedy is matched in darkness by their teenage love of emo bands. The playwright giggles at the adolescent intensity of it all, but retains enough affection to work a few old favourites into the show.
"I write to music and get a soundtrack that suits the vibe of the play," they say. "I used to be obsessed by My Chemical Romance. They really spoke to an angsty teenager. A couple of their tracks fuelled the play. There's a bit of Alt-J in there as well, quite bassy stuff, like Red Hot Chili Peppers – it's a massive part of what I want the audience to experience because music can be so emotive. It fills me with joy to know a bit of My Chemical Romance is going to be on the Play, Pie and A Pint stage."
Music sets the tone but it also feeds into Tyler's keen sense of rhythm, something they are attuned to whether acting or writing. "Rhythm is my backbone," they say. "As a writer, I listen to a lot of music and follow a lot of beats in my head. When it comes to acting, it's the same. It's an instilled thing from working a lot with Shakespeare [Tyler toured to the US in a Shakespeare's Globe production of The Merchant of Venice in 2016] or even David Ireland's plays. As an actor, if you're able to sit in the rhythm properly, you're almost singing to the audience. You need to keep the audience propelled and that's what rhythm does."
Bloodbank is Oran Mor, Glasgow, from 12–17 June