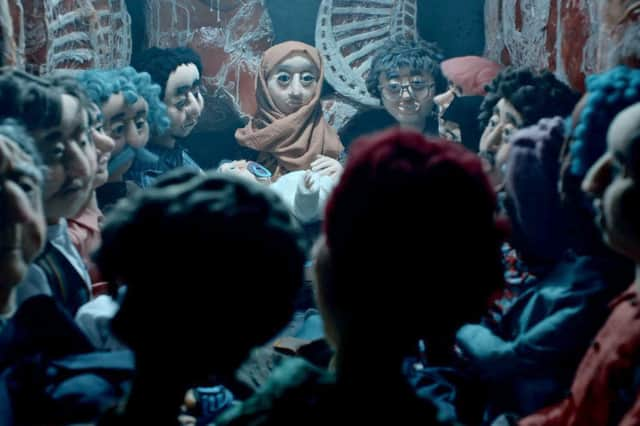 You never know quite where you are with Manipulate, and that is more the case than ever this year with Edinburgh's annual festival of visual theatre. Where once this genre-stretching celebration was neatly contained in one place – initially at the Traverse, latterly at Summerhall – now, it is spreading its animated tentacles across the city. Still centred on Summerhall, the 2023 programme is also popping up in the Fruitmarket, the Festival Theatre's Studio, the Traverse, the National Library Of Scotland, community venues in the Edinburgh West area and on the city streets.
"Our online festival in lockdown allowed us to reach new audiences geographically and I think we caught the bug," says festival artistic director Dawn Taylor. "Now is an opportunity to reach people who didn't realise visual theatre was for them."
The decision to stretch out is partly pragmatic. Manipulate prides itself on variety. This year's line-up embraces everything from puppetry to aerial performance to film. The more places to perform, the greater the range of work the festival has the capacity to present.
"In this moment, when we know it's a struggle in the arts, sharing audiences and ideas as widely as we can is really important," says Taylor. "Pulling audiences together can only be a good thing."
She has found collaborating with new venues to be a good discipline. It has always been tricky to come up with a succinct definition of Manipulate – it can be easier to say what it is not – and Taylor has found working with other people has helped pin it down. This is a festival dedicated to work that, as she puts it, "tells a story primarily through imagery rather than words or that breathes life into the inanimate". That definition covers a lot of territory.
"Sometimes it has a feel of picking up refugee artforms that don't quite know where they fit," she says. "We've sometimes been pitched a sound installation and it's very clear that's not within our remit because it doesn't have a visual element, but often when things don't fit anywhere else, it makes sense for them to come to us."
Some of the most productive conversations have been with the Fruitmarket, where Manipulate's narrative-based approach overlaps with the gallery's championing of visual art. Through the Fruitmarket window on Market Street, you can see Gavin Glover's A Rock And A Hard Place, a series of mini dioramas portraying parallel worlds. Inside, the gallery is screening two compilations of animated shorts (also available online).
Other Fruitmarket events include The Fantastic Life Of Minnie Rubinski, an installation by Edinburgh's Vision Mechanics. Designed for groups of up to five, it takes you on a 45-minute journey that blurs memory and fantasy, the recognisable and the surreal.
Vision Mechanics are among the Scottish artists holding their own in a programme that welcomes performers from Slovenia, Spain, France, Finland and Belgium. After a sneak preview, Taylor is especially looking forward to Love Beyond (Act Of Remembrance), a collaboration between Glasgow's Vanishing Point and the physical theatre performer Ramesh Meyyappan. The play evokes the elusive memories of a sign-language user who has dementia.
"It's a love story, but an unusual one," says Taylor. "It speaks to so much of what Manipulate is about in that they're telling quite a complicated narrative through some exciting visual techniques that audiences might not have seen elsewhere. While it is about the unique experience of being deaf and having neurological decline, it is actually a universal story about the way we hold on to memory and the multifaceted ways to experience love."
It is another example of Scotland setting the pace. "Ramesh is an exciting, internationally facing artist whose show, even before we have presented it, is picking up interest in lots of countries beyond Scotland. He is a treasure in the theatre scene."
A Scottish show with a Manipulate pedigree is The Yellow Canary, the true story of a young Jewish boy escaping from war-torn Paris with only a pet bird for company. The boy grew up to be the uncle of Tashi Gore, who made her name with Glas(s) Performance and the youth theatre company Junction 25 and is now associate director at Dundee Rep. The play was seen as a work in progress in the festival's 2021 programme – online because of the pandemic – and returns fully formed, scripted by her brother Will Gore, directed by her long-time collaborator Jess Thorpe and featuring animations by Ross McKay.
"It's a beautiful story of displacement," says Taylor. "It's a historical story but it speaks to a lot of what we might be experiencing now and in the future, with climate displacement and the refugee crisis. Tashi is a masterful storyteller."
Among the international highlights, Birdie will be attracting attention for its pioneering combination of tiny models and live video. The work of Barcelona's Agrupación Señor Serrano, it is about the pull between war and peace, exploitation and freedom, but of special interest is the way the story is told. The three performers line up more than 1,000 miniature figures – animals, tanks, tents, babies and birds – and project images of them, merged with sequences from Alfred Hitchcock's The Birds.
"It's about the global refugee plight so there are shared themes with Yellow Canary," says Taylor. "I'm thrilled to present the technique of microcinema, which blends film and theatre. As an audience, you're watching both the process of creating the work and the finished product."
Manipulate, Edinburgh venues, 2–12 February.