Live shows may still be on the menu for Grid Iron
While most theatre companies have to go back to square one to perform in a post-Covid world, Grid Iron have a head start, writes Paul English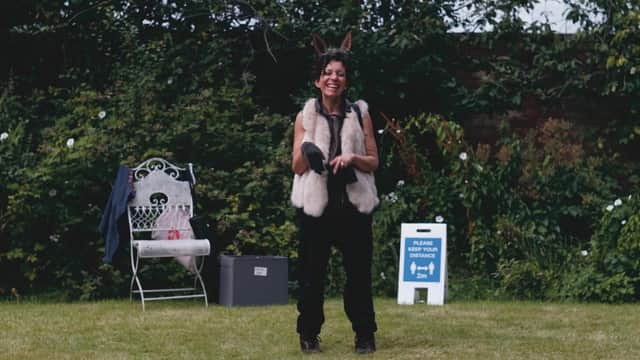 Itxaso Moreno in rehearsals for Doppler
If socially distant theatre is the future, then one Scottish company have been futureproofing for 25 years. Now they're ready to use their knowledge to help others in the performing arts in a post-pandemic world.Edinburgh-based Grid Iron know how to make the most of an unusual situation, because they've been actively seeking them out for years.
The company have built a reputation for site-specific live experiences over 25 years, programming events in the likes of Edinburgh Zoo, a Dundee hangar used for manufacturing oil rigs and in the capital's Mary King's Close.And now, with coronavirus restrictions becoming a major consideration in planning for the return of live theatre, Grid Iron's production blueprint could help other companies. "To some extent some of that maybe feels a little less alien to us," says the company's chief executive Judith Doherty.
"There are certain things in terms of extra safety that we'd maybe consider anyway. Obviously, not things like hand sanitising and all that, but we have had a whole extra level of thinking and planning for many of our productions. It means we have a lot of stuff in store about how to work in non-theatre spaces."
Their plans to stage an outdoor production, Doppler, as part of this year's Fringe have not yet been abandoned completely. Whilst hedging their bets before any decision is made, small-scale preparations have gone ahead, with cast rehearsing on Zoom.
"We'd been planning this potential show for a good year or so, so it's flukey in that respect – an outdoor production with a small cast and crew," says Doherty. "It's the first show we've done in ten years that would actually already lend itself to the situation we're in now. If it had been any other show, then we probably wouldn't have been able to consider making it come to fruition.
"We're still having to put together a lot of extra paperwork so that cast and crew feel safe and follow all the guidance, with a slant on site-specific outdoor work. Once we've got all that completed we'll happily share it with other organisations and companies who are considering the same thing, so that they don't have to reinvent the wheel."
Grid Iron's past work includes Decky Does a Bronco, staged in a play park, and Crude, which took place in a giant industrial manufacturing warehouse. "We started doing site-specific work 25 years ago," Doherty says. "There has been a growing appetite for it since then. But the most important consideration now is that audiences feel safe. And that's not something that's going to happen automatically come January 2021, unless there's a vaccine."
Grid Iron were among the 116 organisations to be awarded three years of regular funding from arts governing body Creative Scotland in 2018, insuring them, in the short term, from the immediate impact of the pandemic's economic consequences. With just two full-time members of staff, payroll overheads, while not indefinitely protected, are not an immediate concern.
Doherty welcomed the recent news of funding from both the UK and Scottish governments for the arts, but said: "If the bigger venues are struggling now, and they start to fall off the conveyor belt because they have a lot of staff and no income, then it's only a matter of time before the rest of us get a bit closer to the edge of the conveyor belt.
"We can be very self contained, but we do like to do things in other theatres. So by the time we're at the end of March or April next year we'd feel the financial impact. So the government funding is good news for everyone."
Lockdown has seen more and more people access the performing arts from home, whether on traditional television or streaming services. Organisations such as the National Theatre and National Theatre of Scotland have recognised the importance of providing content in response to the virus.
But Doherty is in no doubt about the value of the live arena and the need to plan a new future around it.
She says: "It's about the live experience of talent, and being made to think in different ways. You're more likely to engage with a thought, a concept or an emotion more viscerally if someone is standing right in front of you, rather than looking at them through a screen.
"We should be seen as an essential service. Because what we do is good for your health." n
Grid Iron hope to perform Doppler from 24 August, see gridiron.org.uk for updatesThis interview is part of a series commissioned by the Federation of Scottish Theatre to highlight the impact of the coronavirus pandemic on theatre and dance in Scotland and the connections performance makers are continuing to make with audiences. To find out more about what is happening in the sector and to lend support please follow #LoveTheatreScotland and #LoveDanceScotland
A message from the Editor:
Thank you for reading this story on our website. While I have your attention, I also have an important request to make of you.
The dramatic events of 2020 are having a major impact on many of our advertisers - and consequently the revenue we receive. We are now more reliant than ever on you taking out a digital subscription to support our journalism.