Leith Comedy Festival review: Closing Night Gala, The Biscuit Factory, Edinburgh
The closing night of the inaugural Leith Comedy Festival pointed to a bright future for the event, writes Jay Richardson
Leith Comedy Festival Closing Night Gala, The Biscuit Factory, Edinburgh ***
Despite arriving barely a month after the finish of the Edinburgh Fringe, the inaugural Leith Comedy Festival has a distinct flavour of its own, boding well for the future of the boutique weekend event. Compere Liam Withnail made much of the area's gentrification and was rewarded with a lively, odd, almost parodically hipsterish middle-class crowd, reinforcing a mood of communal bonhomie and good-natured self-mockery.
The Biscuit Factory itself echoed this – almost literally, unfortunately. Laughter tends to swiftly dissipate in its stark, airy, well-lit structure, ill-serving opening act Kathleen Hughes, whose measured, offbeat style would have benefited from a darker, more intimate room, where the audience could lean in and attune to her wavelength. No great matter though, as it didn't take her long to establish herself as a minefield of insecurities and nagging mental health issues, openly sharing her concerns about being a bad bisexual and feminist, freely expounding on her depression. Capably exploiting the faultlines in her relationship with her boyfriend, she showed a similar mordant wit on the true nature of a "girls trip" spa break, with crossed wires between her and her mother somehow, amusingly, conflating Whitney Houston and historical genocide in a farcical exchange.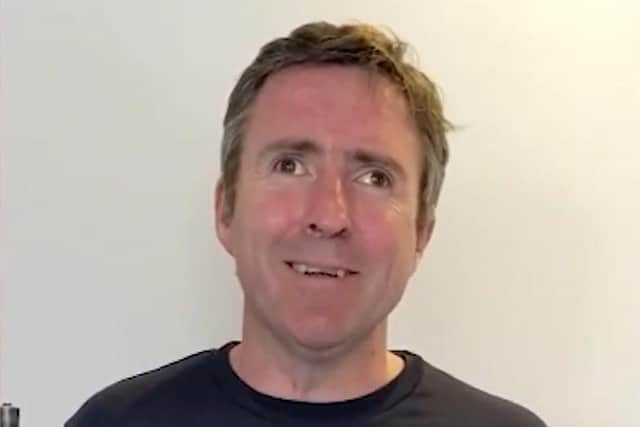 In the short spot post-interval, local Leither Sophie Rose McCabe slightly signposted her opening gag. But having established herself as an angst-ridden single mother, terrorised by her four-year-old son, she entertainingly contrasted her well-meaning, liberal parenting with the tougher, traditional Scottish upbringing she received, which she's trying not to emulate in spite of herself.
Headlining, the ever-reliable Jamie MacDonald was on mischievous form. Maintaining that there's never been a better time to be disabled, the blind comic nevertheless ungallantly betrayed his wife as freeloading off his concessions and the perks of his condition. Elsewhere, with sardonic devilry ratcheted up, he recounted abusing the patronising attempts of a virtue-signalling Good Samaritan to help him cross the road, and escorting a lost fellow pedestrian on a sight-free safari through Edinburgh, with the blind leading the terrified.