When you hear they're putting on a comedy about two men running a Glasgow ice-cream van, you think immediately of the city's notorious turf wars. Back in the 1980s, rival gangs used the hiding-in-plain-sight network of vans to distribute drugs and other contraband to their customers. Things turned nasty with a fatal arson attack on the family of one of the drivers, leaving five people dead.
Playwright Laurie Motherwell cannot pretend none of that happened, but in Sean And Daro Flake It 'Til They Make It, he has fun playing with expectations. This is a story about a Glasgow ice-cream van, but it is not that story.
"I didn't want it to be another story about two guys struggling for money who sell drugs," he says. "There is a twist on it, but it's not that… We're so presumptive about certain characters and it's nice to explore them in a different way and for them to have a higher moral ground than the audience."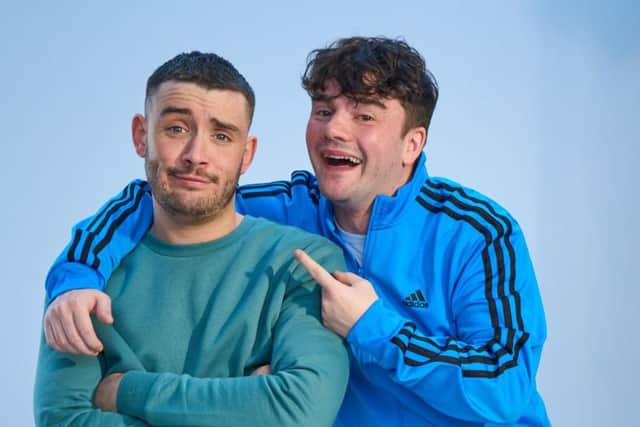 Motherwell's inspiration for the play is more fanciful. He has always wondered what it would be like to work in an ice-cream van with your best friend. Perhaps not a daydream shared by everybody, but one with dramatic potential: when two people are confined to one van, there is no escape. "It's like the two mates down the pub who think it would be a great idea to take ownership of said pub," he says. "It's mixing work with pleasure and enjoying it a wee bit."
He cites Stephen Greenhorn's Passing Places, a former hit at Edinburgh's Traverse, as a particular favourite. That comedy was billed as a "road movie for the stage" and, although Motherwell's play does not cover quite as much of Scotland, he hopes it has some of the same knockabout energy. "Because they're in the van, it's the opportunity to visit places, which Passing Places does," he says. "It doesn't go quite as far as Thurso, I'm afraid, but maybe the next time!"
Motherwell also has serious things to say. A graduate of the University of Edinburgh's MSc in Playwriting, he is interested in the options available to today's young generation. Sean And Daro Flake It 'Til They Make It explores what happens when university drop-out Sean teams up with his streetwise friend Daro for a money-making scheme selling ice cream.
"They are young guys on different paths who have been brought back together to do this," says the playwright, who grew up in the Queen's Park area of Glasgow. "I definitely see myself as a Sean, but he kind of wishes he had the freedom of his best mate Daro, who encapsulates a sense of morality that Sean feels he has lost. They're essentially two good guys – I wouldn't say there's a villain here."
Like Sean, Motherwell wonders about the options that were really open to him when he left home for university. "For a working-class guy, if you're seen to have any form of academic attainment, that's your journey. He's not got much of a choice. You get sat down and told to go to university. Sean is asking, 'And then what?' It's not like prospects are infinitely better for having attended university. There are a lot of people struggling who have degrees and a huge amount of debt."
Whether Sean and Daro stand a chance of becoming the next Alan Sugar is a moot point, but their vision is no less entrepreneurial. Just because their means are modest does not mean they can't aspire to be Duncan Bannatyne or Richard Branson.
"The capitalist dream is sold to self-starters when there's quite a lot set against them to not succeed because of the background they're from," says Motherwell,. "What is the relationship between The Apprentice and young people? Or cult figures like Elon Musk and all these charismatic capitalists – how do they affect these characters and the way they envisage success?"
Although Motherwell is well connected in Scottish theatre, this is his full-length debut, not including a Daniel Defoe adaptation for Paisley Book Festival that was forced online by Covid. The production is also a debut of sorts for Robert Softley Gale, the writer and actor, whose career as a director has previously been confined to his Birds Of Paradise company. You can see why the Traverse thought the mastermind behind the hilariously inappropriate My Left/Right Foot – The Musical, the winner of a Scotsman Fringe First, would be a good fit to stage Motherwell's play.
"Every comedy has a lot of tragedy in it," laughs Softley Gale, who likes to temper his most serious political points with a subversive satirical eye. "There's a lot of dark humour. We'll be laughing a lot, but there's also a heart to it. They are stuck by factors in life that stop them moving on. I don't know who is better off in this play. In some ways, Daro is much more able to do what he wants to do."
With River City regulars Sean Connor and Cameron Fulton in the leads, the sparks are flying. "Because it's about these guys who were so close, it was key to have that relationship between them," says Motherwell, rather overawed by the actors' off-stage banter. "The actors are local Glasgow guys, so it means they can pick up the rhythm straight away and just run with it."
Sean And Daro Flake It 'Til They Make It, Traverse Theatre, Edinburgh, 14–23 April.