Karine Polwart prepares to tackle supernovas at Campfire Conversations
As part of the Hebridean Dark Skies Festival, which this year is taking place online as well as at An Lanntair on the Isle of Lewis, artists and thinkers will be reflecting on some of life's big questions in a series called Campfire Conversations. In the first of these, musician and astronomy enthusiast Karine Polwart will discuss supernovas – essentially huge nuclear explosions in space – and tell the story of a US tour with Battlefield Band which included an unexpected side-trip to a giant telescope in New Mexico. Interview by Andrew Eaton-Lewis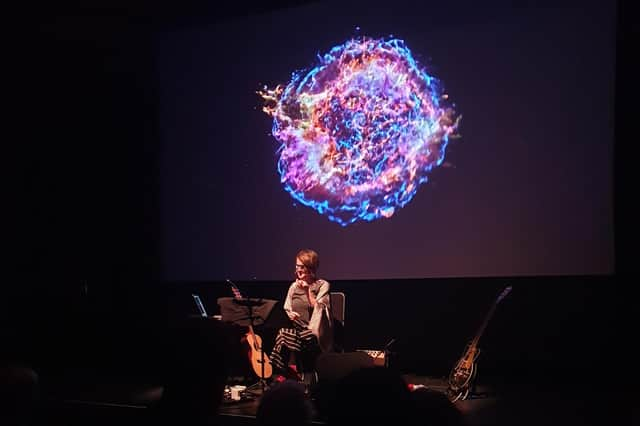 This time last year Karine Polwart was preparing to road-test a new theatre show, The Only Light Was Stars, at the Hebridean Dark Skies Festival. As it turned out, the February performance was an ending rather than a beginning, her final time in front of an audience before Covid 19 sent the whole world into lockdown.
It's a reflection of how festivals continue to adapt to Covid world that Polwart is part of the Dark Skies programme again this year. The singer-songwriter is the opening guest in Campfire Conversations, an online series created in association with the Scotsman, in which, instead of gathering on the Isle of Lewis, guests from the worlds of astronomy, psychology and the arts discuss the festival's themes of darkness, winter, and the night sky from their own homes. Polwart's contribution is typically free-ranging, taking in everything from the birth and death of stars to Greek mythology, UFOs, elks, and her childhood conviction that she could somehow survive a nuclear war by retreating into her mum's jam cupboard.
One of Polwart's great gifts as a storyteller is her ability to convince you that such diverse subjects are all connected. In Wind Resistance, her theatre debut, she weaved tales of geese, childbirth, painkillers invented by monks, and the 1983 European Cup Winners' Cup Final into a compelling narrative interspersed with songs. The Only Light Was Stars attempts something similar, except that its central metaphor is not the migration patterns of birds but the science of supernova. After a year of basically surviving lockdown – "I've been lucky to have a bunch of small commissions that have kept me going financially and emotionally," she says – Polwart hopes to make the project the focus of much of her creative energy this year.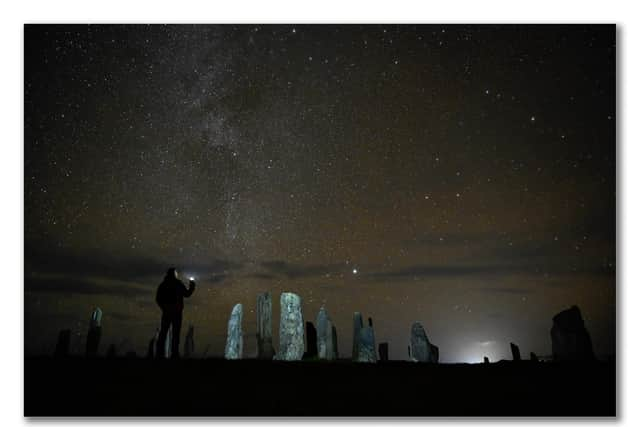 "I've realised at this point in my life that I'm fascinated by science and the questions it raises," says Polwart, who recently turned 50. "Supernova are fascinating to me because we've come to realise that they're nuclear explosions out in space. All stars are born from nuclear processes and now as humans in the 21st century we have a degree of command over these nuclear processes that makes us uniquely powerful and dangerous on our own planet. So there's something about humanity and our grappling with these elemental forces that are the forces of the universe but are also profoundly terrestrial forces and have impact now and in terms of thousands of future generations. There's an awe involved in science and especially astronomy but there are also political and economic forces driving how we utilise our scientific knowledge."
Polwart's interest in astronomy dates back to her time as a student at the University of Dundee. Aged 18, she was offered an exchange trip with Trent University in Ontario. "They had an observatory on the campus so I did astronomy 101. It was the first time I'd ever seen the moons of Jupiter but I also loved the maths of it because I was a maths geek. To my absolute hilarity my degree said philosophy with politics and physics: astronomy, which overstates the extent of my knowledge of physics but I loved it."
Polwart is putting this knowledge to creative use in The Only Light Was Stars. Two of its key characters are astronomers - the 16th century Danish nobleman Tycho Brahe and the 20th century radio astronomer Martin Ryle, whose many achievements include sharing the first Nobel Prize awarded for astronomical research, in 1974. "The idea of a supernova being the explosive death of a star comes from Tycho Brahe's time," explains Polwart. "It's pre-Galileo, pre optical telescope era. He had his own private observatory and kept these meticulous daily records." Brahe is credited with observing that what was thought to be a new star was something else entirely. "What's of interest to me is that it cast in doubt the whole metaphysical thinking of the era," says Polwart. "His observations are deeply radical in terms of European and global thinking." Ryle, meanwhile, was an eminent figure in astronomy who also spent his final years asking radical questions about the values of his time, criticising nuclear power, warning about the dangers of nuclear weapons and ultimately, as Polwart puts it, arguing "for fundamental science to be stopped". As Ryle wrote in 1983, shortly before he died: "Our cleverness has grown prodigiously – but not our wisdom."
"It's incredible to me that a scientist as knowledgable as that could get to the point in his life when he thought 'all of my research and my thinking is potentially put to ill use by humanity.'" Polwart observes. "I'm thinking about the climate emergency we're in and the relevance of science and technology as a backdrop to all of that. Our technological endeavours have got us to this point but there's also this hopefulness that our scientific thinking will get us out of the mire and I'm sceptical about that."
If this sounds like heavy-going, there is a playfulness to The Only Light Was Stars that more than balances it out. Polwart delights – in the show itself and in Campfire Conversations - in telling the tale of a trip to New Mexico with the Battlefield Band, during which a fan took her on a plane trip above the Very Large Array Radio Telescope that famously featured in the film Contact. Polwart came to realise that New Mexico's associations with astronomy, aliens and nuclear testing mirrored her own childhood in the Forth Valley, which is where the UFO hotspot of Bonnybridge comes into the story. "I think however strange the connections are, if people trust that they're genuine they'll go on that journey with you," she says. "One thing connects to another and that's how the map grows, like an organism." Some connections are, she acknowledges, "bizarre and surreal and funny" rather than serious or philosophical. If there was more space here I'd explain the link between the Sami People and Tycho Brahe's pet elk that died in a drunken accident, but instead you'll just need to listen to Campfire Conversations. Karine tells it better than me anyway.
Campfire Conversations with Karine Polwart is available for free from 16 January at https://lanntair.com/events/event/dark-skies-conversations/ in association with The Scotsman. Future guests include psychologist Kari Leibowitz and astronomer Sheona Urqhuart. The Hebridean Dark Skies Festival is supported by Caledonian MacBrayne and Outer Hebrides LEADER.
Other Campfire Conversations
Kari Leibowitz The American psychologist runs 'wintertime mindset' workshops to help people cope with the long dark months of winter, and has seen a new surge of interest in her work following the Covid lockdown. Listen from 23 January
Renzo Spiteri Should lockdown encourage us to listen differently? We ask a Shetland-based composer who creates music from field recordings of his immediate surroundings. Listen from 30 January
Sheona Urquhart An astronomer who has lived and worked all over the world, Sheona Urquhart spent much of her childhood in the north of Scotland gazing at the stars, and is as fascinated by myths and legends as she is by her field of expertise, Extragalactic Astrophysics. Listen from 6 February
Bethany Rigby The Hebrides' relationship with astronomy, Bethany Rigby says, "embodies humanity's changing view of our place within the universe". The designer, researcher and writer is now the creator of Outer Hebrides // Outer Space, a new research project that explores the islands' astronomical significance. She also knows some fascinating facts about shooting stars and Scottish place names on Mars. Listen from 13 February