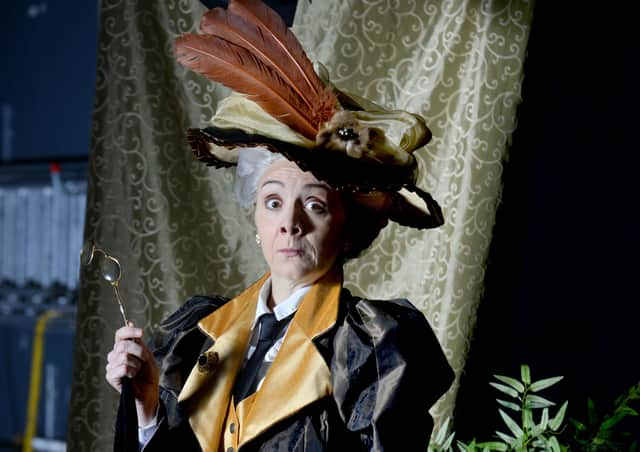 Karen Dunbar as Lady Bracknell in Perth Theatre's new production of The Importance of Being Earnest
Now, though, the much-loved comedy writer and actor Karen Dunbar has taken up the gauntlet thrown down by Perth Theatre artistic director Lu Kemp, and will play Lady Bracknell – famously appalled that her daughter Gwendolen wants to marry a man who was found as a baby in a large handbag – in a new Scots-voiced version of the play, set to open in Perth next week.

After a busy couple of years – including a long UK tour in Calendar Girls The Musical, followed by the rare experience of playing God in Still Game: The Final Farewell at the Hydro in Glasgow – Dunbar might have been forgiven for putting her feet up for a few months, and focusing on finishing a short musical she's been writing for A Play, A Pie And A Pint at Oran Mor. Yet when Kemp offered her the role of Lady Bracknell, she seized the chance.

"You know me, I love a challenge," says Dunbar, "and this was just perfect – where it is, when it is, and the fact that it's a fairly short run, rather than a commitment for months and months. I used to live near Perth for a while, and I absolutely love it – the countryside around is just so beautiful, and it's a great feeling to be here."

Lady Bracknell is not the first seriously challenging role Dunbar has tackled in Scottish theatre; in fact, her biography is a long and impressive one, ranging from a show-stopping and heart-wrenching performance in Michel Tremblay's The Guid Sisters at the Lyceum in 2012, to the ultimate challenge of playing Winnie in Samuel Beckett's Happy Days at the Tron in 2015 – a role that involves sustaining a surreal monologue for 80 minutes while buried up to the waist, and then the neck, in sand.

"When I agreed to play Lady Bracknell, and began to read the play, I thought, well, she's only on in the first and third acts, there's not all that much script to learn, it'll be relatively simple," says Dunbar. "But I underestimated it. I started to write out the script by hand, which is something I always do when I'm learning lines, and I began to think, oh my, there are an awful lot of syllables in this, and I'm going to have to get every single one right. I watched all the performances that are available online, and I began to realise what a master of precision Wilde is, and how you have to be in control of every single word and emphasis. It's honestly like eating deep-fried white pudding, and I love white pudding. It's dense, and chewy, and rich, and you just have to work on it."

For her Perth production, Kemp has adapted the play for just five actors (instead of the usual eight or nine), and cast a top-flight team of Scots which also includes Outlander star and CATS best actor winner Grant O'Rourke, Caroline Deyga, Daniel Cahill, and award-winning recent RCS graduate Amy Kennedy; and Dunbar says that every cast member is bringing a huge amount of creative energy to Kemp's reinterpretation of the play, as well as finding brand-new comedy in the fact that most of them are having to play at least two characters.

"I am just enjoying the whole experience so much," says Dunbar. "Lu is such an interesting director, and although I did a lot of preparation before we started rehearsals, I'm finding that I feel quite relaxed about trying new things as we work – although I am quite sure that Lady Bracknell comes originally from Govan. I haven't quite got the voice yet, but people like Michelle Mone are coming to mind – women who come from ordinary Scottish beginnings, but somehow arrive in the British establishment. And then there's that sequence in the Judi Dench film version where we get to imagine that Lady Bracknell was once a chorus girl – oh yes, there's plenty to think about, and the other characters are going to be using an interesting range of voices as well."

One thing of which Dunbar is certain, though, is that the show is going to look fabulous. The characters in this version may have arrived in the upper classes by unconventional routes, but they certainly don't stint on their clothes; and Dunbar says that Perth Theatre's costume department has excelled itself in producing the gorgeous Edwardian outfits, replete with jewels and feathers, that the play traditionally demands.
"Wilde is so brilliant, such a talent, such a wit," says Dunbar, "and this play will never go out of fashion. It's a satire about class and snobbery, and also, at heart, a love story; and those things don't change. What I always want to do in theatre is to bring something new to a play for those who know it well, while also helping to attract a new audience who may never have seen it before. And I hope we can do that, in this case; because I really think we've got something special going here, in bringing it all to life, for audiences now."


The Importance Of Being Earnest is at Perth Theatre from 5-21 March