John McKay on the revival of his hit 80s play Dead Dad Dog
For playwright and director John McKay, the experience of seeing his play Dead Dad Dog performed at the old Traverse Theatre in 1988 was "kind of life-changing". Interview by Joyce McMillan
It's May 1988; and at the old Traverse Theatre in the Grassmarket, audiences are piling into the main theatre space for the latest in-house production. The show is attracting plenty of interest, because the writer, 22-year-old John McKay, is already something of a local star. As a member of the Merry Mac Fun Show, a Perrier-award-nominated group of 1980s Scottish satirists with a huge Fringe following, he is well known, as a writer, musician and performer; and the subject of his first stage play Dead Dad Dog – about an ambitious young Scot called Eck, whose big day is ruined by a ghostly visitation from his cantankerous old Dad – seems right up his street.
And when the audience arrive in the old loft theatre, there's a new shock to the senses to add to the excitement; because – perhaps in tribute to the brilliant east European "poor theatre" the Traverse has been presenting during the 80s – the Traverse space, long seen as a classic "black box" studio, has been stripped down to its raw Old Town stonework, and the original windows revealed.
It's a thrilling transformation that perfectly matches the raw physical energy of the show, with its mix of breathless comedy and searching questions about class, family, and identity, brilliantly delivered by actors Sam Graham and Ralph Riach. And for young John McKay, the experience of seeing his play rehearsed and performed is "kind of life-changing"; not least because he soon realises, in rehearsal, that although there is a fine director in the room, in the Traverse's Steve Unwin, he can hardly resist telling the actors what to do.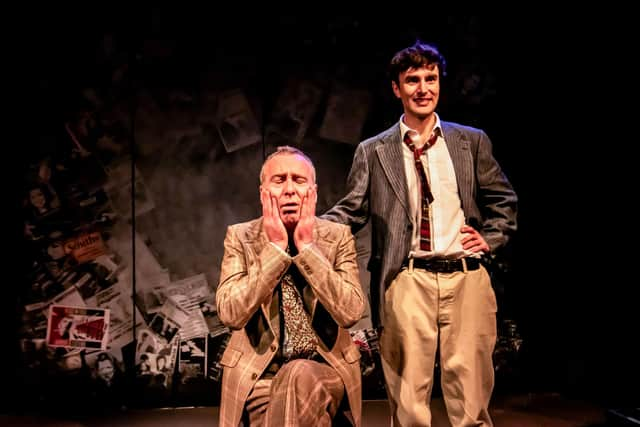 So it's perhaps not surprising that 35 years on, McKay has built a successful international career as a director and producer for film and television, now based in London, Glasgow, and his wife's home city of Cologne. With Liz Carruthers's revival of Dead Dad Dog about to appear at the Traverse, though, he has been reflecting on his life in Edinburgh in the 1980s, when he wrote Dead Dad Dog at speed within 24 hours, while recovering from a hangover in his childhood bedroom in North Berwick.
"There's a pattern in my life of my biggest failures somehow leading to the best experiences," says McKay. "After school, I failed to get into Oxford, and went to Edinburgh University, to do English and Drama. And it turned out that being a young Scot in Edinburgh at that time was just the best thing. It felt like the moment when we had the motive and the opportunity to launch a completely contemporary Scottish culture, that just wasn't defined any more by all those nostalgic White Heather Club stereotypes.
"Our work in the Merry Macs was all about that, really. We used to send it all up – we'd go on stage wearing tartan tourist tea-towels, that kind of thing. There was a bit of money around for arts and culture, and we were appearing on the same bills as people like Liz Lochhead and James Kelman and The Proclaimers. So it was all pretty unforgettable."
Soon after the success of Dead Dad Dog, though, McKay decided to move to London, where he started a career as a radio and television comedy writer. Retitled as My Dead Dad, his play was even adapted for television, in a 1992 series for Channel 4; and his next important turning-point came with another failure, when the second series of My Dead Dad was abruptly cancelled, and he found himself applying for a directing course at the National Film School. "By that time," says McKay, "I knew that in general, theatre was too sedate for me, just not physical enough. Basically, I wanted a medium where if you wanted a car crash, you could actually have a car crash, and get it on screen, with all that kinetic energy."
When he graduated from film school in the mid 1990s, McKay began a directing and producing career that has ranged widely across film and television, with Scottish stories and settings still featuring frequently in his work. McKay feels that some of his best work has been for the small screen, including his 2012 television film We'll Take Manhattan, about supermodel Jean Shrimpton and photographer David Bailey on an early 1960s trip to New York; he is also proud of the Life On Mars episodes he directed, and of his Edinburgh-set low-budget television film Reichenbach Falls, based on an Ian Rankin story.
"I still retain some of that old Merry Mac love for working fast, and in a rough-and-ready way," says McKay. "I always prefer ten good people heading off in a minibus to film somewhere, to a big studio with a crew of 200.
"And as for the revival of Dead Dad Dog – well, it was the wonderful director Liz Carruthers who suggested we do it, at the Finborough in London and the Traverse. I also wrote a sequel, Sunny Boy, which we sadly lost in rehearsal when one of the actors became ill; although we're hoping to revive both plays as a double bill very soon.
"It certainly feels, now, as though Dead Dad Dog was written by another person. But it also reminds me of how much, at some levels, I am still fighting that same battle, about how important it is to shake off that chippy servitude about Scottish culture that our parents just took for granted.
"And of course, now I am a father myself, to four sons. So I know now that as a parent, you can't be shaken off, as Eck would like to shake off his Dad. It's your fate, emotionally at least, to follow your children wherever they go; so yes, you do dog their steps though life – and there's nothing you can do about that, at all."
Dead Dad Dog at the Traverse Theatre, Edinburgh, 1-4 November.