As a theatre director, Joanna Bowman looks for two things in a play. First it should not be able to exist anywhere but the stage. Second it should have a reason to be heard; something "politically necessary". As she sees it, Wolfie (Some Sort Of Fairy Tale) ticks both boxes.
The debut play by Ross Willis, it premiered at London's Theatre503 in 2019 and went on to be named best play at both the Writers' Guild Awards and the Off-West End Awards. It is about twin sisters whom we follow from before they are born until the age of 26. They are farmed out to different foster parents – one as dysfunctional as the other – and have their lives shaped accordingly.
"It just pings off the page in the most terrifying and exciting way," says Bowman, making her debut as associate director at Glasgow's Tron, a post she will hold for two years.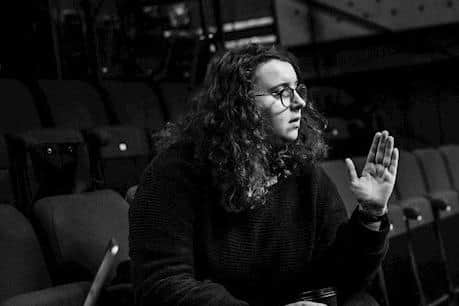 To get an idea of the play's theatricality, look no further than the opening stage direction. "This play should not be polite," writes Willis, adding the helpful instruction: "Just a typical day for the twins floating and chilling in the womb."
The play's very impossibility was what Bowman found inspiring. "The reason I picked Wolfie is it scares me," she says. "If you're not being scared or excited in some way by the work you're making, then why bother doing it?"
So much is it designed for the theatre that she cannot imagine it in another form. It is the opposite of a neat and tidy television drama. "It not only has to be theatre but it has to be the sort of theatre that looks at its audience and says, 'At 7.45pm on 5 May 2023, we're going to be in the Tron upstairs, telling this story together.' It's really sharp; it moves from a forest to a foodbank to a supermarket to a job centre to a laboratory within moments. Audiences want to be taken on these quest journeys and it feels all the more epic for that."
Working with actors Anna Russell-Martin and Leah Byrne, she is drawing in particular on her experience as assistant director to Dominic Hill of Glasgow's Citizens Theatre, famed for his forensic attention to detail. "What British theatre does particularly well is character," she says. "For me, decisions have to be rooted in the text rather than imposed on the text. Dominic Hill is a director with a distinct style, but the style is always from the play. It comes from within."
Similarly, she is putting the actors at the heart of the production. "Leah and Anna are two of Scotland's best young female actors," she says. "On a technical level, their craft is so honed. It's joyous to work with people who are incisive and specific while also being generous and open to ideas."
She has reduced the capacity of the Tron's already tiny Changing House in order to perform in the round, making the play more immediate still. "We're asking the audience not only to look at the story, but to look at each other," she says. "We're using the full space of the auditorium in a frenetic and frantic way."
But it is not all theatrical fun and games. Behind the playwright's fairytale exuberance lies a serious theme. Wolfie is a play about neglect, an inadequate care system and a society that tolerates the abuse of young people. Where one of the sisters is placed in the care of a chemically unbalanced woman, the other is left for dead, rescued by a wolf and raised as a feral child. Both suffer the consequences.
Bowman becomes impassioned as she describes her brother's experiences as a social worker in London and her own anger at the way we treat those least able to help themseves. "The care system is broken," she says. "It fails the most vulnerable people: children in the care of the state. This play, in a joyous, playful way, goes against that. It says to the audience, 'You may not be specifically complicit in this, but by the very fact that you live in a country where this is allowed to happen to these kids, you are complicit. This play was first on in 2019 and in the four years since, it has just got worse – more cuts, more pressure, children disappearing during the pandemic – and we as a society allow this to happen. It's everyone's duty to look after these kids."
She adds: "The play takes the broad idea that these kids are being failed and distils it in a funny, moving violent, scary way, and gives a voice to these two kids. They need it to be playful in order to tell it."So what does Bowman understand by the playwright's instruction that Wolfie should not be polite? "It's real joy is that it's wild," she says. "It's preoccupied by its own liveness. It demands a lot of the audience. Sometimes plays can allow us to sit back and this is a lean-forward play. Politeness is about asking audiences to be quiet and listen, but this play creates space for different responses. The stage direction is saying the play is big, unwieldy and difficult and don't be afraid that it's smashing ideas, aesthetics, sounds and places together. It's of the body rather than of the mind."Wolfie (Some Sort Of Fairy Tale), Tron, Glasgow, 4-13 May, www.tron.co.uk