Imogen Stirling did not set out to publish another poetry collection. She sees herself as a performance poet; one for whom the spoken word takes precedence over the written. But then the pandemic happened and suddenly speaking her verse aloud was not an option. So a book it was.
Published in 2022, it was called Love The Sinner and came complete with a glowing recommendation from the mighty Benjamin Zephaniah. "I think this is the work of a lyrical genius," he said. "It is crafted by a great poet, and crafted with emotional depth. There's nothing like this. There's no one like Imogen."
But the multi-tasking Stirling, who describes herself as "a performance poet, theatre-maker, musician, writer and facilitator," was not prepared to leave it at that. Having completed an extensive book tour last year, she was ready to turn Love The Sinner into a fully fledged stage show.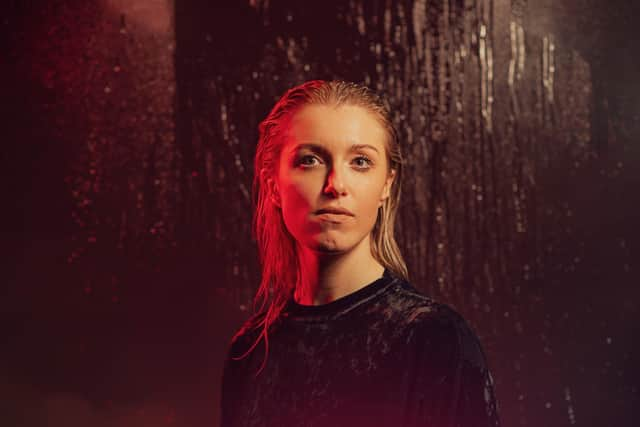 "I don't think there should be a distinction between any of the categories," she says. "It's all language presented and performed in different ways. The more you start applying the different labels, the more people think, 'This is not for me.'"
Enter director Matthew Lenton of Glasgow's Vanishing Point. He is creating theatrical settings for Stirling's poems, which relocate the seven deadly sins to modern-day Scotland.
Anyone familiar with Vanishing Point productions, such as the Covid-era Metamorphosis and the entirely wordless Interiors, will know Lenton favours pictures over language. What did it mean for him to join forces with a poet? "The first thing I'm always looking for is a feeling, a taste or a world that something can exist in," he says. "It's not that I've got anything against words but I find too many words intimidating."
That sounds like heresy for a man working with a poet. Does Stirling have any sympathy? "I really do," she says. "Poetry can be so exquisite on the page, but when it is read to you in a way that isn't direct and evocative, it can be a lot to listen to. I feel I need to help the audience, pausing between pieces and having a bit of interaction – anything to cushion the whole thing and make it more alive."
Initially drawn to the seven deadly sins as an entertaining exercise, Stirling found these ancient archetypes still worked in a modern setting. In an era of global heating and social-media anxiety, she discovered the temptations of pride, lust, gluttony and the rest were as potent as ever.
"I've always thought spoken word was missing character and theatricality," she says. "I was drawn to the sins because you were being handed this framework of seven characters. I like the fact they're ugly and gross, which you wouldn't necessarily choose if you were writing about yourself. It brought a universality to the writing."
In 2021 she was a recipient of one of Vanishing Point's Everyone Is Creative commissions, a scheme that gave small grants to 11 freelance artists to develop ideas. It meant Lenton's first encounter with Love The Sinner was through performance rather than the printed word.
"Imogen sent me a video of one of the pieces which I really liked," he says. "It was only later that I read the whole thing. Plays tell you a lot about how they want you to do them, but with Imogen's text there are a million and one ways you can do it. It doesn't give you the same kind of clues, so you have to bring a lot more of your imagination and go on a much bigger journey to find out what the text needs to be in three dimensions."
He adds: "You've got to be abstract about it. The lights, video and sound all work together in a way that is not rational or intellectual, which I really like. There is a synchronicity in all the elements that gives your body a lift. The words work on me in a much more impressionistic way than when I'm struggling to understand the linear meaning."
With a live electronic score by Sarah Carton and additional music by Belgian composer Sonia Killmann, the production draws on Vanishing Point's regular team of video, lighting, sound and stage designers to give the poetry an extra dimension. Stirling aims for an equal balance between words and music, what she calls the "sweet spot" between background music and hip hop. It could be, she says, "poetry you can dance to".
Working with spoken word for the first time, Lenton is trying to present Stirling's poetry in a way that does not overwhelm it: "She is creating these images, environments and characters and as soon as you show them on the stage too vividly, you deprive the audience of so much of their imagination. The thing for me is to find the form the material needs."
For Stirling, the stage show is a novel experience. She is used to going it alone, so it is a thrill to collaborate. "It's fantastic," she says. "I don't think I've ever been directed by anyone before. It's nice not being the sole person holding the reins. I usually learn by doing repeated gigs and don't have any input before then. It's taught me to hold on to the language and the concept more loosely and be freer with all of it."
Love The Sinner, Tron Theatre, Glasgow, 11–13 May; Traverse Theatre, Edinburgh, 16–17 May. Love The Sinner: The Album, is released on 5 May, see www.imogenstirling.com