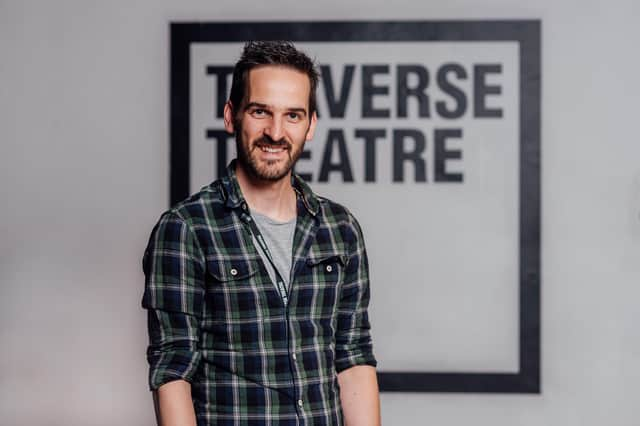 In Cambridge Street, the foyer doors are closed at Scotland's world-famous new writing theatre; and Traverse 1 and Traverse 2 are dark, apart from the occasional carefully distanced visit or workshop session. It's not like that, though, in Traverse 3; because the theatre's new online space, invented just before last year's cancelled Edinburgh Festival season, is alive with activity, this month and always. Log in, and you'll find around two dozen events available, some live, some recorded, some ticketed and paid for, others completely free. This week alone, there are two live evenings of readings and discussion on plays from the Traverse's First Stages programme for emerging writers, a lunchtime Q&A with acclaimed Irish playwright Enda Walsh, and a Saturday workshop with Hannah Lavery, author of the magnificent Lament For Sheku Bayoh, as well as podcasts, workshops, and a reading of a new play by brilliant Glasgow-based writer Michael John O'Neill.
And all this is to say nothing of Shedinburgh, an online world invented last summer by Scottish playwright and performer Gary McNair and producers Francesca Moody and Harriet Bolwell. Shedinburgh is not a Traverse production, and has its own website; but its work – some of it performed and recorded last August from a shed built in the auditorium of Traverse 2 – is closely entwined with the Traverse's recent repertoire, and its new month-long "greatest hits" season, launched this week, includes many shows previously seen at the Traverse, including Status by Chris Thorpe, White Rabbit Red Rabbit by Nassim Soleimanpour, My Arm by Tim Crouch, and McNair's own McGonagall's Chronicles.
"After the first shock of lockdown," says the Traverse's co-artistic director Gareth Nicholls, "I think we just pivoted really quickly towards digital work. In a sense, we had no choice; we needed to keep in touch both with our audiences, and with all the artists we work with. The invention of Traverse 3 came soon after that, as a virtual all-year-round Festival venue; the idea was to re-create a sense of togetherness and liveness, and of community, even if we had to do it online.
"And since then, it's all been about evolving and changing, and striving to find new artistic forms. The Traverse's work is all about creative development anyway; so we've been running some terrific workshop sessions – a recent one with Simon Stephens was attended by over 200 people – and also exploring ideas about creating longer-term relationships between playwrights and the theatre, so that we can support them as voices, rather than just as the writer of one play."
Alongside the challenge involved in trying to take theatre online, the past pandemic year has also highlighted many social issues of the kind Traverse writers have often tackled, including the multiple issues of race and the legacy of Empire thrown up by the Black Lives Matter movement; and this week, the Traverse announced a series of new resident artist appointments that reflect a growing commitment to reflect on Scotland's colonial history, and its diverse present.
So the theatre's new IASH fellows, sponsored by the Institute of Arts, Sciences and Humanities at Edinburgh University, will be the playwright Raman Mundair, who lived most of her life in Shetland, and Edinburgh-based playwright, actress and singer Apphia Campbell. The Traverse has also appointed two new creative producers for its Class Act project, in Robbie Gordon of Wonder Fools and Wezi Muhra, the woman behind the powerful series of Black Lives Matter graphics across the facades of Scotland's theatres during last year's lockdown. And the Traverse writer in residence, this year, is Uma Nada-Rajah, a West Lothian-based playwright who also works as an NHS staff nurse, and whose 2018 Play, Pie And Pint play Toy Plastic Chicken won widespread acclaim.
"For me," says Nada-Rajah, "it's just a real thrill to be appointed writer in residence at the Traverse. When I joined the theatre's new writers' group in 2010, it was really my first glimpse of what a professional new writing theatre could be, and it meant everything to me. My aim is to bring raw stories to the table, and I have two ideas in mind at the moment. One is a kind of macabre exploration of the ideal of universal healthcare, and how it can come under threat from politicians who never have to show any of the basic competence and honesty that are expected from ordinary healthcare workers every day; and the other explores my own heritage as a northern Sri Lankan, and the story of the women who became fierce female fighters for the Tamil Tigers, during Sri Lanka's civil war. It was such a counter-cultural thing for them to do, to cut their hair and go to war, and I find it absolutely fascinating."
All of which should be music to Gareth Nicholls's ears, as the Traverse looks forward to new times.
"I think there's no question that our commitment to digital work will remain," says Nicholls. "We've learned too much about what it can achieve to let it go, and although it can never replace live performance, it can run parallel with it. I think theatre will survive, and be resilient, and evolve, in the aftermath of the pandemic; and I think the arts in general are going to be fundamental to our recovery from this. We're going to need to congregate together, to try to understand what we went through, and to work out what we want the future to be. And the Traverse's job, as ever, will be to provide space for that, in every way we can – online, and in the theatre, as soon as we can open our doors again."
A message from the Editor
Thank you for reading this article. We're more reliant on your support than ever as the shift in consumer habits brought about by coronavirus impacts our advertisers.