When Hannah Lavery sat down to write her latest play Protest – set to be one of the centrepiece productions of this year's Edinburgh International Children's Festival – her main thought was that she wanted to write something hopeful.
"I feel that so much of what we see and hear at the moment just makes us feel completely powerless, as if we've got no agency in the world at all, and that's particularly hard for children and young people. I was thinking about children at that vital age of 11 or 12, going through the transition from primary to secondary school, and still with that very strong sense of justice that young children have; and I wanted to write something about activism, about how to be an activist, to find a voice, to survive defeats, and build on small wins.
"I therefore spent some time, before I started writing, talking to older activists about their lives, and how they sustain their work. And then these three characters appeared in my mind, three young girls with very different reasons for becoming involved in protest, but all needing solidarity and support from each other and their community. And from their grandmothers – there's a lot of grandmother energy in this play, when it comes to passing wisdom about protest down through the generations."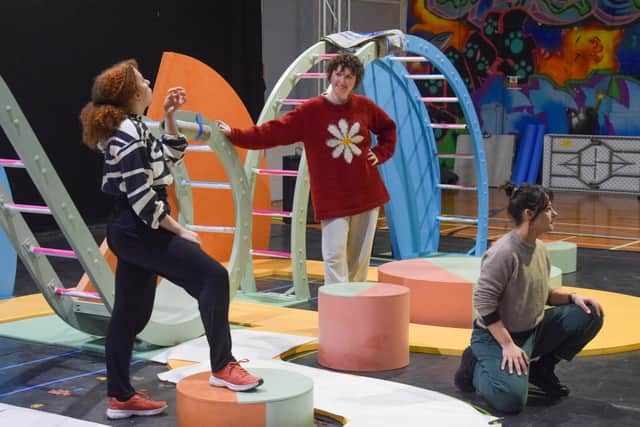 Protest is Lavery's first play for younger people, in a writing career previously best known for works including her sombre and passionate long monologue Drift, about growing up as a mixed-race child in 1980s Edinburgh, and the text for the National Theatre of Scotland's Lament For Sheku Bayoh, a powerful semi-documentary stage poem about the death of Sierra Leone-born Sheku Bayoh in police custody, in Kirkcaldy in 2015.
In 2019, though, she was offered an Accelerator award by Imaginate, the Scottish children's theatre umbrella organisation that runs the Edinburgh International Children's Festival (EICF); and thinking of her own two children, who were then around the age of the girls in the play, she set out to write something for that in-between age group. In 2021, the first version of her text received a rehearsed reading during the EICF; and Imaginate found co-producers for the play in acclaimed London producing company Fuel, and in Northern Stage of Newcastle, with the National Theatre of Scotland also on board as associates. The play is now in rehearsal in Newcastle, under the direction of Northern Stage's Edinburgh-born artistic director, Natalie Ibu; and it will open there this week, before touring Scotland, and arriving at EICF on 29 May.
"Because of lockdown and other factors," says Lavery, "I pretty much wrote this text by myself, in 2020-21. Now that I've handed it over to Natalie and the company, though, it's just so thrilling to watch it transforming from a script on the page into this tremendous piece of physical theatre – there's even a running-track on stage, since one of the girls is a runner. Natalie has this huge imagination about how to bring the text to life; and I hope it will really energise the young people who see it, and encourage them to get together with others to make the world a better place, in however small a way."
All of which is music to the ears of EICF director Noel Jordan, who is delighted to see one of Imaginate's pre-pandemic Accelerator projects coming to fruition in spectacular style. For Imaginate, Protest is one of two major commissions involving Scottish-based artists this year; the festival will also feature the Barrowland Ballet's Icarus story Too Close To The Sun, about a girl learning to fly through sheer willpower – another show that has been in preparation since pre-pandemic times.
Otherwise, though, EICF 2023 is a more richly international affair than has been possible for some years, welcoming a dozen international shows from Spain, Denmark, The Netherlands, Belgium, Canada, France, Slovenia, Ireland and Norway. Climate change, mental health issues, and the difficulty of challenging conventional routines loom large as festival themes, although there's also a healthy dose of light-hearted circus and slapstick; and highlights will include the Ljubljana Puppet Theatre's Somewhere Else, from Slovenia, about a young girl caught in the middle of a war, the French and Canadian show The Problem With Pink – about a mixed group of friends who just love to live and dance in a world carpeted in pink – and Maas Theatre of the Netherlands' hilarious and timely show for younger children, Bully Bully, about childish world leaders, and grown-up men who throw tantrums.
"I'm not sure where this festival will be in a year's time, or further ahead," says Jordan. "We're fortunate in our support from Creative Scotland and the Scottish Government's Expo Fund, among other sources. But funding has been at a standstill for a long time, and now costs are soaring to an unprecedented extent; and that is bound to affect how much we can do, and the scale of productions we can stage.
"So next year may be a year of very, very tiny shows indeed, with small casts, and minimal staging. But for this year, we are able to present a really exciting festival, and one that has received very enthusiastic support from some of the countries and regions taking part. So that, and the large numbers who are already signed up for our delegate programme, suggests that there is still a huge international demand for a festival of children's theatre like EICF, and for the showcase it provides; and that makes me hopeful that whatever difficulties we face, we will continue to thrive, with the help of our terrific audiences here in Edinburgh."
The Edinburgh International Children's Festival runs from 27 May to 4 June in venues across Edinburgh, with Protest and Too Close To The Sun also touring Scotland earlier in May. For details see www.imaginate.org.uk/festival