Gaelic theatre company Theatre Gu Leor tackle loss of land and language in new show Maim
One of the great strengths of Gaelic culture in Scotland is that it cares not at all for the traditional distinctions between art forms; in the Gaelic-speaking world, music, song and theatre tend to appear as aspects of the same mighty storytelling tradition. When writer, academic and lyricist Alasdair C Whyte, and composer and songwriter Ross Whyte, first started working together in 2016, they rapidly formed into a band working on a unique blend of 21st century electronica and Gaelic song; they named the band Whyte, to celebrate the fact that they had identical surnames even though they are not related, and released an acclaimed debut album called Fairich, later that year.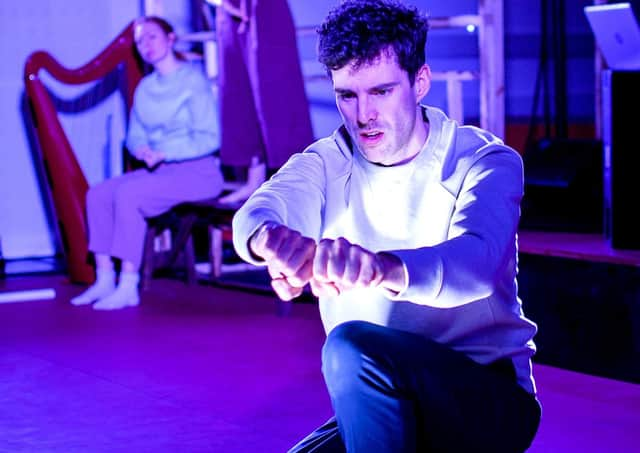 Alasdair Whyte in Maim PIC: Rhona NicDhùghaill
By the summer of 2017, though, they were already exploring a slightly more theatrical way of presenting their work, creating an immersive and cinematic show, Fairich Live, for the Made In Scotland showcase at the Edinburgh Fringe. Muireann Kelly, artistic director of Gaelic theatre company Theatre Gu Leor, saw the show, and loved the music; and a conversation started which led, over two and a half years, to the making of the Whyte-Theatre Gu Leor co-production Maim, which opens in Glasgow tomorrow before a tour of Scotland.

"Maim is a Gaelic word that means panic, terror, consternation or alarm," explains Muireann Kelly, after a week of rehearsals at the National Theatre of Scotland's Glasgow base, "and there's no doubt that we want this show to confront some huge and frightening issues we all face now. It's about the continuing decline of native Gaelic language and culture in the islands, despite more people learning the language in the central belt of Scotland; and it's also about the threat posed to traditional Hebridean and West Highland landscapes by climate change, as the sea rises into the machair.

"So it is, yes, about a kind of extinction rebellion on two levels – of the language, and the land itself; and Ross's score is very much based around two songs from Whyte's recent album Tairm, which means echo or summons, a kind of gathering-cry. We've also pulled together a great team for this show. Apart from Alasdair and Ross, the cast also includes Elspeth Turner, who's a writer herself and a great advocate for Scotland's languages, and Evie Waddell, a new graduate from the Traditional Music course at the Royal Conservatoire of Scotland who's also an expert in British Sign Language; so at many points in the show, we'll be working in three languages, English, Gaelic and BSL. Then there's choreographer Jessica Kennedy – because this is very much a movement piece – along with designer Jen McGinley, lighting man Benny Goodman, and audio-visual designer Lewis den Hertog. What we're doing in this show is presenting a collection of stories, based on the work we've done together as a company, and mainly scripted by Alasdair; and together, we hope we'll be able to make this is into a beautiful piece of theatre, that tackles a profound and frightening situation in a really positive way."

For Alasdair Whyte, meanwhile, it's the marrying of the different strands of the production – text, music, movement, visual images – that represents the most exciting new challenge of the Maim project; while in other ways, it represents a continuation of preoccupations which were already shaping both the music he and Ross co-create for Whyte, and his academic work. He was awarded a PhD from Glasgow University in 2017, and now holds a prestigious research fellowship for his work on the disappearing local place-names of south-east Mull, where he grew up, and on what happens to a culture when it loses the knowledge of landscape and history embedded in those names - something most Scots have arguably lost, since English became our dominant language.

"Not all of our songs explore the relationship between self and land and language," says Alasdair Whyte, "but many of them do, and we made a decision right at the start only to sing in Gaelic. The only way you can really protect a language and culture is make new things out of it, to make it part of the present and future as well as the past; and that's what we try to do. It's time for us Gaelic speakers to realise once and for all that our language and culture are in no way inferior to English language and culture. And in striving for that, we're not defeatist at all; not in this show, and not in the rest of our work."


Maim is at the Tron Theatre, Glasgow, 6-14 March, Traverse Theatre, Edinburgh, 17-18 March, and on tour to Inverness, Aberdeen, Oban and across the islands until 28 March. 


Want to join the conversation? Please or to comment on this article.