Forget digital: How lockdown made Lyth Arts Centre look for physical solutions
Coronavirus has been devastating for Lyth Arts Centre, but it has forced the Wick-based venue to re-examine what it does, writes Arusa Qureshi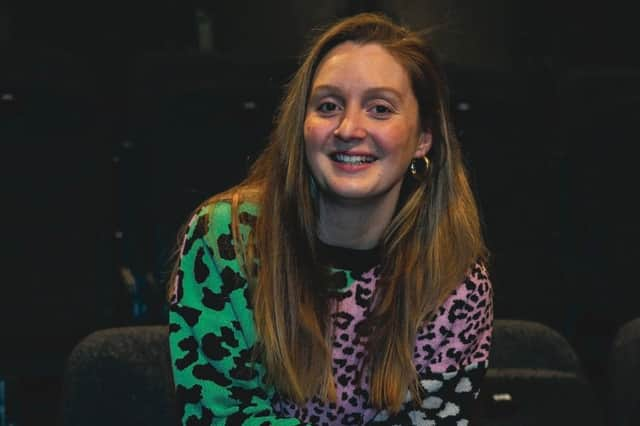 Charlotte Mountford, co-director of Lyth Arts Centre
In a blog post on the Lyth Arts Centre website dated 26 May, co-directors Charlotte Mountford and Tom Barnes wrote: "On Monday 16 March, we lost almost all of our future earned income overnight – including ticket income, bar sales, hires – which we estimate at over £30,000 for March to July 2020 alone." Like many theatres and institutions around the UK, the venue faced immediate and drastic repercussions following the announcement of lockdown restrictions.
"It felt like overnight, we lost maybe two thirds of our income," Mountford explains. "It's been quite interesting because hearing a lot of the bigger venues speak, we're kind of in the same boat but also a different boat too. We're only a 60-70 seat theatre, so our box office income is never massive, but it still does equate to about a third of our income."
Mountford and her partner Tom Barnes have been co-directors at LAC since 2017, focusing their efforts on challenging the idea of what rural means through the presentation of a wide ranging multi-arts programme. As the UK's most northerly mainland arts centre, LAC's year-round calendar incorporates everything from contemporary dance to feminist circus, as well as an extensive village hall and community centre outreach initiative.
"We always try to punch above our weight so we're always doing a lot," Mountford says. "But we're not regularly funded by Creative Scotland, we're project funded which presents its own unique challenges, particularly in this current situation. We have to be constantly fundraising and always applying to different grants and foundations. The biggest impact for us has been that all those funds shut down and were repurposed for Covid-19, which was obviously the right thing to do. But it just meant that our ability to fundraise for the rest of the year was completely gone."
As an organisation that relies on various funding streams and as one with a very small core team, LAC was able to make use of the government's Job Retention Scheme, but consequently couldn't turn its attention immediately to producing digital content, as some other theatres and companies have done.
"The furlough scheme has been very helpful for us but it does mean that we've had to reduce our activity," Mountford explains when asked about the challenges of responding to and working in lockdown. "We're used to presenting something every day and historically we've been a presenting organisation, so we host performances, we host artists and we facilitate. We've not been able to make this big switch to digital because we're not a producing company; we don't have the expertise, equipment, knowledge or staff, because everyone is furloughed, to go off and make digital content."
LAC did, however, receive some funding from the Scottish Government's Wellbeing Fund, which allowed the team to develop a programme of work called Caithness, Through My Window. Working with four local artists, they created an original art activity pack that was made available to all households in the Caithness area, with the booklet containing activities suitable for all ages. Thus far, they have reached over 750 families, delivering almost 1,000 creative wellbeing activity packs in the process.
With an understanding that the majority of their audience and participants would only be accessing the internet through phones, and not through laptops or desktop computers, it was vital for Caithness, Through My Window to be a project that could be accessed physically, as well as digitally. "It's been quite interesting for us because what we've found over the past two years and then again, doing some surveys now is that there's quite a lot of digital poverty in Caithness and in the Highlands," says Mountford.
According to results from the After the Interval survey, the team at LAC found that only 33 per cent of their audiences would be interested in engaging with cultural events online and a similar number said the reason for that was their poor internet or broadband speeds. Also, the physical numbers of Caithness, Through My Window that have been distributed far outweigh the digital downloads.
What this experience has fundamentally highlighted for the team is the need to reach local people beyond the online sphere, and how essential a role arts organisations can play, especially in rural communities. Certainly for Mountford, the challenges have provided a new emphasis which going forwards will be central to the work LAC does. "The response has been incredible. And it's really interesting to see our local community turning to us to help provide what people need to keep them well, to keep them connected, to keep them creative, to help with home schooling. We've been supporting Highland Council, children's services, care-experienced young people and more, and I think it's really given us a new focus in what we do. I do think this whole period is going to have a permanent impact on how we work, who we work with and why we work as well."
While structural barriers will not be torn down immediately, Mountford is looking forward to doing things differently and trialling new ways of working that might encourage the deeper system to move a bit differently, all while improving accessibility. With the recent announcement of the government's £1.57bn support package for the arts, she is hopeful about the future but also clear in her vision for LAC.
"Our focus is going to be on the local and now is the time where we're going to be practicing some radical localism. I think we'll probably be looking at presenting more local artists, looking at the talent and creativity that we have on our doorstep and how we can facilitate those artists and bring them to the forefront of our community as well.
"Definitely through our programme," she continues, "we want to ensure that we're addressing things like social justice issues, that we are promoting an anti-racist programme, that we are encouraging education and conversation in everything we do. And I think everything will just be a little bit slower and a bit more strategic maybe than how it has been in the past, which is exciting and feels like a positive step for us."
A message from the Editor:
Thank you for reading this story on our website. While I have your attention, I also have an important request to make of you.
The dramatic events of 2020 are having a major impact on many of our advertisers - and consequently the revenue we receive. We are now more reliant than ever on you taking out a digital subscription to support our journalism.