Forever Home: Play, Pie and Pint autumn season to open with adoption drama
Pauline Lockhart and Alan Penman's Play, Pie and Pint show Forever Home is a story about the difficult journey of adoption, writes Joyce McMillan
When Pauline Lockhart and Alan Penman were given a few hours, earlier this year, to dream up a description of their autumn Play, Pie And Pint show – for a Pitlochry Festival Theatre programme with an early print deadline – their first thought was that they should stick to what they knew.
"We knew we were going to be writing a play with songs for A Play, A Pie and A Pint for this autumn," says Penman, one of Scotland's most experienced and successful theatrical composers and musical directors, "and we were delighted that it would also be co-produced by and for Pitlochry. But faced with the need to pin down a subject quite far in advance, we thought there was only theme we could be sure of tackling well, and so we went for it."
The result is Lockhart and Penman's new show Forever Home, a story about the difficult journey of adoption, and in particular about the tough choices faced by adopted teenagers when they reach the age – only 16, in Scotland – when they can, if they choose, try to make contact with their birth families. The show will open this autumn's Play, Pie and Pint season of 12 new plays, all revolving around the theme Tales of Coming Home; and after 30 years together, in and around Scottish theatre, it marks the first time that Penman and his wife, actor and writer Lockhart, have actually worked on a joint project. It also reflects an experience that is deeply personal to them; in that 14 years ago, they became the adoptive parents of a four-year-old girl, now their 18-year-old daughter.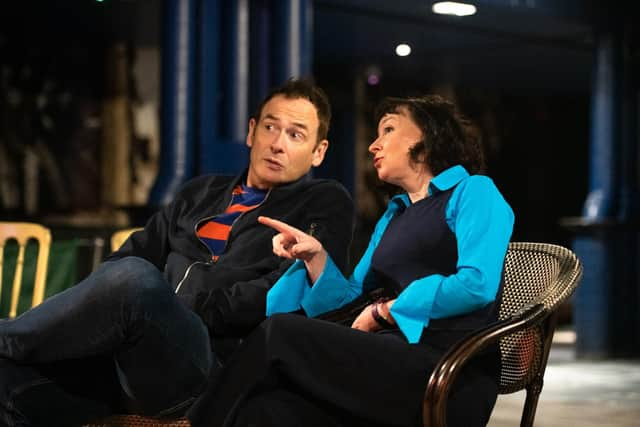 "It has actually been a surprisingly positive experience for us," says Pauline Lockhart, for whom this is her debut original play, although she has previously worked on adaptations of existing stories. "It is difficult in some ways, and very close to home; but we have so much experience to draw on, and not just our own. Thanks to our brilliant adoption agency, Scottish Adoption, we're in touch with a big network of parents, who all face similar issues and problems at every stage; and so we've been able to create a fictional story that draws on our own experience, but isn't limited by it, and that we know will resonate for other families.
The result is one-hour play that features two main characters – mother and daughter – plus a third actor playing various teachers and friends, and a score of seven original songs; and in a sense, the show is typical of what the Play, Pie and Pint seasons at Oran Mor are able to achieve, both in promoting brand new writers, and in allowing established theatre professionals to try something new.
Founded by the late and great David MacLennan 19 years ago this autumn – and originally intended to be completely free of public subsidy, so exasperated was the Wildcat veteran by his previous run-ins with the Scottish Arts Council – A Play, A Pie and A Pint adopts what might be called a radical commercial model, relying mainly on ticket sales for its operating income, playing at lunchtime, and attracting a loyal audience by keeping ticket prices fairly low, and throwing a pie or vegan sausage roll, and a drink, into the bargain.
And although A Play, A Pie and A Pint has become a vital part of Scotland's theatre landscape, and now receives some Creative Scotland funding, the company's artistic director Jemima Levick freely admits that it offers a different experience from major new-play producing theatres like the Tron and the Traverse, and a less lucrative one for actors, writers and directors, who already – even in fully subsidised theatres – suffer from chronically low pay.
"It really is a different model from the major theatres," says Levick, who was formerly artistic director of Stellar Quines and co-artistic director at Dundee Rep, "and there are things about it I absolutely love – the speed, the flexibility, the need to get the work on stage with just two weeks' rehearsal, and the way we can invite people to try things out, in front of a committed and regular audience.
"So far as pay is concerned, we're in constant conversation with Equity in Scotland and the Scottish Society of Playwrights about it; and given that only 20 per cent of our budget comes from public subsidy, we've been able to negotiate a commercial theatre type contract for both writers and actors, which gives them a bit more than the absolute minimum, but not as much as in the fully subsidised sector. But like everyone in theatre, we'd like to have the means to pay more – to our directors, as well."
The result, though, is a world-famous theatre phenomenon, which typically produces around 30 brand new plays a year, attracts fine actors and directors to its tiny basement stage, and has become an indispensable first port of call for theatre-makers across Scotland, when they have a new project in mind. "This new season has a terrific mix of established playwrights – for example Douglas Maxwell, Annie George, Meghan Tyler, Philip Differ – and newer voices," says Levick, "and we always encourage people to use a Play, Pie and Pint production as a stepping-stone to something new, a way of making a breakthrough or moving their careers on.
"And as for me – I'll be directing one of the plays, but spending the rest of the autumn head down, working on funding applications. Because I know that there's so much more we could do – from new international projects to community work – if we only had the resources, and could pay the people to make it happen."
The Play, Pie and Pint autumn season at Oran Mor runs until 25 November, with transfers to the Traverse Theatre, Edinburgh from 19 September-28 October. Forever Home is at Oran Mor, Glasgow, 4-9 September, and Pitlochry Festival Theatre Studio, 11-16 September.