Willy Russell's Educating Rita is a comedy about a clash of cultures. On one hand, there is Frank, the worldly professor, bookish and secure. On the other, there is Rita, street-smart but uneducated, knowing more about hairdressing than the classics.
It is easy to imagine a parallel with the actors. In the forthcoming revival for Perth Theatre, Frank is played by Gray O'Brien, whose 30-odd years in the profession include long-running stints in Coronation Street (as bad-guy Tony Gordon), Peak Practice, Casualty and River City. He emerged from drama school in Glasgow at around the same time as such talents as actor David Tennent and director David McVicar.
By contrast, Rita is played by Rachael-Rose McLaren, who is at the start of her career, notwithstanding the powerful impression she made in last year's National Theatre of Scotland production of Enough Of Him by May Sumbwanyambe. But according to O'Brien, theirs is no teacher-pupil relationship. "Certainly not," he says. "She's teaching me everything."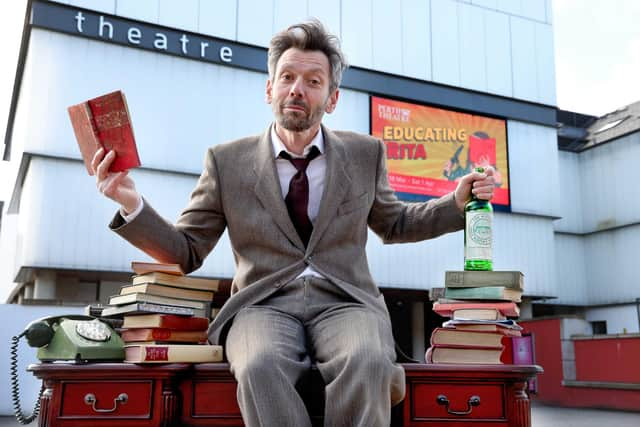 If anything, McLaren is rather more used to the studious approach being taken by director Martin McCormick. With her memory of drama school still fresh, she was unfazed by spending the first three days of rehearsal scrutinising the script in detail. For O'Brien, it was a novelty not to be on his feet from day one.
"We've spent a lot of time in exploration," he says. "It's very unusual to go through the text line by line. It's been a really deep process."
Yet even for McLaren, it took some getting used to. After three days of analysis, she was momentarily set off balance. "It felt like the stabilisers came off too soon," she laughs. "We understood how deep it was, but it takes you aback. When we stood up, I felt quite wobbly."
"We both had trouble walking," joins in O'Brien. "We knew all the mental stuff, but how do you put that into who he is, how he moves and how she moves? I told Rachael to savour this time because you don't often get the opportunity to explore characters like this."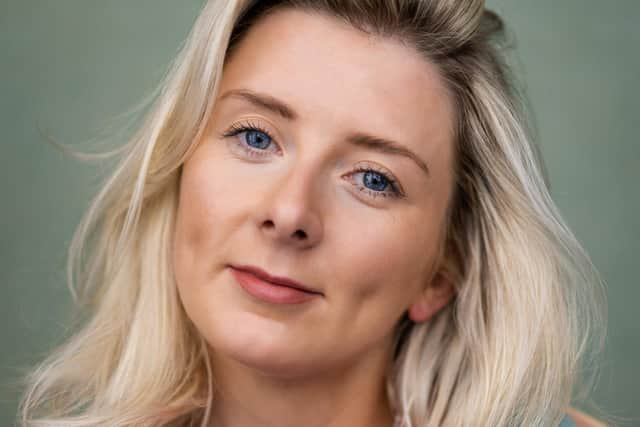 All of this is at odds with the mental impression we have of Educating Rita. We tend to think of it as a jolly comedy, our memories of a thirtysomething Julie Walters in the 1983 movie suggesting throw-away entertainment. But while it is certainly funny, Russell's play repeatedly upends expectations.
"On the surface, Frank and Rita are archetypal," says McLaren. "But there is so much more to them than that. They are not what we judge them to be."
O'Brien agrees: "The perception is of a light comedy about somebody wanting to better themselves, but the bigger education is for Frank. This young woman makes him look at his life and reassess his hopelessness."
They are keeping the play's Liverpool setting, conscious of how much meaning can lie in a single word. If you pronounce "grass", with a flat "a" like Rita, it is very different from Frank's rounded "ah". "It's that class thing," says O'Brien. "It's one word, but it just sets it."
There is humour in Russell's rhythms too and you play with them at your peril. "There's so much attack," says McLaren. "A lot of it is similar to Glasgow in the front-footedness, but with a different edge. The sound helps me find Rita's brashness and boldness and unlocks something of that Liverpudlian hairdresser talking in the salon."
Likewise, the production is keeping the setting in 1980, the year the play opened, because so many details lock it into its time. This is a pre-email era long before mobile phones. The culture has also moved on. "We were educated in a different way," says O'Brien, who graduated from what is now the Royal Conservatoire of Scotland in 1990. "I'm a father and the way we've educated our children, not just through schooling, is to try to offer them other parts of life – quality and equality. When I grew up in Ayrshire and suggested I wanted to go to drama school, I was laughed at. 'That's for them! That's for the upper classes!' That's changed very much."
Not that the play's themes have gone out of date. Russell himself left school at 15 and trained as a hairdresser, just like Rita. Only at 20 did he sit his exams and train as a teacher, secretly dreaming of becoming a writer. Rita is unschooled but willing to learn; willing, in other words, to grasp at distant opportunities Frank takes for granted. Four decades after the play's premiere, we are still constrained by social expectations.
"Class is huge and very relevant now," says McLaren. "But there are also themes – alcoholism, abusive relationships, loneliness, love, friendship – that make it impossible not to be felt now."
She continues: "I grew up middle-class, but from a working-class family. The roots of my mum's family in Clydebank are very much working-class. In terms of opportunity, I haven't faced the hardships in that way, but I know of them and my mum lived through them. Rita reminds me of my gran. It's in her determination: nothing's going to stop me, I can do anything. And there is that edge that is very similar to Glasgow, that pride in where you come from. The boldness reminds me of Glasgow culture."