Douglas Maxwell on The Sheriff Of Kalamaki: 'It's about being good'
Douglas Maxwell's new play about a man 'keeping an eye' on holidaying Brits in Greece may or may not have been based on a real-life encounter. Either way, it poses some interesting questions about what it means to live a responsible life, writes Mark Fisher
The story goes that Douglas Maxwell was on holiday in Greece when he met a man in a bar. The guy was a DJ with ambitions to run his own club, but claimed to have another role.
"He said the way he was saving his money was by keeping an eye on the Brits abroad," says Maxwell, who as a playwright is always on the lookout for interesting characters. "But Kalamaki was full of old people so there was nothing to do. I came away thinking, 'Gold dust!'"
Perhaps a story is all this was. According to Maxwell's wife, theatre producer Caroline Newall, nothing of the kind happened. Yes, they were on holiday in Zante, no doubt they visited a bar or two, but the rest is her husband's imagination.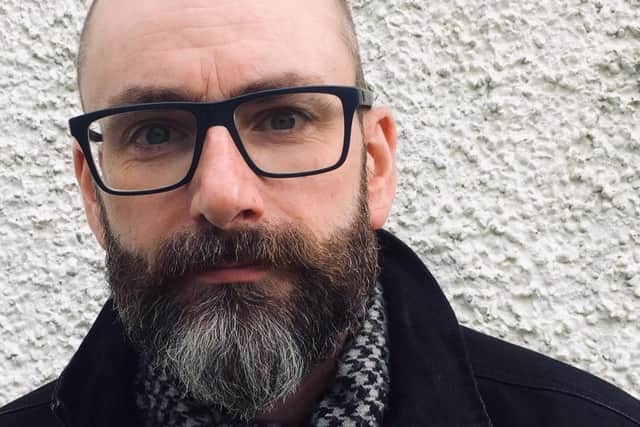 "She claims I made it up," laughs Maxwell. "And history has shown she'll be right. I'm an unreliable witness. I can't tell the difference between fact and fiction any more."
Either way, you can see why the story has stayed with him since that trip in 2004. The idea of a man who believes he is responsible for keeping order among holidaymaking Brits is funny – and perhaps also touching in the man's delusional sense of importance.
For this to click into place as a play, however, took time. The Sheriff Of Kalamaki opens at Glasgow's Oran Mor this month before touring to Edinburgh, Ayr and Aberdeen, staged by Jemima Levick, artistic director of A Play, A Pie and A Pint. But it was only as recently as last summer that Maxwell saw how it could work.
Watching Sally Reid star in Shirley Valentine at Pitlochry Festival Theatre – a masterclass of a performance for which Reid won a best actor award at the CATS – he was reminded of the power of character and story. "Willy Russell's script is about a woman who's just going through a moment in her life, but told in this poetic, rhythmical way that's funny and full of gags," he says. "After watching that, I thought, 'I'd like to write a monologue set in a sunny place – wait! – I've got one.'"
The Sheriff Of Kalamaki turned into a two-hander, one that alternates between monologue and dialogue, in which two brothers come face to face for the first time in 30 years. One, like the mystery man in the bar, is keeping watch on the tourists in his adopted home of Kalamaki. "It's given him an incredible sense of pride at last," says the playwright. "He's got a status in the community."
The other brother has flown in, hoping to persuade his ex-pat sibling to help him out back in Glasgow.
The scenario gave Maxwell and Levick another idea. Might they be able to cast real-life brothers? The playwright had just the pair in mind. One of them was Paul McCole with whom he had worked several times on shows including I Can Go Anywhere at Edinburgh's Traverse and his musical stage adaptation of Orphans for the National Theatre of Scotland. He didn't know his brother Stephen McCole but had admired him from afar in the original film of Orphans and the recent TV drama Mayflies. Would they consider sharing a stage?
"We had to check, because the rehearsal room is a high-pressure place and people fall out, but it turns out they're really close," he says of the Castlemilk-raised brothers. "They're like best pals."
As soon as rehearsals started, the fraternal chemistry was apparent. "It's already bringing out incredible work," he says. "They did a reading for the designer and Paul kicked it off with a different energy. I could see Stephen react. If it was another actor, then so what, but if it's your brother, you're not letting him get away with it. So he rose up and there was this give and take."
Maxwell says they are characters whom the audience understands better than they understand themselves: "The brothers talk about themselves all the time, but they don't have a clue about themselves. That's hard to act – the actor knows things the character doesn't but will discover as the play goes along. It's like the characters in Ishiguro's novels, they just don't know who they are. They're a stranger to themselves."
What emerges from an initially funny scenario is a discussion about living a responsible life. "It's about being good," says Maxwell. "Am I a good man, a good citizen, a good husband, son, brother? What are our role models? And how possible is it to say, 'I am a good man?'"
The questions The Sheriff Of Kalamaki asks are questions he has been asking himself. The play alludes to hero myths, Greek gods and the influence of religion. Maxwell's Catholicism lapsed after his stint as a primary-school altar boy, but he sometimes wishes that were not the case.
"They're middle-aged themes," says the 49 year-old. "You're looking at your life and thinking, 'Have I been a good person?' I'm not religious but I wish I was, because I could get out into deeper water in the things I write if I truly had faith. I lap up everything Nick Cave says about religion because he explains it in a way I get. It's mostly about doubt. The way he talks about faith is not having faith. One of the characters in the play has faith and I've tried to write it without being sniffy or ironic – he comes from a place of doubt and is trying to catch up with how deeply other people believe in things."
The Sheriff Of Kalamaki, Oran Mor, Glasgow, 25-30 September and touring until 21 October