Deliverance: the covid-friendly theatre show that begins with a package on your doorstep
Kolbrún Björt Sigfúsdóttir's new show is an intriguing attempt to provide live theatre for those stuck at home during the pandemic, writes Joyce McMillan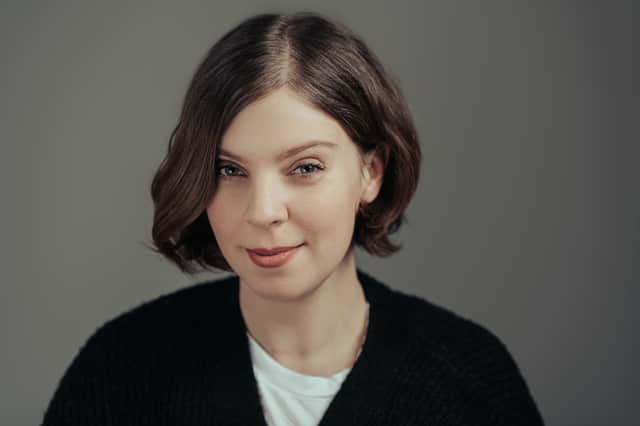 Screen fatigue has become one of the great hidden epidemics of these strange lockdown times. In a world where almost everything we once used to do in person – from work and play to family catch-ups – has to be done instead by staring at a laptop or tablet, we often end the day feeling square-eyed, stressed-out, woozy and tense; and lovers of live performance possibly feel this sense of being trapped online even more than most. Once, we used to revel in the change of rhythm and energy that came from leaving the day behind, and walking into a live space where we could allow the artists on stage to lead us into new worlds for an hour or two; but now, we have to open up the screen again, and peer through already bleary eyes at online images of the performers and companies with whom we – and our fellow audience members – once used to share both space and breath.
For one young Edinburgh theatre-maker, though, that rush to move theatre online – powerful though some of the results have been – just wasn't enough; and now, with the support of Matthew Lenton's acclaimed international theatre company Vanishing Point, based in Glasgow, Kolbrún Björt Sigfúsdóttir and her Leith-based company Brite Theater are about to launch a new live theatre experience called Deliverance, scheduled to take place in Edinburgh on evenings between 30 October and 13 November, and in Glasgow between 14 November and 28 November.
What Deliverance does, in essence, is to switch theatrical attention away from the screen, towards the other great boom industry of lockdown, the home delivery; so that when audience members find the event online, and buy a ticket for a specific time, they will be sent a delivery slot, during which they should expect a small package to arrive at their door. The package will contain a message, a few instructions, and a promise of a phone call; and from that moment, apart from the voice of the caller, you will perform your version of Deliverance alone in your home, allowing the thoughts in the message to shape your life for an hour or two, as you would in the theatre.
"People do need to know that although it's happening at Hallowe'en, this is not a scary show," says Sigfúsdóttir. "There's no ghost story, no test, no difficult task. It's more like permission – like the permission you get when you attend a theatre show – to just step away from your screen and your life for a while, and see things differently, even though you are in your own home. It's about taking time, and being yourself, and I hope people will see that as a treat."
For Sigfúsdóttir – who arrived in Edinburgh in 2013 after leaving her native Iceland in the aftermath of the 2009 financial crash, working in a hotel in Strathpeffer, and studying for a masters in staging Shakespeare at Exeter University – Deliverance represents both a new departure for Covid times, and a continuum with earlier work that has always involved elements of experiment with the role of the audience; notably in a powerful solo version of Richard III, starring Sigfúsdóttir's Brite Theater associate Emily Carding, and her own recent Brexit-inspired show about citizenship and belonging, (Could This Be) Home. She has also worked as an assistant, or a supported artist, on some of the finest Scottish theatre shows of recent years, including David Ireland's Ulster American at the Traverse, and – just this spring – Matthew Lenton's Vanishing Point production The Metamorphosis, which played just five performances at the Tron Theatre in March before the pandemic intervened.
"I think we were particularly interested to support this idea of Kolbrún's," says Matthew Lenton, "because Vanishing Point's work has always been partly about exploring the role of the audience as voyeurs or accomplices or witnesses, in shows like Interiors or The Destroyed Room. We haven't gone down the route of taking our work online, because we're so much about that living interaction with an audience; and so when Kolbrún came to us with this idea, about exploring a lockdown version of live performance away from the screen, we felt we'd like to give her all the support we could.
"It's part of our plan for the company anyway, as our work evolves, to become more involved in supporting other artists as well as producing our own work, and to use our production expertise in that way. So while we're definitely planning to open The Metamorphosis in Italy early in the New Year, and we're in workshops with Dundee Rep about ideas for Covid-friendly work next year, we were delighted that this was something we could do quite quickly, to help Kolbrún get Deliverance out there this autumn, and to see how an experiment like this would work."
"Deliverance is not the same as live theatre, of course," says Sigfúsdóttir of her latest work. "But I hope the fact that something is physically delivered to your home will make it like a little touch, a reminder of the sense of physical presence you get in theatre. And although each audience member will be alone, they will know that other people – about ten at a time – are going through the same experience at roughly the same time; and I'm hoping that will generate a sense of an audience taking a journey together as we always do in theatre – even at this strange, lonely time."
A message from the Editor:
Thank you for reading this story on our website. While I have your attention, I also have an important request to make of you.
The dramatic events of 2020 are having a major impact on many of our advertisers - and consequently the revenue we receive. We are now more reliant than ever on you taking out a digital subscription to support our journalism.
Joy Yates, Editorial Director