Any performance that shifts artists out of their various silos and unites them in collaboration is an interesting prospect. Even if, as is the case here, the resulting output is not more than the sum of its parts, a stage busy with musicians, dancers and a DJ can't help but capture your attention.
The concept of pairing string musicians and dancers is not new – Scottish Ensemble and Andersson Dance did a fine job of bringing the Goldberg Variations to life in this way. With Sketches, choreographer Katie Armstrong has been similarly inspired by Bach – this time his Violin Concerto in A Minor, which forms the backbone of the piece. A DJ desk and dusky lighting gives the space a slightly underground feel, as if we've stumbled upon something taking place in an abandoned warehouse. This sense is echoed in both the movement and music, during scenes where all nine performers (four dancers and a superb string quintet) wander the stage with a free-flowing looseness. But the exact opposite is true of the scenes – or "sketches" – that alternate between these bouts of improvisatory walking and instrument bowing.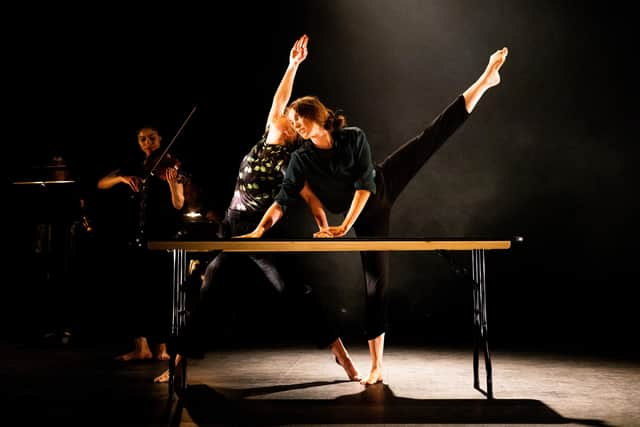 In these, we find a strict tempo and almost constrictive sense of organisation. The five musicians take up traditional orchestral positions in the corner, while the four dancers occupy centre stage. Each of Bach's notes is matched by a choreographic decision – whether that be moving a hand sharply, adjusting the position of a fellow-dancer's foot, or placing limbs on a chair or table. What starts as an interesting conceit feels slightly straightjacketed by the third instalment, as if the music is crying out for more expansive movement to accompany it.
At certain points, the additional sounds of composer and DJ Mariam Rezaei give the action a boost that floods the entire theatre with energy. Sometimes, however, the quintet is drowned out and it feels like a fight for supremacy.