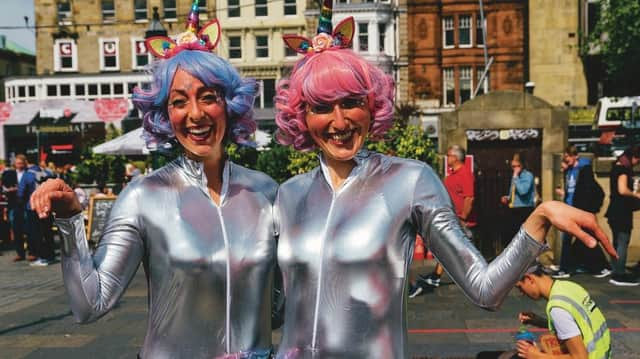 Sarah Rose Graber and Ruxy Cantir in Unicorn Dance Party PIC: Lucas Chih-Peng Kao
Tuesday morning, and I am eating breakfast and watching agog, as the vivid world of the National Theatre of Scotland's Playdates unfolds before my eyes. Like the old Watch With Mother children's strands of my childhood, the Playdates – launched last week, and aimed at children aged between five and 12 – have a weekly rhythm, although once they have been released, they remain online to watch at any time.
So on Tuesday, it's things to create and do with Glasgow-based theatre maker Fraser MacLeod, and on Wednesday a session called Storify – witty stuff about how to build stories – with theatre-making team Sarah Rose Graber and Ruxy Cantir. On Friday, Sarah Rose and Ruxy are back to teach you some moves in their Unicorn Dance Party; and on Thursday – well, Thursday is my favourite, as a gorgeous central-European-sounding character called Veronika Velvette (aka Glasgow-based performance artist Claire Eliza Willoughby), and her elegant desk-dwelling cat, tell kids of seven and over how to Grow Your Own Gesamtkunstwerk (GYOG).
As Veronika explains, a Gesamtkunstwerk is a total work of art; so there will be sessions to come about movement, music, design and all other aspects of theatre. This one, though, is about text – and in a trice, Veronika is going full Dada, copying out text from three of her favourite books, and chopping it up to make a truly surreal script about zombies, monsters, and the sea, in a style that any self-respecting young creator would adore.The NTS Playdates are only one element, though, in a small explosion of lockdown activity from Scotland's hugely inventive children's theatre scene; and on the weekend that would have marked the finale of this year's Edinburgh International Children's Festival, Paul Fitzpatrick, chief executive of Imaginate – Scotland's umbrella group for children's theatre – was happy to take me on a tour of the current landscape.
"I think most companies and artists have just been very keen to get something out there for their audiences," says Fitzpatrick, "and part of our role at Imaginate is to try to make sure that as many people as possible are aware of what the children's sector has to offer, at this moment. There are many different ways of tackling the situation, though; the NTS Playdates – on which Imaginate is a partner – are creating online performances and sessions, and so, for example, are Visible Fictions over in Glasgow, who have a series of tiny shorts called Phone Fictions online now.
"Some companies, like Catherine Wheels in East Lothian, and Christine Devaney's Curious Seed, are using this time to work on mentoring and artist development; and at Imaginate, we've set up an Ideas Fund to help artists develop activities for children that will work in times of lockdown and social distancing. Our little Granny Fenella films, for example – about things to do with paper – have attracted more than 9,000 views so far. We're also particularly interested in children who don't have easy access to the internet at home; that can be as many as 50 per cent of pupils in some schools, so we are working to produce 'artipacks' of creative things for children to do who can't get on the internet so easily."
There's no doubt about the difficulties the children's theatre sector may face, in the longer term. Fitzpatrick and the Imaginate team are currently dealing with the fact that even in May 2021, it will almost certainly be impossible to restage anything like the festival they had planned for 2020; and the organisations behind Scotland's hugely successful Theatre In Schools Scotland initiative – including Imaginate and the NTS – are engaged in complicated negotiations with schools and local authorities about how theatre events might make a positive contribution to the fraught process of reopening schools again. Companies like the acclaimed Red Bridge Arts, which depend heavily on international touring to balance their books, have seen their potential income plummet; China was a huge market for Scottish children's theatre. And beyond all of that, lurks the fear of financial crises to come.
"What I fear most," says Gill Robertson of Catherine Wheels, herself a multi-award-winning theatre maker, "is another, even deeper round of austerity, which the sector we've built up just couldn't survive."
Yet for all the threats thrown up by the Covid-19 crisis, there are also opportunities, and a hugely enthusiastic global community of children's theatre makers wrestling with big questions about how international work might look in a low-carbon world, and about what theatre can learn from this moment. Imaginate's two-day digital version of this year's Edinburgh International Children's Festival delegate conference, late last week, attracted over 400 attendees worldwide; and Gill Robertson has been startled by the level of interest in the five Make Space artist development opportunities, with grants of £2,000 each, that Catherine Wheels is offering over the next few months.
"The criteria were quite tight," says Robertson, "and we expected maybe 20 applications, but we received well over 50. There are just so many talented people out there, ready to make work, and to be part of this debate we're having about what theatre can contribute to the huge change we're all going through, in economy and environment and all the rest. Because if we're going to be fighting for resources, we need to make sure that our work is relevant; that we tell great stories that can be presented in many forms for maximum access, that we deepen our relationship with education and schools, and that we hold on to, celebrate and strengthen our ability to be the storytellers that try to make some sense of all this – for the children in our audiences, and for everyone."
NTS Playdates are at www.nationaltheatrescotland.com/events/play-dates; Imaginate's Granny Fenella, www.imaginate.org.uk/artists/projects/ideas-fund-granny-fenella/; Visible Fictions' Phone Fictions, visiblefictions.co.uk/?soho_portfolio=phone-fictions-3.